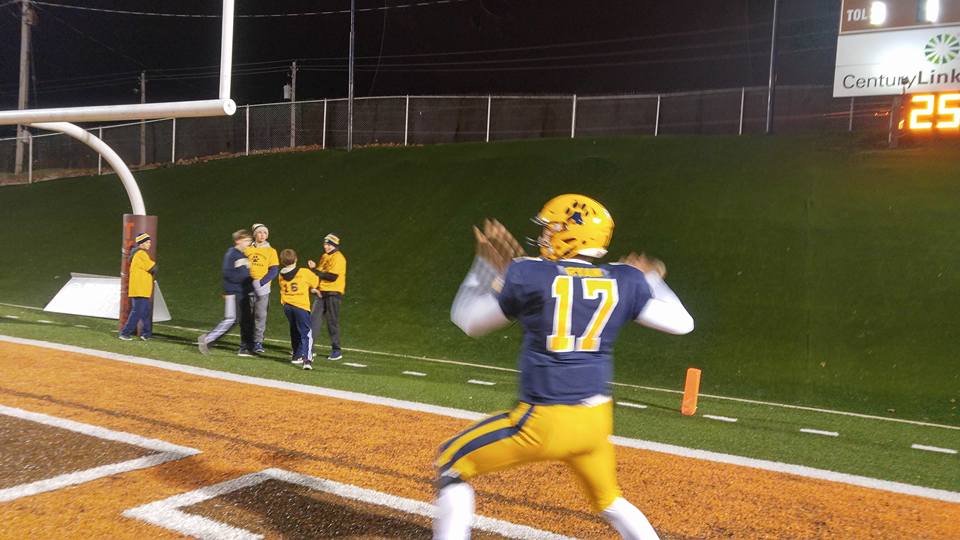 NEOSI would like to congratulate St. Ignatius Quarterback Patrick Ryan for winning this week's player of the week honor.  Ryan was a key part in the 24-14 victory over the Liberty Patriots this past Friday night from Arlin Field in Mansfield that put St Ignatius in the Division One State Championship Game this Friday night from the Horseshoe in Columbus.
Patrick Ryan had a big night. He hit Travis Pot for a 44 yard connection early into the second quarter to open the scoring on a frigid night where points were hard to come by.
Then, late in the fourth quarter with the game only 14-7 and the Liberty Patriots looking to stop the Wildcats to get the back to try and tie it, Ryan took over again.  He put the game out of reach with a 69 yard touchdown rumble to put the Wildcats up 21-7 with less than five minutes to go.
Patrick Ryan finished with 89 yards on 8 of 13 passing and the touchdown to Pot. Ryan ran the ball for 74 yards on 15 carries, including the game clinching touchdown from 69 yards.
Ryan was a key part of the Wildcats rushing attack, which all together, amassed over 100 yards against a stout Liberty defense.  Mark Bobinski chipped in with 41 yards and backup tailback Dean Stowers had 32.
Patrick Ryan now has this team one win away from a State Championship.  That game will be played this Friday night in Columbus at the Horseshoe.  It will be a 8pm kickoff against Cincinnati St. Xavier. 
Head coach Chuck Kyle had this to say about Ryan "Pat is an intelligent kid who has been a quarterback in the program for four years. He really knows the offense and sometimes he feels like an assistant coach on the field and it really helps."