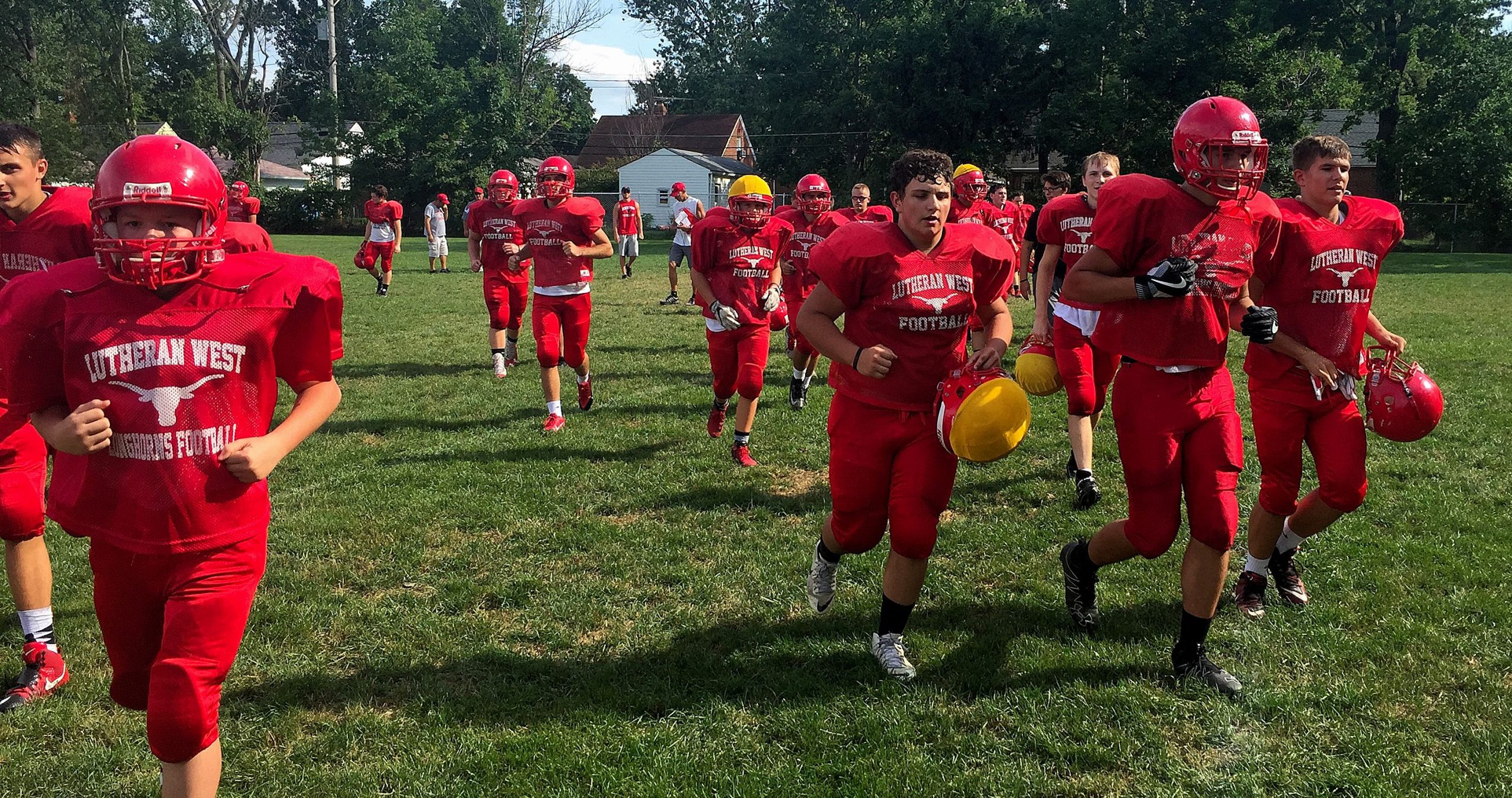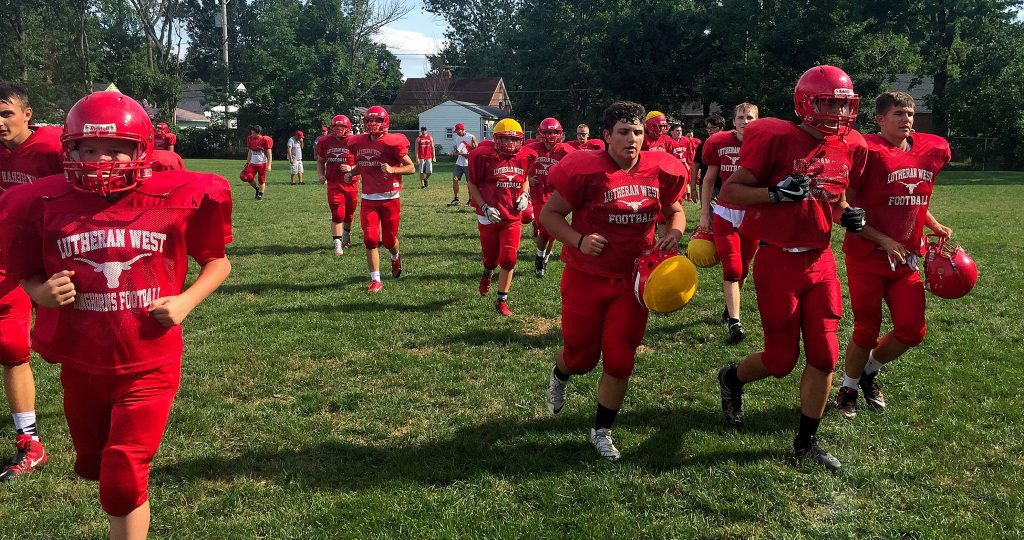 The Lutheran West varsity football team took some lumps last season, finishing 2-5 in the Patriot Athletic Conference Stripes Division and 3-7 overall. The plan for the Longhorns is to greatly improve from last year's records, but to do so, they will have to replace a record-setting running back in Chris Jones, who transferred to North Olmsted High School last winter.
"The Longhorns are looking forward to our running backs stepping up for us this season and having a good year," coach Frank Petroff, now in his third season as head coach, said. "We wish (Jones) the best of luck.)"
Senior running back Owen Albers has stepped into the starting tailback position this year, and he knows there are high expectations for him in that position, with Petroff saying that he will carry the load.
"I'm not going to be chasing any ghosts this season," Albers said of replacing Jones' 1,700 yards from scrimmage last season. "I just need to play within my abilities, and do what I do.
"I have a great blocking full back in (Chris) Dawson, and I think our offensive line is really coming together," he added. "We just need to stick to what we're doing, and we'll be fine."
Even with the Longhorns starting a junior quarterback, Rory Zakareckis, this season, Albers has no worries for the offense.
"We've really come together as a team and gelled as an offense early this summer, so our sense of brotherhood we have already acquired will make us do almost anything for each other," he said. "We'll be fine."
According to Petroff, Zakareckis had a lot of success at the junior varsity level, and his staff is looking for him to keep maturing throughout his career.
"He has had a tremendous offseason," Petroff said. "We are looking for him to lead our offense this year."
Zakareckis was named as one of the team captains this year, along with seniors Logan Denn, Dawson and Mike Felton.
"I think I'm going to be all right this year," Zakareckis said about the jump to starting at quarterback on varsity, "I played a little varsity last year, when we were down a little bit, and the coaching staff really helped me prepare to make the jump to varsity this summer.
"Coach Petroff had me come in to watch a lot of film, throw the ball and we really got after it."
Almost in stride with the general consensus at Lutheran West, Zakareckis is not worried about having to carry the load with his arm this season.
"We have a really great offensive line and backfield, so we'll be able to run the ball whenever we need to," he said. "If we come to a passing situation, I'll just pass the ball."
Dawson will be the leader on the defensive side of the ball, from the linebacker position.
"As a defensive squad, we are really go to have to get after it, and not take any plays off, to be successful," Dawson said. "If we all do what we are supposed to do – and I think we have a really strong team – we're going to bring it, and maybe surprise some people out there."
Dawson is keyed up for the games against rivals Columbia and Fairview.
"We have to take this season week by week, but Columbia took it to us last year in our house, so we're looking forward to going there and getting some payback. Fairview is always fun to play, because they are right down the street from us."
Some others to watch this season are Denn (three-year starter at center), Jeremy Geye at linebacker, Shawn Naim (a sophomore, who will play receiver and safety), Gerald McHenry (another sophomore), Felton in the slot receiver position, and linemen Tristan Zimmer and Nick Moore.
"This year's football team has been a pleasure to be around," Petroff said. "We have had great senior leadership in the off season and this summer.
"We have a number of players returning from last years team that have been dedicated in the weight room, and also have a great mix of returners, with still a great deal of young players, that are going to have to grow up fast and learn from our upperclassman early this season," he continued. "This combination has made the offseason and double sessions a very competitive atmosphere with outstanding team motivation, determination and attitude. The Longhorns expect to improve on our record from a year ago and improve in all phases of the game. Our goal like always is to play one game at a time and never look ahead."
SCHEDULE
Aug. 26 at Wickliffe
Sept. 2 Hawken
Sept. 9 Independence
Sept. 16 Keystone
Sept. 23 at Brookside
Sept. 30 at Columbia*
Oct. 6 Brooklyn*
Oct. 14 at Oberlin*
Oct. 21 at Clearview*
Oct. 28 Fairview*
* PAC Stripes Division
All games at 7 p.m. unless noted

NEO Sports Insiders Newsletter
Sign up to receive our NEOSI newsletter, and keep up to date with all the latest Cleveland sports news.