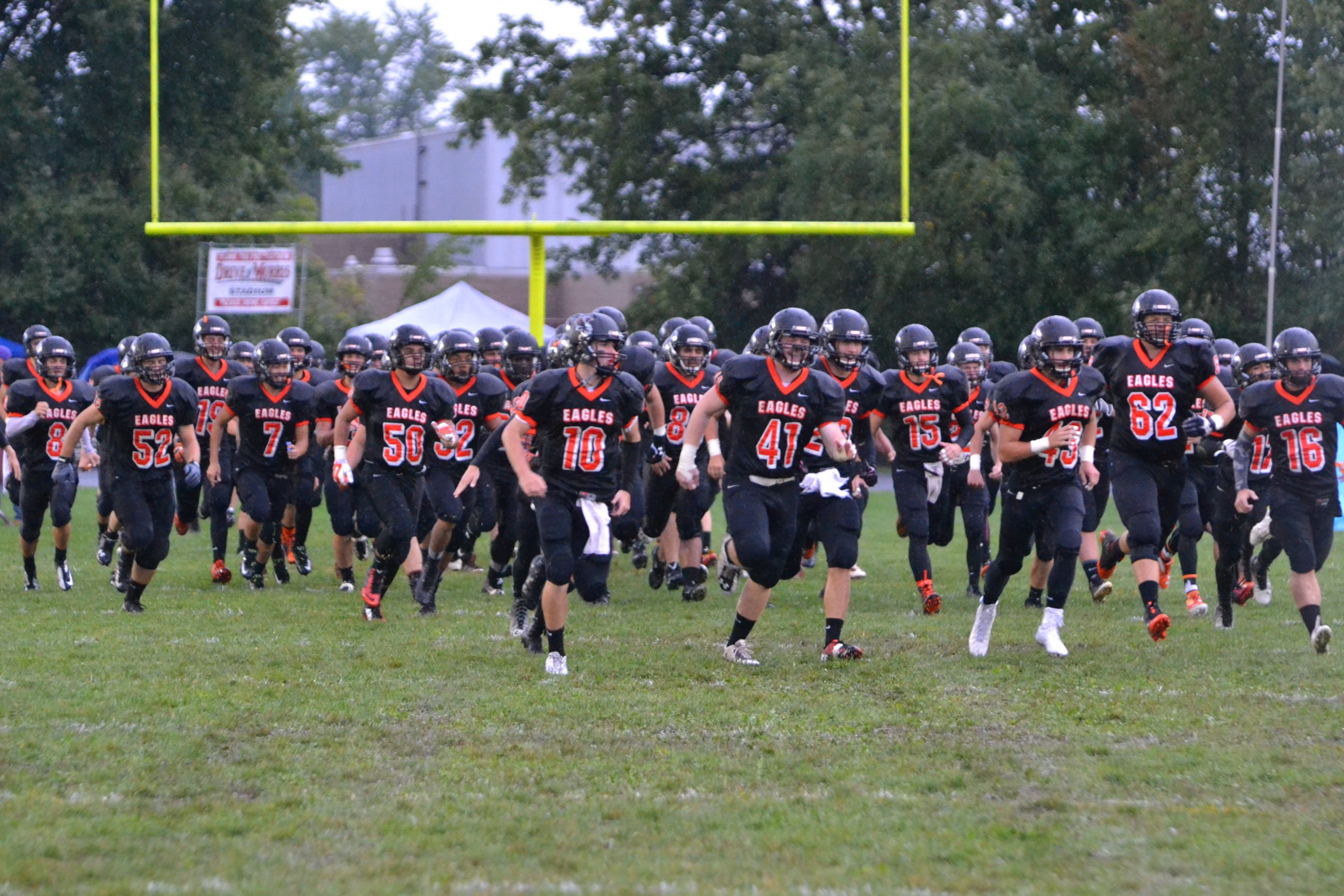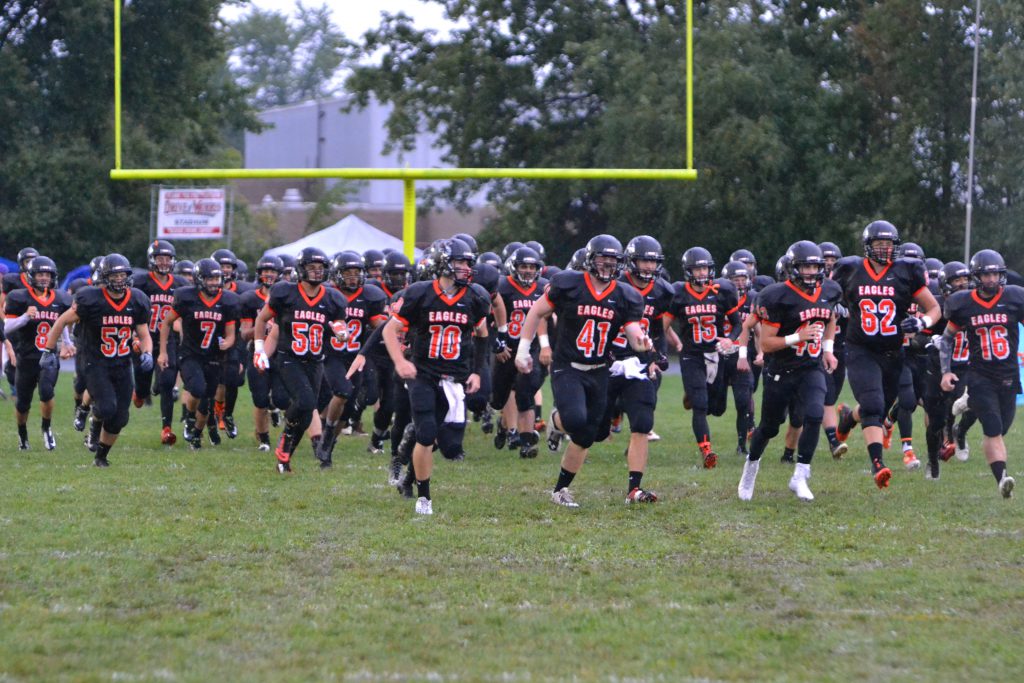 If there were to be a team to have a nickname of "Road Warriors," the North Olmsted varsity football team might just fit that bill. Over the next two seasons, the Eagles will play 20 regular season games in a row on the road, as their new stadium is built.
"Our first three games are at Avon, so we're not going to be shocked come week three when we play against (Avon)," North Olmsted head coach Tim Brediger said. "We will play our third home game at the new North Ridgeville facility, one week before we play the Rangers, and again, we'll be used to their field.
"We really want to thank Mike Elder and Luke Durbin, and the Avon and North Ridgeville school systems for letting us use their facilities," he added. "It's great to have conference opponents lend their houses to us."
The road weariness will not begin on week No. 1, as the Eagles were transplanted since early this summer.
"We made a transition this summer to practice at Chestnut Middle School, which was the first phase of the new normal," Brediger said. "There were many positives which came out of having to move the practices. First of all, the seventh-grade, eighth-grade, freshman, junior varsity and varsity squads all practiced at the same place. Every day, during two-a-days, we had 180 kids out there at the same time.
"For me to watch 20-plus coaches across our staffs coach, and to be able to walk around and talk to the middle school coaches and kids – while meeting the kids' parents – to me was pretty special," he continued. "We had to put all of our equipment in storage facilities on the grounds, as well as
portable toilets – the whole nine yards."
Not only did North Olmsted have to change where the team practiced this summer, but how they practiced.
"There has been real limited access to buildings, so we had to re-vamp the way we practice," Brediger said. "Some days we split the day into a morning practice on the field, then we went back to the high school to watch film for the second half of the day. We tried to be creative and give each squad some extra space, so we weren't all on top of each other, and stagger the starting times of the practices.
"It was cool for the younger kids to see how the varsity practiced, and intermingle with the high school kids," he added. "We even had everyone around while we picked the varsity captains this year."
It was not all fun and games this summer, as there were plenty of new challenges which were presented as the program moves ahead into a new era.
"You can't forget your shoulder pads and helmet in your high school locker, when you're practicing a mile away," Brediger explained. "We needed to have better planning, and have extra equipment on site, in case we needed it, and the kids and their parents had to be more accountable."
North Olmsted is coming off a sub-par 2015 season in which the Eagles went 5-5 overall, and 4-5 in the ultra-competitive Southwestern Conference. That being stated, fourth-year head coach Tim Brediger knows his squad will need to overcome more than just the ghosts of last year.
"We are a young team, which worked very hard over the summer," he said. "We have many great 'character' kids with good work-ethics – 27 players with more than a 3.0 GPA – and they will have to gel quickly to compete in the tough SWC."
The Eagles offense will run through senior tail back Josh Hufstetler (6–1, 208), who was All-SWC last season and has been named a team captain this year. Hufstetler also will play from the wide receiver and defensive back positions. The three other captains this season are inside linebacker Chandler Johnson (5–10, 185), who also will lead the way for Hufstetler at the full back position, defensive lineman Omar Radwan (5–10, 225) and offensive and defensive lineman Zach Dispirito (5–10, 240).
"These are all great kids in the hallways at school and on the field," Brediger said. "They all are involved in the community, and have high character and leadership skills."
Key newcomers to the lineup this season are sophomore running back Darren Andrews, senior linebacker Ala Ahmad, junior wide receiver Sean Conroy, senior defensive back Jae Shin, senior quarterback Brandon Maximovich, who played wide out last year, and senior running back Chris Jones, who is a transfer from Lutheran West, where he set the Longhorns' single-season rushing record last year.
"Chris came in last winter and got acclimated to to our school and our program, and we just found out that he is eligible for all 10 games this season," Brediger said. "He's handled the transition very well, and, obviously, he will be a great addition to not only our backfield, but to our defensive backfield –which he did not play earlier in his high school career – and our return game."
North Olmsted opens the season on Thursday against Valley Forge at the Avon Middle School stadium, with kickoff set for 7 p.m.
SCHEDULE:
Aug. 25 … Valley Forge
Sept. 2 … Midview*
Sept. 9 … at Avon*
Sept. 16 … at Westlake*
Sept. 23 … Lakewood*
Sept. 30 … at North Ridgeville*
Oct. 6 … Amherst*
Oct. 14 … at Berea-Midpark*
Oct. 21 … Olmsted Falls*
Oct. 28 … at Avon*
* Southwestern Conference
All games at 7 p.m. unless noted

NEO Sports Insiders Newsletter
Sign up to receive our NEOSI newsletter, and keep up to date with all the latest Cleveland sports news.