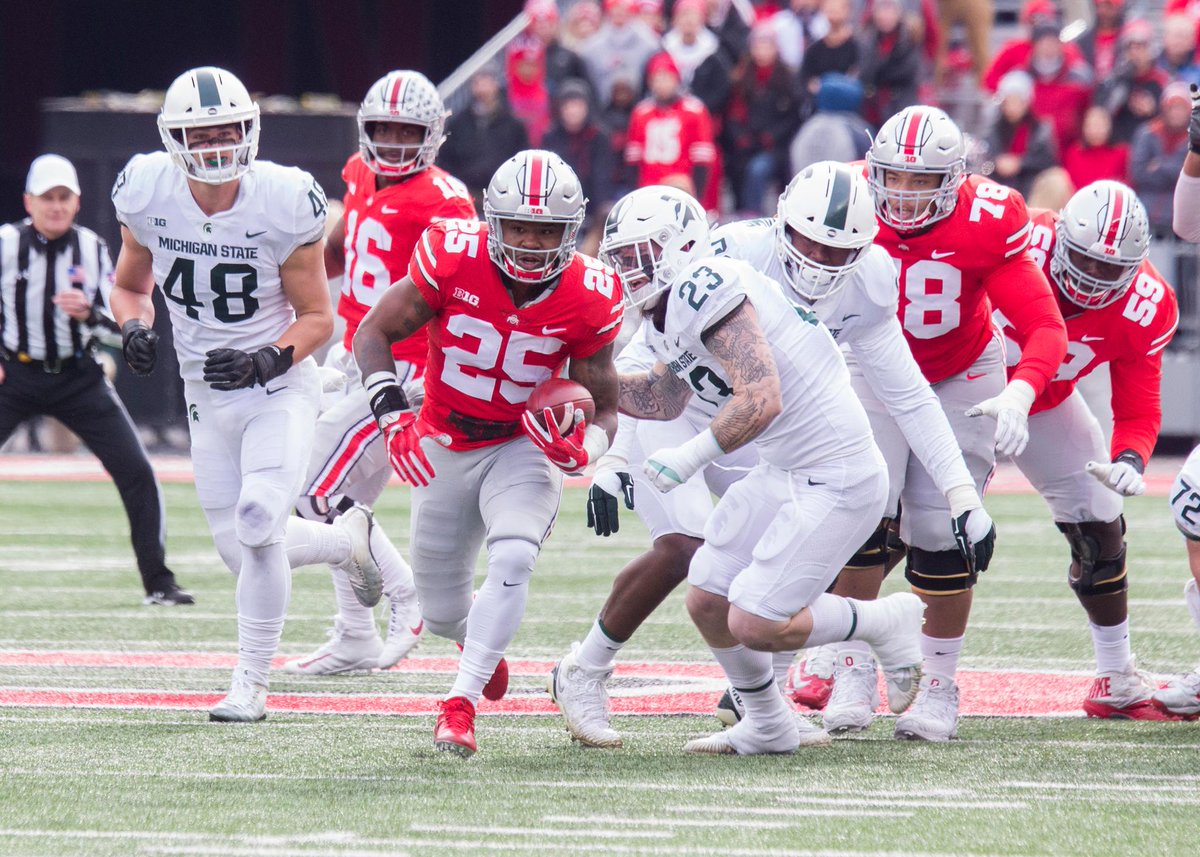 At the end of the 2007 NCAA College Football Season, it took a wild turn of events to launch Ohio State into the National Championship Game.  "Back then" only two teams made it in all of college Football and the 4 team BCS playoff was still light years away.  The Buckeyes would go on to get destroyed for the second straight year in the championship game, this time to LSU by a score of 38-24
Here we are, 10 years later and the Ohio State Buckeyes along with their passionate and loyal fans see themselves almost in the exact same scenario.  They will need hell and high earth to be moved, along with an incredible amount of luck and shaky judgment from the selection commitment to get into the final four team playoff.
Now, before I list some of these items, please keep in mind this is simply an "opinion" piece, and each one of these can be argued until the cows come home.  Let's just have some fun with it, and if your list disagrees with mine, GREAT! Please post it in the comment section below.  We'd love to see it and share it.
–          Ohio State needs to win out, they need to beat Michigan on Saturday at The Big House and then unbeaten Wisconsin in the Big 10 championship game. Wisconsin has had one of the easiest schedules in College Football, and despite not losing, it may only take that loss to Ohio State to knock the currently 5th ranked Badgers off the list. 
–          Alabama needs to win both of their final two games.  This Saturday against Auburn and then next weekend against Georgia in the SEC Championship game.  Auburn has two losses, so the loss to Alabama would eliminate them.  Georgia just has that one loss, but the CFB committee has shown they won't put the loser of a Conference Championship game in the playoffs unless they were undefeated to begin with.  Georgia is ranked 7th and Auburn is ranked 6th.  An Auburn win over Alabama, may all but eliminate Ohio State from contention. 
–          Miami needs to lose their last game of the season to Pitt, which more then likely will not happen.  Or lose handily to Clemson in the ACC title game.  Again, this could be two prong as the committee is hesitant to put a loser of a title game in the playoffs.  Although last year, but some gigantic lack of judgement they placed OSU in the playoffs and they didn't even play in their conference title game. A loss to Clemson would only give Miami one loss and thus they would still have a better record then the Buckeyes.  For Ohio State, they would almost be better off having the #2 ranked Hurricanes knock off the #3 ranked Clemson Tigers who already have a loss.
–          Notre Dame and Oklahoma both need to lose one of their final games.  Notre Dame only has one left, this Saturday against Stanford Saturday night, a tough game that could go either way. Oklahoma has been red hot and has a layup against West Virginia then what should be a tough battle with whomever they face in the Big 12 Championship Game.
More or less, here is exactly in my opinion that needs to happen in order for them to make it based on the above list.  I personally feel they have no chance, (sorry Buckeye Honks), but it's best to be honest.  However, (IF) and I truly mean (IF) this all happens, then they will get in.  Here below, based on the above scenarios is the only route I feel gets them in.
Auburn and Georgia both lose to Alabama, that knocks out two of the 8 teams ahead of Ohio State.  Notre Dame has to lose Saturday to Stanford.  Then Ohio State goes from being ranked 9th to 6th.  They would still need to the committee to eliminate either Clemson or Miami, based on the winner of the game, to get the Buckeyes down to 5th ranked.  From there, the Buckeyes would need to handle their own business knocking off Wisconsin in the Big 10 championship game.  That brings them to four and gets them.  It also angers a lot of either Clemson, Notre Dame or Miami fans.  All three schools would have a better or identical record.
In the end, TIME WILL TELL.
GO BUCKEYES!

NEO Sports Insiders Newsletter
Sign up to receive our NEOSI newsletter, and keep up to date with all the latest Cleveland sports news.