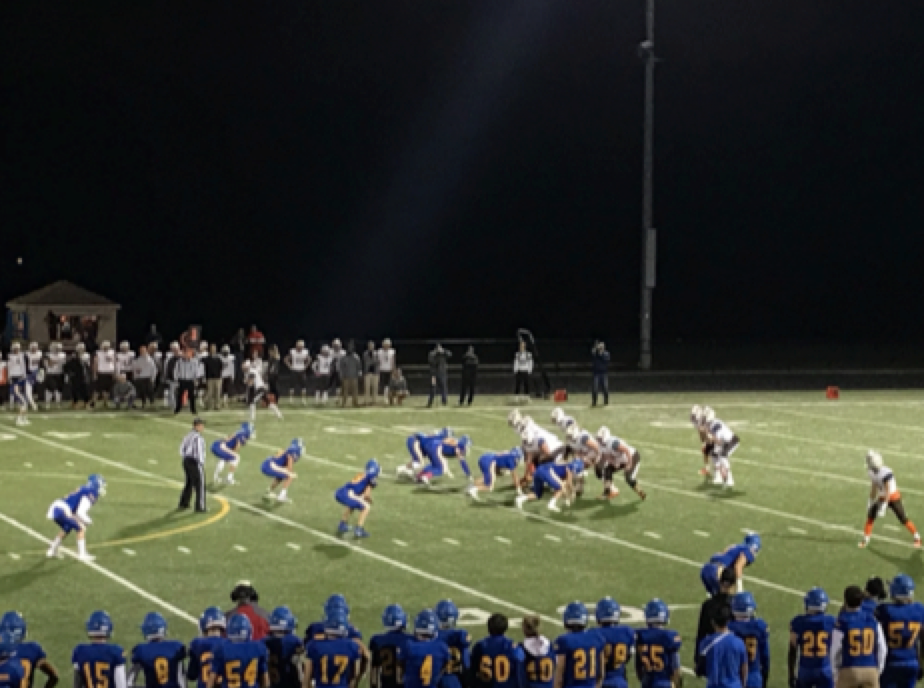 CHARDON, OHIO– It was an emotional night due to the fact it was the last time the NDCL seniors would play in front of their home fans. Making the playoffs and winning one last time at home was the way the NDCL Lion football team envisioned ending their regular. That is exactly what happened Friday night as they took on the Padua Bruins and came away with a 28-14 win.
Padua started off with the ball and they took a whopping seven minutes off the clock on their opening drive. A big fourth down came for the Bruins and they decided to go for it, but were stopped short by the NDCL defense. Even though this happened on the first drive, it was a key moment that set the tone for this team.
"I think that plays into our strengths," head coach Andrew Mooney said. "With a very strong defense and I think we do a good job running the ball and controlling it. I'll take that and there weren't any huge adjustments we needed to make at halftime so that play plays right into us."
The first half was a slow 24 minutes for both teams. Punts were the main result as no offense could get things going through the air or on the ground. There were just a mere 187 total yards from both teams in the first half.
Padua's senior running back Trenton Cramer racked up 69 rushing yards while Josh Peroni of NDCL ran for 82 yards on a total of 12 carries. These two seniors were the lone bright spots of the first half. NDCL took just a 7-0 lead after the first 24 minutes of the game.
Then came the second half, where NDCL came out with momentum. It took only two minutes for the Lion offense to run down the field and score their second touchdown of the night. The touchdown was a 29-yard pass from Charles Forbes to senior tight end Brian Carney.
The defense for NDCL showed up when they really needed to, in the fourth quarter. The first defensive score of the night was a pick-six that came from junior linebacker Zach Urda. That was in fact the first defensive touchdown NDCL came up with all season. It didn't stop there as the next offensive possession for Padua resulted in another pick-six, this time it was from senior Matt Arko.
"Coach was saying before the game that we need to score on defense," Urda said after the game. "we just stood up to the opportunity and we got it. It was all for the seniors."
Going into this game, the Lions knew that they had a tough task ahead of themselves going up against a much bigger team. Mooney recognized this tough task and got his guys ready for a hard-fought team effort.
"I tell the guys every week that you can't control how much bigger the guy is," Mooney said after the game. "You can control how physical you are and the aggressiveness you bring."
The Bruins finally got on the scoreboard late in the fourth quarter from a 99-yard kickoff return for a touchdown from the junior Chrishawn Long. Five minutes later Padua got on the board again, this time it was a quarterback sneak from one yard out into the end zone. Those 14 points were the only points they put up after being shut out the first three-quarters of the game.
| | | | | | |
| --- | --- | --- | --- | --- | --- |
| Team | 1 | 2 | 3 | 4 | Final |
| NDCL | 0 | 7 | 7 | 14 | 28 |
| Padua | 0 | 0 | 0 | 14 | 14 |
Josh Peroni 9-yard TD run 8:48 left in 2nd Q 7-0 NDCL
Charles Forbes 14-yard TD pass to Brian Carney 10:00 left in 3rd Q 14-0 NDCL
Zach Urda 14-yard pick-six 7:37 left in 4th Q 21-0 NDCL
Matt Arko 20-yard pick-six 7:30 left in 4th Q 28-0 NDCL
Chrishawn Long 99-yard kickoff return 7:15 left in 4th Q 28-7 NDCL
Kevin Peterson 1-yard TD run 2:02 left in 4th Q 28-14 NDCL
Player of the Game: Josh Peroni, RB, NDCL
The senior running back made sure he gave it his all one last time at home. He ran the ball 29 times for 169 yards and a touchdown Friday night. He also caught one of Charles Forbes' two passes for five yards.
He has been a key part and a true leader to this NDCL team all year and he hopes to bring that same mentality to the playoffs. Big hit after big hit, Peroni always finds a way to never miss a snap and to get right back on the field where he belongs. This kid has shown to be one of the toughest players in Northeast Ohio.

NEO Sports Insiders Newsletter
Sign up to receive our NEOSI newsletter, and keep up to date with all the latest Cleveland sports news.