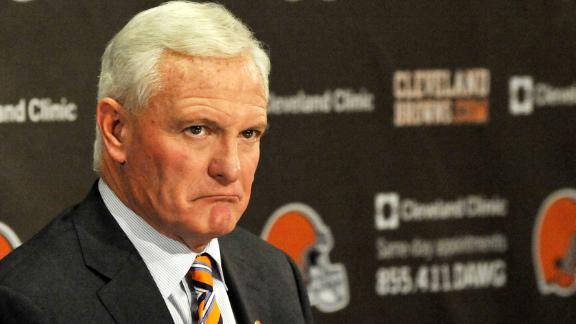 It's been an odd and underwhelming year for fans of the Cleveland Browns.
Last off-season was one filled with promise, a hope that Cleveland would be able to build on its positive 7-9 record of 2014. It's safe to say that this organization has regressed in about every possible aspect.
Yesterday the owners of the Browns – Dee and Jimmy Haslam – took to the Browns official website to issue a 'letter' directly to Cleveland's football fans.
I anticipated some sort of apology for the apparent lack of understanding of common football practices that seems to be trickling down from the top of this organization. I'm not sure that's what we got.
Instead, Jimmy and Dee (by the way – this is the first I've heard of Dee Haslam being involved in any Browns related news) simply stated that they're "disappointed with where we are and clearly understand your [Browns fans] frustrations."
Well OK – for a lack of a better term – duh?
It's not exactly difficult to understand that a combined 19-45 record since the Haslams took over in 2012 is "frustrating." That doesn't ring as new news.
I also don't need to be reminded that our owners are doing everything they can in order to turn this thing around. That's what they're supposed to do, and I expect for them to do that.
To put in bluntly – Don't talk about it. Be about it.
Show us fans that you care by not regurgitating this same stale product that has been Cleveland football for far too long. Make a stand.
Put the right personnel in place. Hold people accountable. I'm not saying that your job is easy, but I am saying that it is your job.
If you have any real pride about yourself you'd stop the charade that happens on the field. You want me to believe that you care? Stop making TMZ. Start winning football games.
This ain't football, Jimmy. This is nonsense.
While I do recognize the intent behind the letter – trying to atone for all the miscues during your watch over this proud franchise – I just find it to be hollow. It appears to be all public relations, and personally I'm ashamed that you think you can buy us off with some pretty words.
So no matter your letter or your coach or your GM – no matter your draft picks or your free agent signings – you won't win me back until we don't look like a joke every season.
Respectfully and gratefully yours,
Matthew Williamson
Browns Fan

NEO Sports Insiders Newsletter
Sign up to receive our NEOSI newsletter, and keep up to date with all the latest Cleveland sports news.