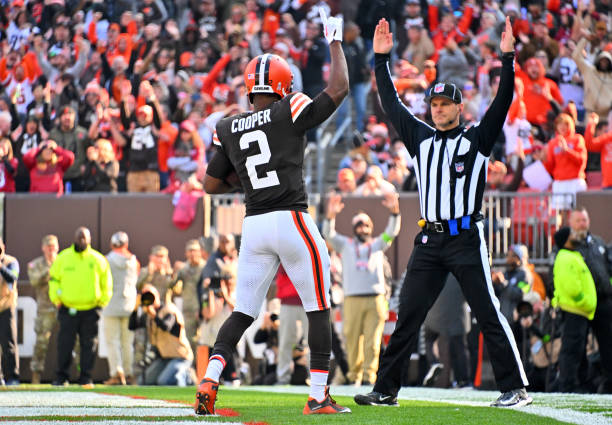 Eight years ago, I first saw Cleveland Browns current wide receiver Amari Cooper play a game. That was when he was still a member of the Oakland Raiders. It was a warm September day back in 2015 and Cooper was catching passes left and right as the Raiders came to Cleveland and won the game. I remember saying to myself that day that Cooper was a really good wide receiver, and it would be nice if we had a wide receiver like him on our team.
Cooper went on to be traded to the Dallas Cowboys a few seasons later where he continued to show off his talents. Then before the 2022 season started, the Browns made a trade for the former Alabama collegiate star.
Last season Cooper finished with 1,160 yards and a career-high nine touchdowns.
This season, Cooper has picked up where he left off and is showing off again how important he is to the Browns offense. Through eight games, he's collected 617 yards and scored two touchdowns. The scoring by Cooper might be down a bit but the type of catches he's been making continue to make him one of the most dynamic wide receivers in the NFL.
Last week he caught several passes from his quarterback Deshaun Watson for 139 yards on only five receptions. The last was a brilliantly thrown pass from Watson that dropped right into the breadbasket of Cooper's arms. Cooper described the pass after the game as a perfect throw.
Cooper has bailed out his quarterbacks a lot over his career and has continued to do that for the Browns. Besides the spectacular receptions we have become accustomed to, the way that Cooper goes about his football career is nothing short of impressive. He's always been humble about his play and goes about his business on and off the field in a professional way.
He's not a chatterbox nor a player on the team that tries to obtain the spotlight. He just goes out every Sunday and does his job and usually succeeds.
Cooper is now in year nine of his NFL career after being drafted No. 4 in the first round back in 2015. He had a spectacular junior campaign when he played at Alabama where he caught 124 passes for 1,727 yards and had 16 touchdowns. In the NFL he's collected six seasons of going over 1,000 yards in receptions.
With Watson returning as quarterback for the Browns in the last week, you have to wonder how much more damage these two players can cause as they enter the second half of the season. My money is on Mr. Cooper to help his Browns team return to the playoffs.
With the Browns losing their running back Nick Chubb to a season-ending injury to start the season, it's been nice to find a player in Cooper that Cleveland fans can cheer for with pride. Fans will continue to shout through Cleveland Browns stadium the word "Coooooooop" as they acknowledge his awesomeness for the team.
Enjoy the show against the Baltimore Ravens and expect to see some more dazzling receptions by the Browns No. 1 wide receiver. Go Coop!

NEO Sports Insiders Newsletter
Sign up to receive our NEOSI newsletter, and keep up to date with all the latest Cleveland sports news.