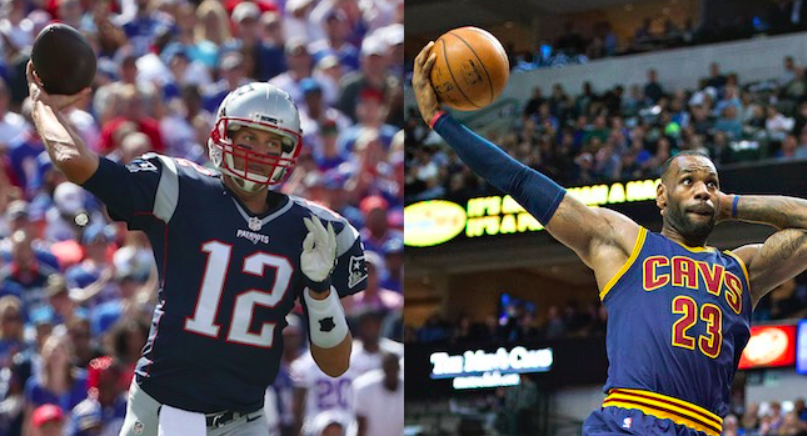 As seen on clesportstalk.com
This is a tough one between two legendary leaders in each's respective sport.
It is going to take analysis and dissection of the two players, what each has done for his game, himself and those accomplishments, too.
Let's cue the basketball fan screaming that Michael Jordan is the GOAT of the NBA and he never lost a finals blah blah blah. Yeah, I dismiss this and proclaim LeBron the GOAT of the NBA over Jordan. Sure, Michael never lost in the finals. However, why is it that making the finals and losing is worse than losing in an early playoff round before in other years? If the category is making finals, Jordan is at six and LeBron is at 10.
That's enough for me.
QB Tom Brady is about to play in his 10th Super Bowl on Sunday against the Kansas City Chiefs. This will be his first without head coach Bill Belichick on the New England Patriots. Many would say Brady would cling to his head coach and that was a reason for all of his success. Well, this year he proved everyone wrong by getting to the big game without Belichick.
Comparing players across sports is tricky for obvious reasons. Everything is different in football compared to basketball. However, if I had to pick a winner it's going to be Tom Brady over LeBron James.
Now, I love LeBron and appreciate everything he did for Cleveland, especially winning the 2016 NBA Finals for the city. The first championship in Cleveland since 1964. Just because I am picking Tom does not mean I can't love both players. Let me give my reasons…
Football is hit or miss. Basketball is more of a grind.
What I mean by this is each play, really for the entire season but especially the playoffs and finals/Super Bowl carries so much more value in football compared to basketball. The regular season is typically 82 games for the NBA and each playoff series is of seven games. The NFL has a year of 16 games and each playoff battle is a single game.
Simply put, the room for error in football is much less compared to basketball.
Certainly, there are memorable single plays in a basketball legend's career such as "The Block" in the 2016 NBA Finals for LeBron when he rejected SG Andre Iguodala on a fast break late in the fourth quarter of Game 7.
Tom Brady wins over LeBron James due to the fact there is so much less room for error in football. Even so, it is extremely close and both of these legends will be talked about for generations to come in the same way that RB Jim Brown and C Wilt Chamberlain are present-day.
One interesting nuance is that LeBron did play football in high school and was a fantastic player across sports.
"In two full high school football seasons playing for Vincent-St. Mary's High School in Akron, Ohio, LeBron James caught 103 passes for 2,065 yards and scored 23 touchdowns." – Reference.com 
Thinking about Tom Brady playing basketball and I don't think that would end well. If LeBron chose to focus on football over basketball, he certainly would have played college ball and the NFL was a possibility as a wideout or something of that nature.
—
I picked Tom Brady due to the nature of the sport he has dominated in for many years. The fact that his achievements came with more pressure and less opportunity to prove it. The better athlete is obviously LeBron as those football stats prove. It will be interesting to see in the future how these two are compared. Thank you to both for the many iconic moments.

NEO Sports Insiders Newsletter
Sign up to receive our NEOSI newsletter, and keep up to date with all the latest Cleveland sports news.