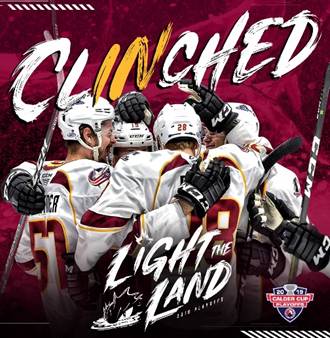 The Cleveland Monsters are heading to the AHL Playoffs, as Sunday the team clinched their third AHL playoff appearance in team history.
The club earned a win against the Toronto Marlies, putting them into the postseason where they will battle the Syracuse Crunch.
The first round matchup against the Crunch will start on Friday night on the road, with a second game on Saturday before the team is back at Rocket Mortgage FieldHouse on Tuesday, April 23rd at 7:30 p.m.
The series is a best-of-five, so if a game four is necessary, it will take place on Thursday, April 25th at 7:00 p.m.
Here's the complete best-of-five slate against the Crunch:
Game 1 – Friday, April 19th – Cleveland at Syracuse- 7:00 p.m. at the Oncenter War Memorial Arena
Game 2 – Saturday, April 20th- Cleveland at Syracuse – 7:00 p.m. at the Oncenter War Memorial Arena
Game 3 – Tuesday, April 23rd – Syracuse at Cleveland – 7:30 p.m. EST at Rocket Mortgage FieldHouse
*Game 4 – Thursday, April 25th – Syracuse at Cleveland – 7:00 p.m. EST at Rocket Mortgage FieldHouse
*Game 5 – Saturday, Apr. 27th – Cleveland at Syracuse- 7:00 p.m. at the Oncenter War Memorial Arena
* If necessary