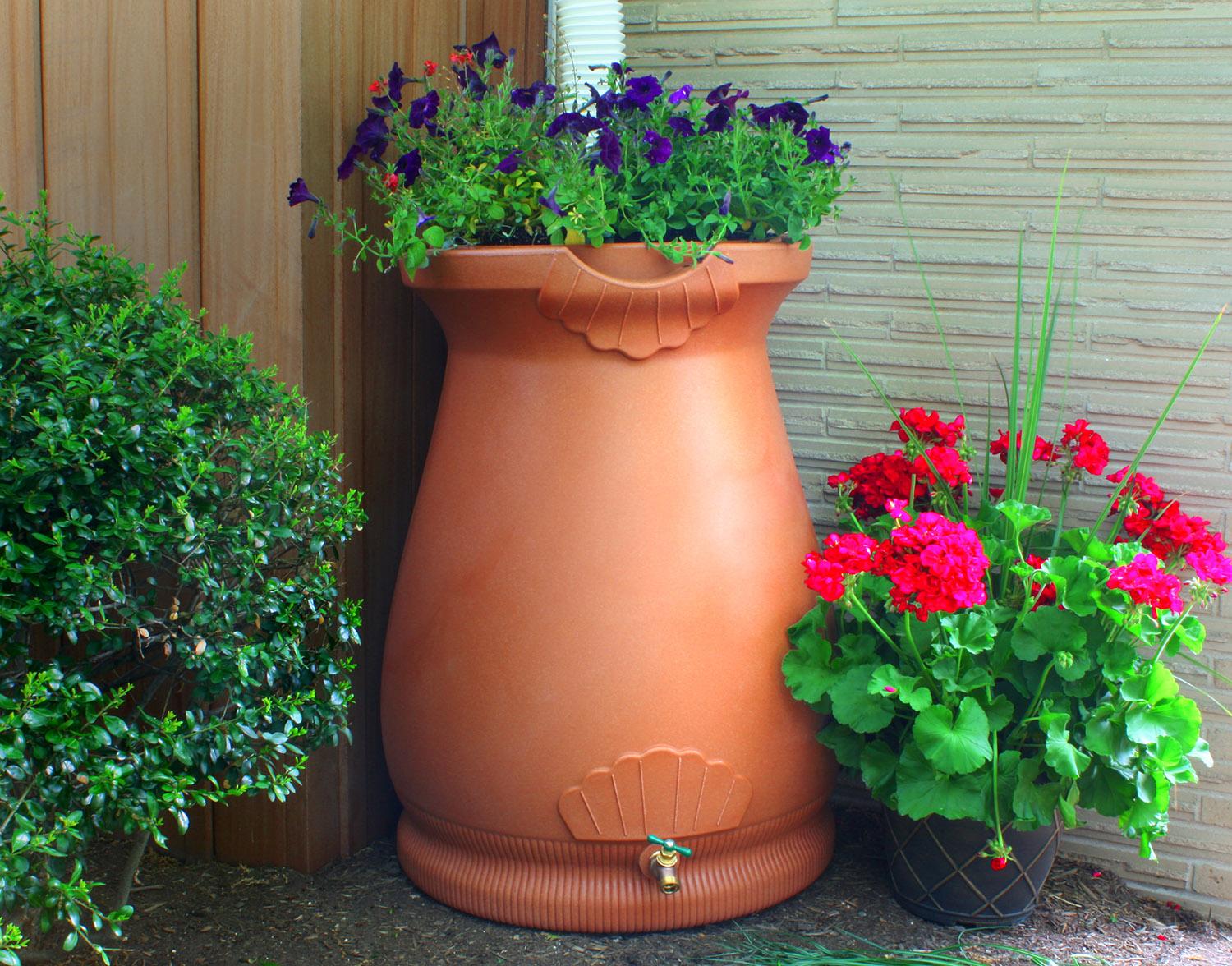 AVON-, Ohio – Ann Gedeon is showing Northeast Ohio residents a better way on how to garden, save money and make your yard look beautiful with one of God's greatest given resources, RAIN WATER!
Not only is the product great, but she is great as she takes time out to speak with each customer and generally cares about them, not something you're going to get from a Big Box Store. Ann has a great product, but she herself is more than great, she personifies the words class and quality!
I tried to get a word from Ann, but the line was out the door and I had to postpone, business is jumping and it should be! She is always one to put the customer first, and the personal praise last.
Ann Gedeon is the founder and president of Rain Barrels N' MORE. Ann grew up in a small Westside suburb of Cleveland Ohio and longed to travel the world. After graduating from high school, Ann left small town life behind and began serving her country in the US Navy that would take her all over the United States, Mexico and Japan.
Upon completing her military duty dedicated herself to being the best mom she could be. In between baseball games, parent- teacher conferences, and volunteering, found peace in gardening.
Her expertise as a gardener was eclipsed only by her love of family. Ann went back to school and earned her degree and began a career that lasted decades a Paramedic. As the children became adults and grandchildren filled the air she continued her passion for gardening and shared it with them.
Working part- time with local landscaping companies knew her true passion was planting and designing. Ann kept one eye on the ever changing "green" movement and the impact gardening was having on the average American. With 50 approaching, Ann found herself unemployed due to the economic recession. She embraced this down time to perfect her gardening skills.
Personally frustrated by the lack of attention given to details, in this now rapidly moving recycling, eco-friendly, sustainable world, found they lacked insight as to what the real needs of the people were. Large companies jumped on the band wagon engaging engineers who designed wonderful recycled, eco-friendly gardening items that Manufactures rapidly produced, but who valued a nickel more than the environment and communities they operated in with little to no warranties and shoddy workmanship.
Manufactures sold these items, but lacked the true meaning of SUSTAINABILITY, to Retailers who didn't know how to use them, who in turn sold them to Consumers who didn't understand them. Ann decided to re-enter the game with a women's company of her own. Focusing on personalized customer service and 24/7 assistance to those who wanted to help the environment and begin reducing their carbon footprints.
In 2010 Ann started what would become Rain Barrels N' MORE, joined by her family and friends, a new era began. The results was amazing. Working with the public her entire life, Ann was able to find out what the customers real needs were and steer them in the right direction, even if that meant out of her door to a different store.
Selling with 30-plus years of experience in the emergency and customer service industry. Ann had held senior level management positions with multi-million dollar organizations that recognized the importance of customer service and personalization. This unique combination of working experiences and entrepreneurial flair has generated a new company that is perfectly positioned for a more environmentally conscious consumer.
She embraces her motto, Sustainable 'GREEN' Solutions for your Home and Gardens. Rain Barrels N' MORE is built on a personal philosophy of honesty, environmental awareness, love of family, humor and a sense of childlike wonder that no one should ever outgrow. Rain Barrels N' MORE is located in Westlake, a quiet Westside suburb of Cleveland Ohio who is economically healthy with a deep sense of family values.
After seeing the bright lights of big cities all over the world, the realization was easy to come by; that who you are and what you stand for is never defined by where you live, what you own or who you know. Rain Barrels N' MORE promises to always keep the needs of the environment first, and seeks to only provide the merchandise the customer truly needs to help them make their own an impact on the world, no matter how small. Rain Barrels N' MORE is proud to be Saving the World, One Raindrop at a Time!
They now have a new Location after five successful years in business, the property that Rain Barrels N' MORE had called home, was placed up for sale and Rain Barrels N' MORE was forced to move their location in December 2015. Their NEW home is now located inside a fun and friendly, family run business for 25 years called The Rock Pile Garden Center.
Rain Barrels N' MORE was welcomed with open arms by Erin & Jen helped to make the transition as smooth as possible. What does this mean for faithful Rain Barrels N' MORE,
Shaklee & Young Living Essential Oil customers? Not only will you continue to receive personalized one-on-one service, but customized to suit your specific needs, for health, home or gardening needs. We hope The Rock Pile Garden Center will quickly become your ONE-STOP-SHOP for all of your home and gardening needs!
Rain Barrels N MORE is now located inside of The Rock Pile Garden Center is located at 900 LNagel Rd, conveniently located at the I-90 Nagel Road Exit, north of Chester Road, just before the railroad tracks in Avon, OH 44011 Click here to visit: www.rainbarrelsNmore.com Those who have visited our former location from the I-480 Stearns/Crocker exit, could continue north on Stearns/Crocker to I- 90 West and get off at the next exit-Nagel Rd.
Rain Barrels N' MORE is a certified GREEN America Company and will continue saving the world, One Drop at A Time. Want to learn more about our products and services? No Problem!
They are more than happy to answer your questions and respond to your comments. ann@rainbarrelsNmore.com Phone: 440-937-5100.

NEO Sports Insiders Newsletter
Sign up to receive our NEOSI newsletter, and keep up to date with all the latest Cleveland sports news.