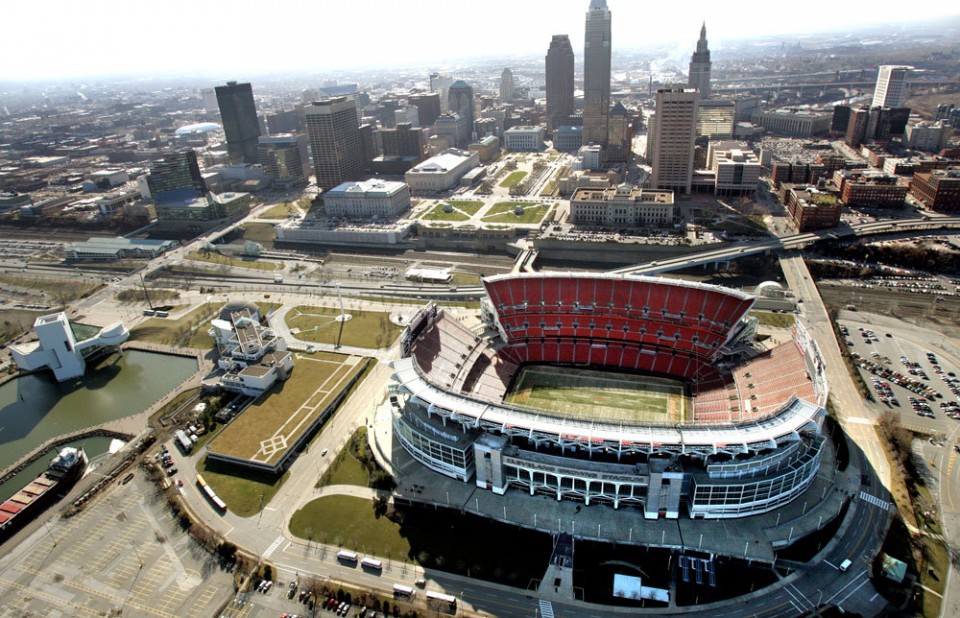 On Sunday morning, I had the opportunity to check out the upcoming ESPN 30 for 30 film "Believeland" at the Cleveland International Film Festival.
I will start off this review by saying I am by no means a movie critic. I'm not a film aficionado of any sort, but if there's one thing I have spent a significant amount of time caring about in my life, it's Cleveland sports.
The ESPN 30 for 30 Film "Believeland" told the story of the last 70 years of Cleveland sports. Starting with the Tribe winning the 1948 World Series, the Browns last NFL Championship in 1964, and then the heartbreaking defeats suffered by the Browns, Indians, and Cavs over the last 35 years.
It also gives an in-depth look at the process in which Art Modell moved the Browns to Baltimore, takes a look at the saga of LeBron James' rise, departure, and return, and generally shows the agony Cleveland fans have been suffering through for so long.
The movie features Cleveland sports legends, from both on and off the field, with quite a few appearances from Tony Rizzo, Tom Hamilton, Ernest Byrner, and other Cleveland sports figures.
Writer Scott Raab is featured in the film in many scenes, as he was one of the producers, and it was interesting to see his emotional rollercoaster of being a Cleveland fan, along for the ride with all of us.
In my opinion this film depicted Cleveland perfectly. It showed how passionate the fans are. It showed the diehard fan base and gave a great picture of how emotional our city can get over sports.
That passion even showed in the audience in the theater one row behind me, when a Browns fan voiced his displeasure with Modell. There's a scene where Art Modell's son tried to essentially say that the Browns never really left Cleveland because they were just waiting for a new stadium to be built, which prompted the man in the row behind to scream "Shut up!"
This caused the crowd to clap, laugh, and cheer.
There were other points throughout the film that elicited a wide array of emotions. Sadness. Anger. Happiness. The whole gauntlet of being a Cleveland sports fan. The scenes showing the Browns fans back in 1995, outraged that their team was being moved, were hard to watch. I'd be lying if I said my eyes were dry through the whole movie.
And I definitely wasn't the only one.
I was born in 1992 so there were some clips from the film that I didn't witness when they happened, but the scenes of the Browns in the 1980s; Red Right 88, The Drive, The Fumble, all scenes that I have heard so much about from family members and fellow Cleveland sports fans, were painful to watch. I can only imagine how the people who lived through these events felt when they watched it.
This film provides a great trip down memory lane and I believe will do a great job showing people from other cities what Cleveland sports fans are like when it airs on ESPN.
If you're a diehard Cleveland sports fan like me, which you probably are if you're reading this, I highly recommend checking out this film. There will be two more showings at the Cleveland International Film Fest this week. The next one is Monday night, April 4th, at 7:30 PM and the final screening will be Tuesday night, April 5th, at 6:30 PM.
Get there early to get a place in line. I was there 30 minutes prior to the start time and the line was at least 100 people deep when I got there.
You can purchase tickets ahead of time at this website, but just know that does not guarantee you get a seat.
Luckily they were showing the film on three screens when I went, but to be safe, I suggest getting in line 45 minutes prior to start time.
If you can't see it at Tower City this week, "Believeland" premieres May 14th at 9:30pm ET on ESPN.

NEO Sports Insiders Newsletter
Sign up to receive our NEOSI newsletter, and keep up to date with all the latest Cleveland sports news.