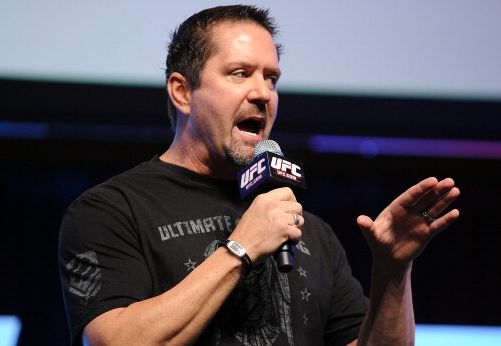 It came as sad and shocking news to many yesterday when it was announced that Mike Goldberg will no longer be with the UFC after tomorrow night.  While it is not clear as of yet where he will go next, it is without question that he was one of the most popular personalities in UFC history, and a man who's name is synonymous with being the voice of the UFC.
I had the pleasure of speaking with him recently on his start into the MMA world and the overall uncertainty of the MMA / UFC at the time he entered the business.
Here is what Goldberg had to say, "
"It is interesting because I'm too old to have been growing up during the beginning of MMA, I graduated from North Olmsted High School in 1982 and it didn't start emerging until 1993 in the UFC form.  I used to watch Mike Tyson fights, however, as he was the man at the time.  He would wear the black trunks, no socks, come out in a cut out towel and just knock people out in seconds.  MMA wasn't really established in any degree in the United States while I was growing up."
                It wouldn't matter that MMA wasn't around yet because at a young age, Goldberg already knew that announcing was in his future no matter what the sport of choice was, " I knew that I wanted to be a TV sportscaster because in 8th grade there was a guy in North Olmsted High School named Don Moore, who conducted the choir, but he would also conduct these rock concerts as a benefit for the American Cancer Society.  I started getting involved with them early on, and in 8th grade we went to Channel 8.  They allowed us to do a lit bit during the Jerry Lewis telethon, than we were allowed to watch the local the news as it went on.  I remember that whole night clear as day as the night went on and I said to myself, "that is what I'm going to do!  I'm going to do sports, I'm going to do TV and that is my goal!"  It was really was my goal because of Don Moore and the rock concerts and that entertainment side of me matching the hockey side of me.  I had a love for both things!"
                His hockey career as well as broadcast dreams brought him from North Olmsted High School to the University of Miami of Ohio for the next leg of his lives journey that ultimately led to a career in the UFC.  It was at Miami of Ohio that the young Goldberg began planting the seeds for what the rest of his life would hold, "I remember going down with my mom for freshman orientation.  At the time we went down to the college radio station WMUB 88.5 and we wanted to see if there was any job available.  We were lucky because there was one as a board operator.  Which consisted of controlling the buttons for the WMUB shows, but, you also got the chance to do the weather once an hour for a minute.  So that was my first start into radio.  It was nice to get a job in radio for the college before I even stepped foot on the campus as an actual student."
                As the young Goldberg learned and improved his craft in radio, continued to follow his first love of hockey," working at the radio station was also in conjunction with playing college hockey.  We had so much fun and success as we went to the Club National Championship.  Playing hockey was my life along with being on radio on television."
                As his time in the rink continued to be successful, so did his time in the booth, "It worked out great because as I grew in student radio I had a couple of people who really believed in me.  Eventually I went over to 97X and got hired in with my first real paying job in television.  The real turning point was in my junior year when I had a really good tryout in Hockey, but didn't make the team because they felt they had another kid who would be better than me in two years and wanted him instead, thus I was sent to play for the club team. 
                At that time it was the best thing that could happen because it made me realize I needed to focus 100% of my efforts on my other dream of becoming a sports broadcaster.  From there I interned at Channel 5 for a year and got to be a producer there.  During the summer I would intern down in Cincinnati where I actually got to see Pete Rose break the record for most hits in a career.  I'll never forget it as it was a 2 – 1 pitch from Eric Show on September 11, 1985.  It really was awesome because both my mom and dad were born and raised in Cincinnati so I have a lot of Bengals blood in me and a lot of Big Red Machine blood in me.  It was great to see Pete break the record. 
                Going to the radio station may have be a minor step in the beginning, but a really important step.  It was in my junior year that I really put in the extra time with all my internship work at Channel 5.  That is really when I decided to get down and dirty and embrace the marathon."
                After his college career concluded, the opportunities for bigger and better things came Mike Goldberg's way, "My first job out of college was in Sarasota Florida and I stayed there from 1986 – 1989.  I then got a job on Sports Channel Chicago as I was covering all sports then.  I did some college hockey, also basketball, football, minor league baseball and even some soccer.  I was one of the anchors for the Sports Channel Report, which is Chicago's version of the ESPN Sportscenter. 
                This time working in Chicago brought along some interesting chances to cover unique stories and also ones that would remain relevant a very long time for Mike Goldberg.  He was in one of the sports Mecca's of the world, and made sure to make the most of his chance to work in such a hot bed and mixed culture of professional sports.  Goldberg reflects back at some of the memorable moments and encounters during that exciting time in his life and career, "I got to do some very cool gigs during that time in Chicago.  I got to do national during prime for college football and college basketball.  One of the best things was becoming the sideline reporter for the Chicago Bulls.  I got to cover their first three in championships in 1991, 1992 and 1993.  It was cool to be around Michael Jordan, Scottie Pippen and John Paxson who was a kid from Dayton, Ohio.  As things went on and progressed, eventually Ron Harper came to the Bulls, and he and I had lived in the same dorm in college.  I had even covered his career in college.  To see Harper come to the Bulls was pretty cool to see after being there so many years and also with him prior in college."
                Because of the stellar work Mike Goldberg did with the Bulls, he was eventually hired to work for the biggest National sports station on the planet, ESPN in 1995.  Goldberg reflects on yet another big break in his career, "That is when my main gig became calling NHL play by plan on ESPN 2, but I was also hired to broadcast college football and college basketball.  While working at ESPN they also had me cover roller hockey, the extreme games, but the main gig with them remained NHL play by play." 
                His career would eventually lead him to the UFC to be a part of the UFC Japan broadcast team on December 21, 1997 from Yokohama, Japan.  It would prove to be an exciting and vital first night for Goldberg with the UFC as one of the bigger names at the time debuted when Frank Shamrock beat Kevin Jackson in just 16 seconds with an armbar in his UFC debut.  Also that night saw the Heavyweight championship change hands as challenger Randy Couture knocked off the champion Maurice Smith to win the title. It was a pivotal first night with the organization for Goldberg because at the time, the UFC was still a growing brand searching for a voice.
Goldberg stepped into a non envious position because of many large questions surrounding the future of the company, which at the time was ran by SEG and not Zuffa, like it currently is.  After troubles with securing sanctioning, the SEG corporation eventually were forced to the point of bankruptcy and had to sell it to Station Casinos executives Frank and Lorenzo Fertitta and their business partner Dana White which took the UFC to whole new levels.
The promotion was in serious jeopardy that night in Japan, but the young Goldberg was just happy to have a chance on the Pay Per View Stage.  Mike Goldberg reflects on how an opportunity lost at ESPN led to a chance with the UFC, "They always say it is not what you know but who you know.  I had been at ESPN doing a lot of play by play at that point in my career.  At that time in 1997 I had just gotten the Detroit Red Wings job.  It was cool because they actually won the cup that year for the first time in 42 years.  I thought after that, it would be my job to have for the next 25 plus years as I had replaced a guy named Dave Strader.  However things did not work out as I thought they would as I became the victim of that next voice.  It happens all the time in other markets as well, it happened to Mike "Doc" Emrick and Gene Hart in Philadelphia. 
                With me not getting my contract renewed, the situation with me led to a guy working with ESPN at the time and the Red Wings named Bruce Connal who's father Scotty Connal helped to put ESPN on the air.  If you read any of the old ESPN books you will see his name all over them.  Well, they started a family production company called Con Com Inc. At the time, Con Com Inc. had the rights to the filming of the UFC, owned by SEG at the time.  Well Connal called me, and I will never forget it as he said, "Goldy, I have a gig for you, they will pay you $5,000 and it is in Japan.  You will need to take a Jiu Jitsu class and send your promo tape to David Isaac.  So I did just that and was called in to do Ultimate Japan shortly after."
                At the time, Goldberg had no idea how much that one night would go on to define his entire career and how quickly things would change on every level along the way with the UFC, "I had no idea that it would define my entire career the way that it ended up doing.  I was only thirty three years old at the time and just needed a gig.  It was also a chance to work with Bruce again.  The night itself turned out to be a classic event.  I went on to work for SEG for the better part of four years before Frank Lorenzo and Dana White came in and chose to retain my services going forward."
                Mike Goldberg was no different than many fight fans around the world at the time as even he didn't know if the UFC as constructed would continue to last past each show.  Senator John McCain from Arizona was determined at all costs to shut the UFC down for good.  He referred to it as "Human Cock Fighting", which caused many Pay Per View vendors not to carry the programming.  Without Pay Per View, the promotion stood little chance to make it.  The owners with the SEG knew they needed to start making rule changes and quickly.  The original format was no rounds and no weight classes, fighters were allowed to kick with shoes on, and didn't even have to wear gloves.  All of that would soon change.        Mike Goldberg reflects back on the uncertain time, "There were some scary times back in those days because it was called "Human Cockfighting" by senator John McCain at the time, and he really wasn't that wrong because of the barbaric rules when the UFC first began.  In the beginning, there weren't rounds or even weight classes and that was his main selling point to try and shut things down.  So he had a strong point or even several strong points.  With that being the case, we used to go into a lot of UFC events back in the SEG days as if it would be our last one.  My partner Joe Rogan and I laugh about it a lot now, but after every card we would talk with each other and decide that we needed to go out after the show and have some cocktails to celebrate a good run as we always thought it would be our last show. 
                Now -a -days, there are 7 events scheduled at a time if not more, but back then everything was always so uncertain, as if there would even be another show let alone several lined up.  Eventually Lorenzo Fertitta and Dana White stepped in and bought the UFC and they decided to embrace regulation, and now we are here today because of that. 
                But yeah, I was there during those dark days and I have suggested that Canada saved the UFC as well because we were on full Pay Per View there and we continued to do good numbers up there while we struggled in the states to get in back on television and Pay Per View.  Direct TV and Satellite wasn't that big back then so we really didn't have the massive amount of people who even had the choice to order a pay per view as we do now.  With all of that considered, it was clearly some tough times."
                Things have improved drastically since the dark days of the UFC in the late 90's.  As mentioned, the company was bought and turned around by the Fertitta brothers Frank and Lorenzo along with Dana White.  The UFC is currently one of the most profitable organizations in the entire world.  It is available on every major Pay Per View provider including ones international markets such as Brazil, Australia, Canada, New Zealand and Italy. They have grown globally in the cage as well as they have had fight cards in over 20 countries.  The UFC  as had cards on several stations including Fox Sports, Fox Sports 1, Spike TV and several other networks as well.  The UFC is now the largest mixed martial arts promotion company in the world.   The organization now offers nine weight divisions and enforces very strict rules in the cage and also outside of the cage with several forms of drug testing.  Gone are the days of one dimensional fighters, as they are now very well rounded and are well equip Boxing, Brazilian Jiu-Jitsu, Sambo, Wrestling, Muay Thai, Karate,  and Judo.
For the rest of the interview with Goldberg, along with the top MMA Fighters and Boxers to ever come out of Ohio, click on the link below.

NEO Sports Insiders Newsletter
Sign up to receive our NEOSI newsletter, and keep up to date with all the latest Cleveland sports news.