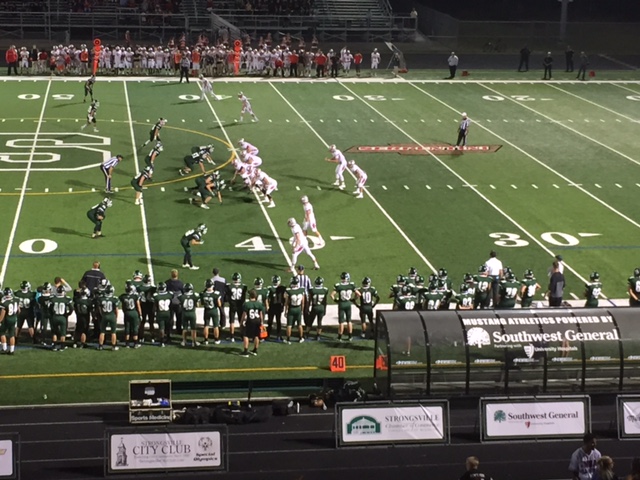 By Dave Alligood
STRONGSVILLE, OHIO – The Mentor Cardinals opened Greater Cleveland Conference league play with a decisive 42-27 win over the Strongsville Mustangs Friday night at Pat Catan Stadium.
Strongsville opened the game with a record-setting play in the opening seconds.  After a botched return followed by an offensive penalty pinned the Mustangs on their one-yard line, junior QB Jony Major found a sprinting Nick Adams behind the Cardinal's defense.
The junior receiver outpaced the defenders for a 99-yard touchdown reception, the longest play in school history.  The PAT gave the Mustangs their only lead of the night at 7-0.
For the rest of the half, Mentor's three senior offensive leaders—Tadas Tatarunas, Logan Shea, and Chris Edmond—led the Cardinals to 21 first half points for a 21-6 lead at the midpoint.
On Mentor's opening drive, QB Tatarunas showed his elusiveness in avoiding a sack to complete a downfield pass to get Mentor out of trouble.  After moving ball to the 2-yard line, running back Edmond punched through for the Cardinal's first score.  The game was tied at 7-7 with the PAT.
Mentor's defense created havoc for the Mustang offense, who could not get any momentum going.  Led by defensive standouts Dan Garcar and Noah Potter, the Cardinal D harassed the Mustangs on the edge and stuffed them up the middle.
Potter was particularly busy, creating match-up nightmares for Strongsville's O line.  Potter, who is getting a lot of looks from Big 10 and MAC programs, said, "I just try to dominate every play.  I think I did that most of the game.  A couple of plays got away from me.  I just tried to do my best and help my teammates.  That's my job."
Potter finished with multiple QB hurries and tackles for loss.  And when he could not get to the QB, he demanded the O line's attention enough to allow others to get through.
Edmond scored two more touchdowns in the first half.  The last one came on Mentor's first drive of the second quarter.  Showing their ability to grind out yardage and chew up the clock, the Cardinals went 85 yards in 14 plays, taking nearly four minutes off the clock.  Edmond capped the drive with a one-yard run.
For Strongsville, halftime could not come soon enough as they floundered time and again on offense, and were battered and slow to react on defense.
Mentor received the second-half kickoff and did not miss a beat as Tatarunas used a combination of passes and a well-timed keeper to put the Cardinals at Strongsville's one-yard line, where Edmond again punched it in for his fourth touchdown.
Strongsville would answer with their own impressive drive, including a key fourth-down conversion, and would cap it with a 16-yard touchdown pass from Major to junior wideout Joe Gillette.  The PAT was no good, and the score was Mentor 28-13 at the 7:12 mark of the third quarter.
At this point, it appeared Mentor would completely run away with the game.
Mentor would again rely on their big three and finish with a 13-yard touchdown pass from Tatarunas to Shea.  With the successful PAT, Mentor led 35-13 midway through the third quarter.
Strongsville suffered a nightmarish possession as they were hit with multiple offensive penalties and then exacerbated their drive with a poor exchange resulting in Mentor gaining possession at Strongsville's five-yard line.
Two plays later, Tatarunas scored on a keeper as the Mustang D focused on Edmond.  The PAT gave Mentor a 42-13 lead at the end of the third quarter, and the rout appeared to be in hand.
Strongsville refused to give up and scored on their next drive junior back Taylor Griffin punched it in from the one-yard line.  Strongsville attempted a two-point conversion but Major was stopped short.  Mentor's lead was cut to 42-19 early in the fourth.
Strongsville then successfully executed an onside kick and used the momentum to score on a beautiful pass from Major to Joe Gillette for his second score of the game.  This time the two-point conversion was good for a 42-27 Mentor lead.
Mentor would give Strongsville another opportunity on their next drive.  On third-and-eleven, Tatarunas passed directly to Strongsville defender Jake Poyle who returned the ball to Mentor's 48-yard line.
Unable to muster any offense, Strongsville turned the ball over on downs with 3:47 left in the game.
Mentor was then able to convert two big third-down plays and run out the clock for the final score of 42-27.
Mentor coach Steve Trivisonno was pleased with the offensive effort throughout the game.  "We did a nice job tonight.  We went empty set and moved guys around.  It was a good job offensively."
Trivisonno also commented on his team's defensive inconsistency: "We were [disruptive].  We just gave up too many big plays.  Can't give up deep passes."
With the win, Mentor improves to 3-1 (1-0 in GCC play) and Strongsville drops to 2-2 (0-1 in the GCC).
Mentor hosts Brunswick next week in GCC play, while Strongsville continues league play on the road with a tough matchup at Solon.
Player of the Game:  Mentor senior running back Chris Edmond.  On a night that featured big games from QB Tatarunas (over 250 yards passing) and wideout Logan Shea (10 receptions for nearly 150 yards), Edmond was the steady rock that kept the Cardinals offense churning out yards and eating up minutes on the clock in the second half.  Even the dominant performance by junior end Noah Potter was overshadowed by Edmond's 120 yards and four rushing touchdowns.

NEO Sports Insiders Newsletter
Sign up to receive our NEOSI newsletter, and keep up to date with all the latest Cleveland sports news.