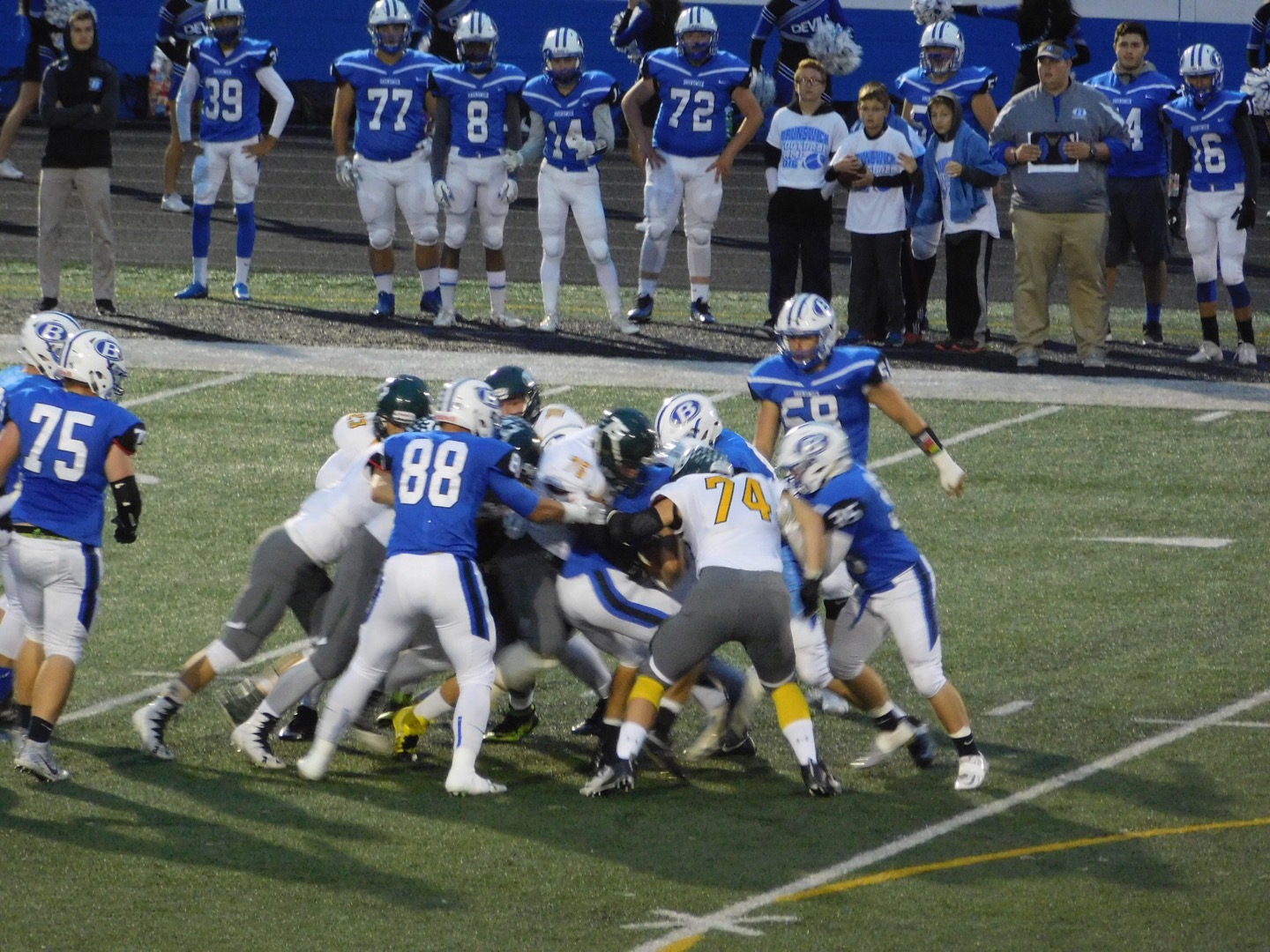 The Book Shelf LLC brings you a recap for week four Friday battle between the Medina Bees and the Brunswick Blue Devils.
BRUNSWICK, OHIO – The beat rolled on Friday night in Brunswick for the Medina Battling Bees, as a team putting up over 50 points per game had little issues with the 1-4 Brunswick Blue Devils, walking away with a 41-7 victory.
The Bees move to 6-0 on the season, and seem to be heading for a showdown with the Solon Comets in the last week of the regular season for control of the Greater Cleveland Conference.
Medina got a big night from senior running back Jimmy Daw, who barreled his way to 215 yards on 21 carries with a rushing touchdown. He also pulled in three catches for 33 yards, including a 39-yard touchdown on a screen pass.
Backup quarterback Calvin Montgomery filled in nicely for injured quarterback John Curtis, who was hurt late in last weeks win over Strongsville 42-23.
Montgomery ended the night 16-for-23 for 243 yards and four touchdowns, including a 70-yard score to junior wide out Dylan Fultz that tied the game at seven in the first quarter.
The Blue Devils continue a tough season as they fall to 1-5 on the season after an opening night win at home over Medina Highland.
They haven't won since, and Friday had an early 7-0 lead after an opening drive touchdown, but were not able to sustain their momentum from there.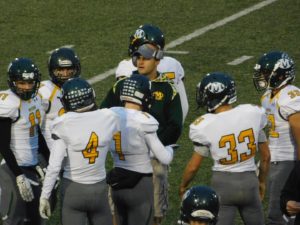 Senior running back Jake Martin had 94 yards rushing to lead the Blue Devils, but was held to just three yards in the final two quarters after a productive first half.
Fellow Blue Devils running back Jake Vadini scored the only Brunswick touchdown of the night on a 14-yard run in the Blue Devils opening drive, and ended the game with 62 yards on 16 carries.
Blue Devil quarterback Cole Zamiska was held to just 4-for-9 passing for 66 yards and was pressured a number of times by the Bees defense.
Brunswick went 7 plays and 66 yards to start the game to take a surprising 7-0 lead, with Martin accounting for 42 yards between rushing and receiving on the drive.
Vadini went over from 14 yards out to give the Blue Devils a 7-0 lead with 9:26 to play in the first quarter.
It took the Bees awhile to get going, but finally Montgomery hit Fultz with a 70-yard score with 1:28 to play first quarter to tie the game at seven.
Medina would dominate from there, as they took control on their next drive, as Daw went into 'beast mode' with an electric 75-yard touchdown run to go over the 100 yard rushing mark and make it 14-7 Bees.
Daw scored another second quarter touchdown as he pulled in a screen pass from Montgomery and rumbled 39 yards across the field to give Medina a 21-7 lead with 6:31 left in the half.
After a Blue Devils 3-and-out the Bees struck for their third score of the quarter, as Montgomery hit tight end Alex Whittaker for a 24-yard score to make it 27-7 with 3:32 left in the half.
Daw went the distance on the final play of the half, but a holding penalty brought it back and the half ended with the Bees up by 20.
Medina didn't wait long to put the game away in the third quarter, scoring in just four plays going 66 yards as Montgomery again hit Whittaker from 16 yards out on a seam route to make it 34-7.
The Blue Devils were stopped by an aggressive Bees defense in the second half, and their best threat stopped at the Bees 14-yard line with 5:39 to play third quarter.
The final score came from backup running back Keith Tector, as he galloped 60 yards in the games final minutes to put the Bees ahead 41-7.
The Bees will look to stay undefeated next week as they will take on Mentor at home to try and get to 7-0. The Blue Devils look for win number two as they play at Shaker Heights.

NEO Sports Insiders Newsletter
Sign up to receive our NEOSI newsletter, and keep up to date with all the latest Cleveland sports news.