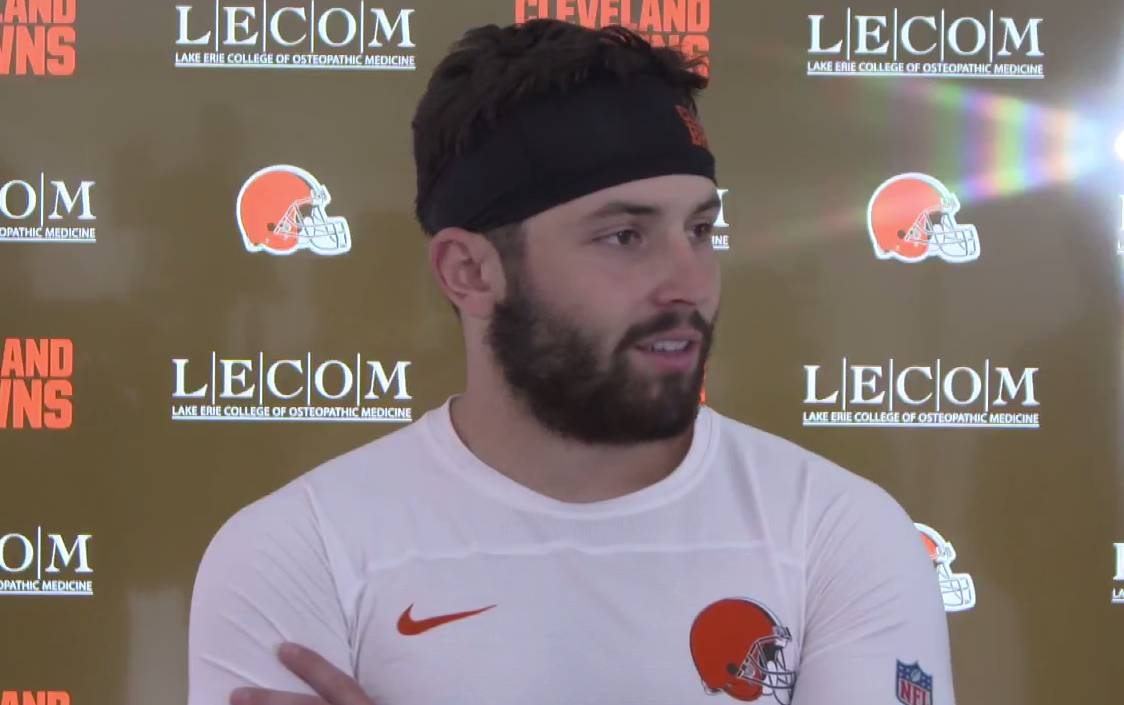 ---
BEREA, OH – Baker Mayfield wasn't going to be taking third-team reps behind both Tyrod Taylor and Drew Stanton forever. All it took was a mere three weeks for the Browns No. 1 overall pick to be promoted to second-team.
During the team's third and final week of OTA's, Mayfield was seen taking reps with the second unit, behind only Taylor on the depth chart. Not bad for a kid who a mere weeks ago, struggled to take the ball from under center. But even by his own admission on Tuesday, the Heisman winner knows he's still getting used to the NFL game.
"Obviously, the speed has picked up with all of the veterans here. It was inevitable," Mayfield said of the transition from rookie mini-camp to OTAs. "For me, I am trying to slow it down. Definitely improved under center, knowledge of the game and knowledge of the offense. That is the thing that I am trying to do right now. I am not going to complete the whole puzzle at once. That is not how it works."
Speed isn't the only thing Mayfield is adjusting to as he progresses through three weeks of OTAs. He's also noticed that with smarter, faster players on defense, the margin of error is much smaller when he drops back to throw.
"Guys know the game better, they know certain route combinations, they know if something happens here they drop back into a certain zone. There are certain things that just come with that. That's what happens when you play against smart guys like the linebackers we have here. Yeah, the windows close quicker, which is why you have to know the offense and know what they're doing so you can get the ball out."
Mayfield certainly has time to become even more acclimated to those things before any meaningful football is played. Mandatory mini-camp will be held next week, followed by training camp and the preseason in August; both should bring more reps and opportunities for Mayfield as QB-two.
"It is a good opportunity for me to get different reps with different guys," the Oklahoma product said. "You want to learn your players. You want to learn your receivers, what they are good at and get timing down with them. That is just an opportunity to get a feel for everybody and get comfortable with the team."
If you're expecting another escalation for Mayfield before the regular season commences though, don't get ahead of yourself. All indications are that the Browns still view Taylor as the team's starter ahead of next season, and hope to give Mayfield a "redshirt year" of sorts. For Mayfield, his focus is just on being ready when he's called upon.
In the meantime, the playbook and pace of play aren't the only things he's trying to wrap his head around. The rookie is trying to comprehend how talented wide receiver Josh Gordon is too.
"Physically talented, I've never seen anybody like him," Mayfield asserted. "Bar none, he's definitely gifted."

NEO Sports Insiders Newsletter
Sign up to receive our NEOSI newsletter, and keep up to date with all the latest Cleveland sports news.