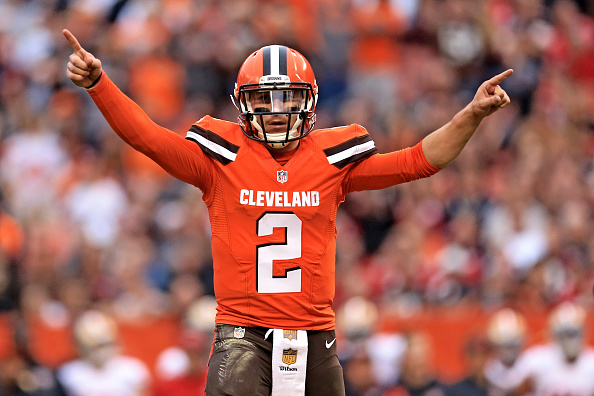 Where the Cleveland Browns were, Johnny Manziel was not. Manziel was supposed to be going through concussion protocol at 9 am before the season finale in Cleveland on Sunday, but never showed up. Let alone, could not be reached.
It was reported that Manziel had been spotted in Las Vegas' Planet Hollywood Casino, dining and sitting in at a blackjack table. Manziel already knew he wouldn't be playing of course, and once again he finds himself in the media off the field.
Saturday, Manziel posted this photo to his Instagram account:
The photo is of him, supposedly at that time, at home with his dog. He even added the location as Avon, Ohio. Now, anyone who uses the social media site knows you can search or create any location you want, so the legitimacy behind it isn't all there. It could be, and probably is, completely fabricated. Not to mention, there were multiple tweets and on-the-record statements made from the employees at the casino he was indeed there that night.
Now, I'm not one to sit here and call anyone a liar, but Johnny, your story just isn't checking out. To go one step further, I'm not sure how many people in the city of Cleveland can get behind a kid who is supposed to be a team leader, and can't stand to stay on the sidelines for the final game of the year.
As much as I wanted to believe that he was changing his ways, especially after getting some opportunities to start, it seems he never fully committed himself to the Browns. To say that's disappointing is a huge understatement.
Hours after the final seconds ticked off the game clock, Browns GM Ray Farmer and HC Mike Pettine were already fired. Another two year carousel ride for the head coaching position and it seems the Browns could be without a legitimate starting quarterback, or even the making of one, once more. How frustrating is that?
It's awful to watch the organization go through this wash-rinse-repeat cycle year in and year out. Now, with Farmer and Pettine already packing their offices up, who is next to go? Is Manziel on his way out? Do you even want him here? Does anyone in the NFL even want him?
It has been stated the Browns already have coaching interviews lined up for this week. I'm not sure who's ready to come in and take the challenge, but I hope they can manage to stick around longer than a few years before they tear it down again. Good luck.

NEO Sports Insiders Newsletter
Sign up to receive our NEOSI newsletter, and keep up to date with all the latest Cleveland sports news.