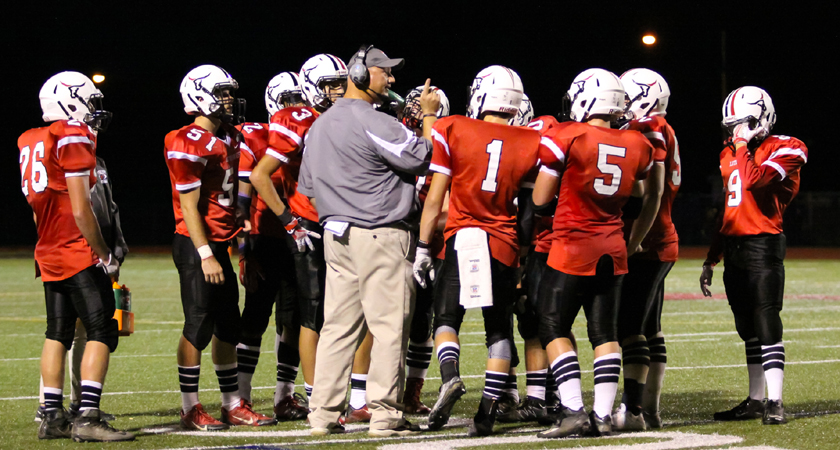 By Mark Perez
It's a new season for Lutheran West, head coach of the 6-2 (2-1) Longhorns declared to his team the week after their loss to Columbia.
In their new season, they are 2-0 after their win against the Oberlin Phoenix, who are now 2-6 (0-3).
"(Our new season) motivates us to beat more people and rack up more points after our two losses," Longhorns' running back Parker Watson said after the game. "I don't think those should have happened, but we are bouncing back."
Watson ran for 168 yards and three touchdowns, two of which came in the first half that helped them start the second half off with a running clock as they led 45-12.
"(The offensive line) helped me out a lot," he said. "We're all family, we'll do it together, credit to them, and I love those guys… When I start going, I can't stop."
Lutheran West leaned on him heavily in the first drive as he touched the ball four of their five plays before scoring the first touchdown from a three-yard run.
Oberlin retaliated right after their next drive as the Phoenix's Ravon Eisom scampered for a 25-yard touchdown run to tie the score 6-6. They did not score their 2-point conversion.
Watson bounced right back with a four-yard touchdown and catching a 2-point conversion to make the score 14-6 after rushing for a 24-yard gain on the previous down.
"(Watson) has had a great year all season long." Lutheran West coach Frank Petroff said. "He's a tough running back, experienced running back. He played a lot of football last year for us and he continues to do a great job."
"They muscled us on both sides of the ball," Oberlin's head coach Mike Akers said. "We couldn't deal with their interior lines and they just dominated us. We just couldn't do anything because of that."
Turnovers for the Phoenix was the problem for them and the drizzling rain on the field didn't help their situation either.
"Tonight, we just didn't block up front and that was the cause of our turnovers," Akers said.
This game was also the start of their new quarterback Micah Jones-Smith replacing Azarie Hairston, who is playing wide receiver.
"Our quarterback (Jones-Smith). This was his first game and I thought he did a nice job." Akers said. "He handled snaps well, especially with a wet ball, he got it to the right people, he ran the ball well. He had a long run and had a nice screen pass for a touchdown."
Before the end of the first half, Oberlin was backed-up to their own 10 yard-line and threw the ball to his running back, Jones-Smith's pass was tipped and was intercepted by junior David Busch and was returned for a touchdown.
"We are very confident, but we know what lies ahead and we'll need to get better this week to take on a tough Clearview team (next week)," Petroff said.
Next week, Oberlin will face Brooklyn high school and Lutheran West will face Clearview high school at 7:00 p.m.

NEO Sports Insiders Newsletter
Sign up to receive our NEOSI newsletter, and keep up to date with all the latest Cleveland sports news.