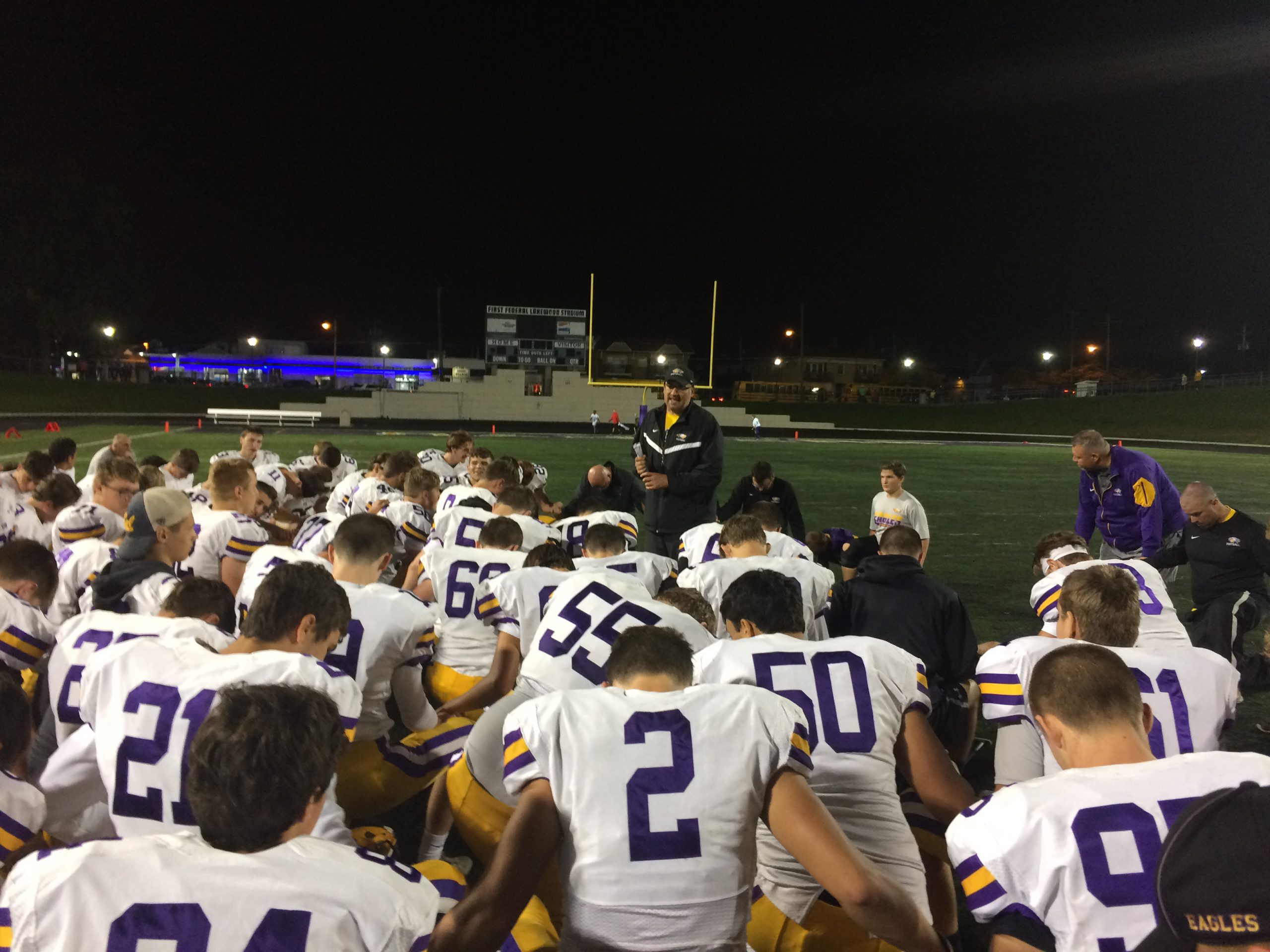 NORTH RIDGEVILLE, OHIO – The Avon Eagles marched into Ranger Stadium Friday night where it was Senior Night and rained, figuratively and literally, on North Ridgeville's parade with a resounding 56-21 SWC victory for their fifth consecutive win.
On a night more suited for a quiet evening at home by a fire with a book, the Eagles came out facing the elements and quickly dispatched the overmatched Rangers early and often.
Led by senior RB Nick Perusek, the Eagles ground game thoroughly pounded the Ridgeville interior from the start. Perusek had 14 carries, 192 yards and four touchdowns, all in the first half, was a man possessed, picking up huge chunks of yardage, including scoring runs of 25, 27 and 37 yards.
Perusek's night started on the game's opening drive when he capped a 9-play 69-yard drive with his 27-yard score, absolutely pounding the Rangers' secondary line of defense.
Following a Ridgeville turnover on the next series, Perusek carried the majority of the load leading the Eagles on a 96-yard scoring drive where Cole Zamborsky finished it off with a one-yard run. With six minutes to go in the first the Eagles led 14-0.
North Ridgeville was not without some good running themselves, and on the ensuing drive, marched inside the Avon five where the Eagles held for what would have been a chip shot field goal.
An Avon neutral zone infraction however enabled the Rangers to nix the field goal and instead went for it on fourth and goal from the four. Running back Cade Riley made them pay with a four-yard score and suddenly it was 14-7 Avon.
Avon came right back as Perusek scored his second touchdown from 16 yards out, a tremendous display of smash mouth running to extend the lead 21-7.
North Ridgeville was forced to punt on the next possession and Avon took it 90 yards on 10 plays and Perusek again finished it off with a 25-yard score.
When Ridgeville then tried a fake punt late in the first half and failed, the Eagles were set up at the Ranger 37. Maloy handed it to Perusek who scampered 37 yards for his fourth score and a 35-7 halftime lead.
The rain kept coming in the second half and so did the Eagles second and third team player.
Ridgeville took the second half kickoff and three plays later fumbled at their own 33, linebacker Mark Steinmetz recovered and Avon was again in business.
This time Maloy found wide out Ryan Jones for 33-yard score and a 42-7 lead. Any chance at all the Rangers had fizzled, two late fourth quarter touchdowns by the home team made the score look closer than it was.
Sophomore running back Desmond Kelly shined for Avon in the fourth as well, rushing for 65 yards on seven carries including a 47-yard score.
Avon, 7-1, continues it's playoff push next Friday as they travel to Amherst, to meet the Comets, 6-3. The Rangers,now 2-6 travel to Westlake to battle the Demons.
Tonight's player of the game, undisputedly, is Avon RB Nick Perusek his 192 yards on 14 carries and 4 scores could catapult him to player of the week honors.

NEO Sports Insiders Newsletter
Sign up to receive our NEOSI newsletter, and keep up to date with all the latest Cleveland sports news.