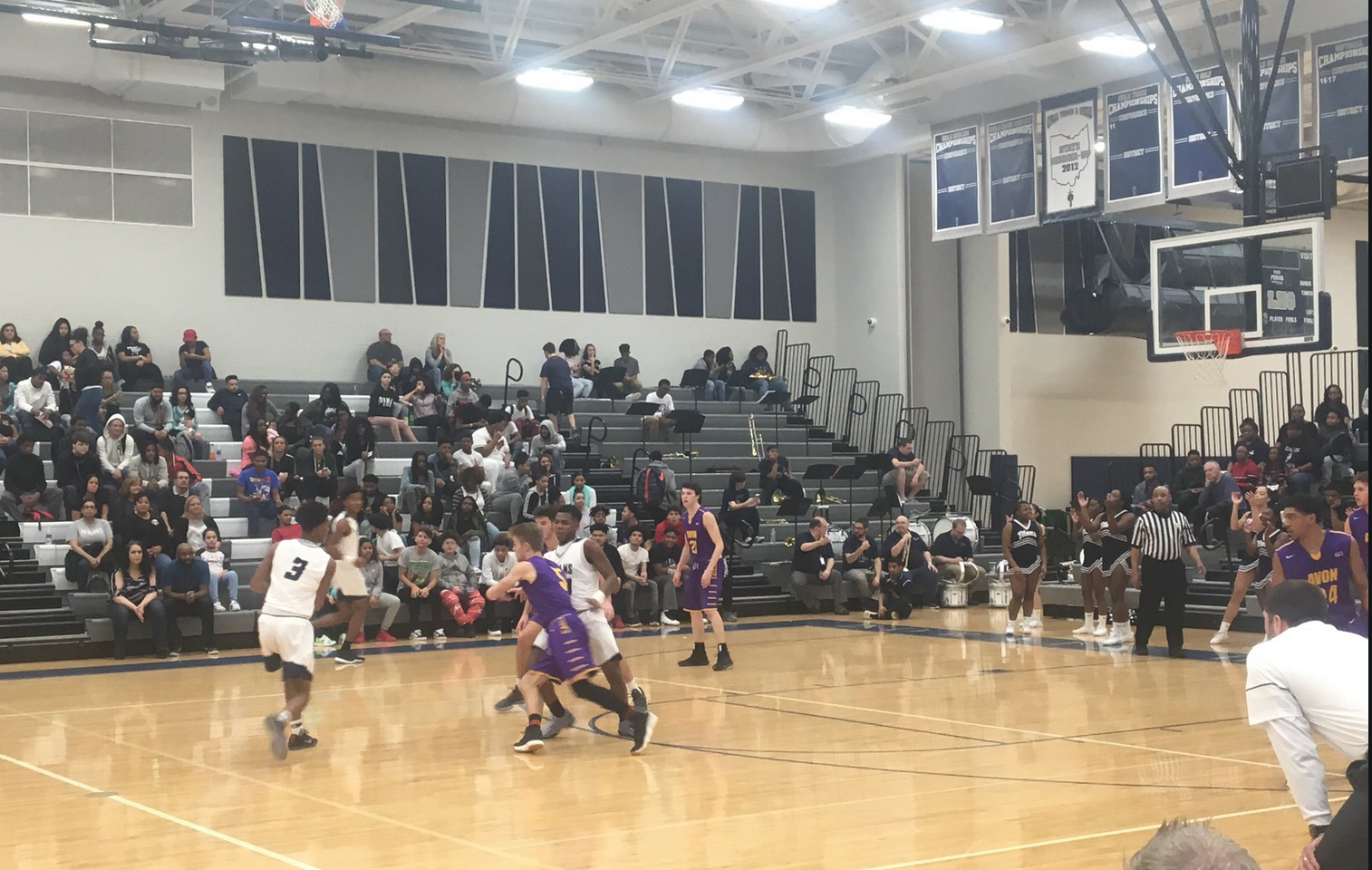 LORAIN, OHIO– Senior night couldn't have gone any better for the Lorain Titans, as they topped the Avon Eagles, 71-45, and got a big lift from their seniors in the process.
Coming into Tuesday night's game, senior Jaiden Sledge's season-high was 12 points. He surpassed that number in the second quarter and ended the night with 16 points. Sledge, who transferred from Amherst before this school year, scored eight of the Titan's first nine points, including two three pointers.
"I felt great, all my butterflies got out of me and I just felt good from there," Sledge said. "It felt good because it's senior night and my teammates tried to get me the ball as much as they can, and I try to score as much as I can. I was shooting my shots in rhythm."
"He has brought so much positivity to not only our basketball program, but the whole school," head coach John Rositano said. "There's not a person, there's not anybody in this school who doesn't love the kid. He's always got a smile on his face, just a great kid. And we are so happy that he made the choice to come play for us."
David Weatherington, the only other senior on Lorain's roster, also had a solid game with 10 points, including two buckets in the second quarter to help the Titans regain the lead heading into the halftime break.
Behind Sledge's quick eight points, the Titans jumped out to a 9-3 lead to open the game. Avon responded with a run of their own and took a 10-9 lead on a 3-pointer from Dean Emerine. After trading buckets, the Eagles held onto a 14-12 lead at the end of the first quarter.
The Titans buckled down defensively a couple of minutes into the second quarter, however, and started on a run of their own. Five quick points from Sledge and a layup and a dunk from Taevon Pierre-Louis started the Titans out on a 9-0 run to take a 21-14 lead. Pierre-Louis, Weatherington and Levell Hall all contributed transition buckets that helped balloon that lead to as many as 13 points. Avon went on a 7-0 run to close out the half, however, giving the Titans just a six-point halftime lead.
At halftime, the Titans stressed the importance of defensive pressure. That showed in the third quarter as they began to play tighter defense in the full court as well as the half court, causing a lot of Eagle turnovers and easy transition buckets.
"In the second half we started to play a lot of solid defense so when we started playing solid defense, their team started to struggle and our team started scoring the ball more," Weatherington said.
"I thought we made it difficult for them," Rositano said. "Especially in the second half where we got some turnovers and some run-outs, where we could score without letting them get in their half court defenses, then we're just that much better."
Pierre-Louis opened the second half with back-to-back dunks giving the Titans a 10-point lead. Nine of Avon's 11 points in the third quarter came from Ryan Maloy, seven of which were free throws. By the end of the third frame, Lorain started to pull away with a 46-34 lead.
Midway through the final quarter, Lorain led by 20 thanks to seven quick points from Devon Grant. In the end, the Titans' pressure proved too much for Avon.
Pierre-Louis led Lorain with 17 points, while Grant added 16 to go along with Sledge and Weatherington's outputs. Emerine had 15 points for Avon, while Maloy added 13.
When it comes down to it, Tuesday night was a solid win for Lorain, and a good way to send out a senior class that shares the same characteristic.
"They're not flashy, but they're just solid," Rositano said. "Solid basketball players, great kids. Like I said, when you have two seniors that provide character, the chemistry of the team is a lot easier."
| | | | | | |
| --- | --- | --- | --- | --- | --- |
| | 1Q | 2Q | 3Q | 4Q | FINAL |
| AVON | 14 | 9 | 11 | 11 | 45 |
| LORAIN | 12 | 17 | 17 | 25 | 71 |

NEO Sports Insiders Newsletter
Sign up to receive our NEOSI newsletter, and keep up to date with all the latest Cleveland sports news.