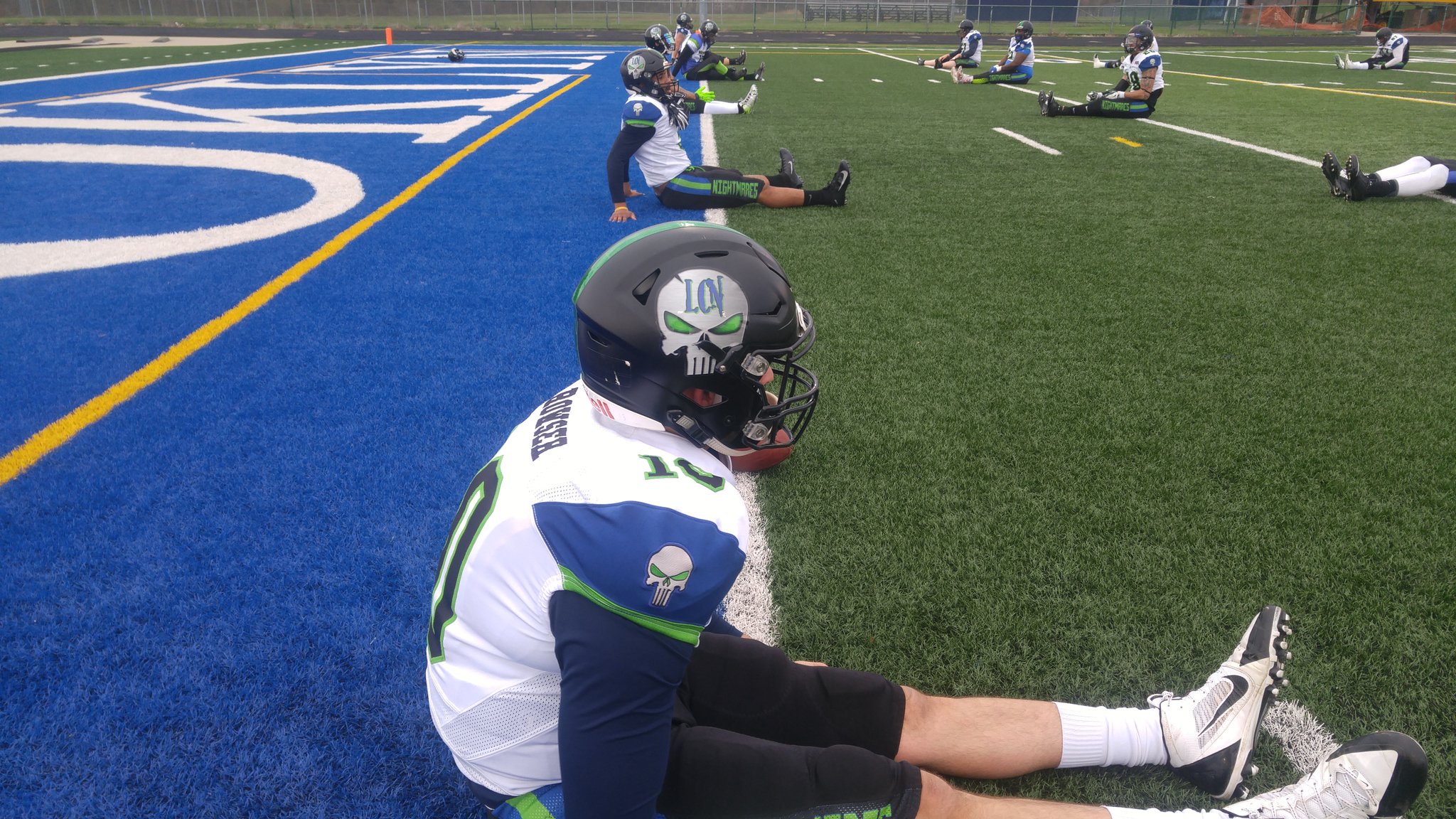 The Lorain County Nightmares kicked off their season tonight as they traveled to Brooklyn Ohio to take on the Cleveland Cobras.  The Nightmares overcame a 10 point early deficit, along with some sloppy mistakes that led to multiple turnovers, to run over the Cleveland Cobras 28-10 in red hot PAFL action.
Rookie head coach Jamie Ray Adams has to be pleased at the play of his defense who shut down the Cobra attack all night long.  The Nightmares also showed plenty of poise and heart as they shook off early mistakes to play an outstanding game.
Leading the Nightmares was rookie QB out of John Carroll, Brandon DiMarco who finished up with 3 second half touchdown tosses.  DiMarco went 21 of 36 for 247 yards with touchdown tosses of 14, 41 and 32 yards.  He had two touchdowns passes to CJ Powell JR for 41 and 32 yards to seal the game in the fourth quarter.  Powell was celebrating his birthday today!
DiMarco in his first game on the team, looked great and saved the Nightmares from multiple turnovers by fielding a variety of errant snaps from shot gun.  DiMarco connected with Powell all night and impressed all in attendance.  DiMarco had this to say about his night, "It was an incredible chance, after I got done playing football at JCU I didn't know if playing football was in my future then Jamie found me.  This is an exciting time for me.  We have been working since January to get better, and I've gotten to know a lot of the guys personally as well as what they do on the field, and we have developed that kind of chemistry."
Also, with a big night was the fore mentioned birthday boy, CJ Powell JR who finished with 173 yards on 11 catches, with the two touchdown strikes.  Powell had his way with the Cobra defenders all game and explained why he was able to have success, "Preparation and practice always helps along with belief in me by the coaches and my quarterback.  What we see out there is what we are going to take just like coach says.  If we find a lemon out there, we are going to squeeze it."
Also coming up big with several key pass deflections in the first half was lock down corner Shawn Masterson.  Shawn snuffed out several big passing plays from the Cobra's and looked sensational.  Wide Receivers will have a hell of time getting open on Materson this season.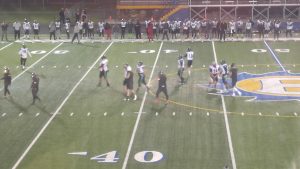 The defensive player of the game for the Lorain County Nightmares was Chase Laudato who absolutely put on show tonight.  Laudato finished with a key interception, a safety and a blocked field goal.  All of which came at pivotal points in the game and changed the momentum every time.  I cannot stress this enough; all 3 plays were major game changers.
Laudato had this to say why things went so well tonight on the defensive side of the ball, "We had success because of our D line, they make my job easier out there with the way they play.  Their out there doing their assignments and we just play off them.  They give us great energy and without them there is no big plays.  My hat is off to the defensive line that makes my job that much easier."
Coach Adams was pleased to see his team turn around an early deficit and overcome some blunders, to get things back in the right direction before it was too late.  He has this to share after the contest about his teams opening night victory, "I attribute our success tonight to the coaching staff we have as we got together and made some adjustments.  The game is about adjustments and you need to play our strength to their weakness to start to have success.  In minor league football you spend time during the game figuring out what the other team has.
On the defensive side of the ball, we just played our game. I think this being the first game of the season took our guys a little bit of time to adjust, and that is something you have to deal with.  We don't get rattled and we handled adversity well.  We made the adjustments needed after the first quarter to be successful.  The scoreboard reflected that it worked!"
The only down point of the attack, was the slow go of the running game which stumbled out of the blocks, and never quite got on track.  Something to work on for sure for the Nightmares.  Aries Irby did have the big touchdown rumble, but also fumbled twice and was held to 30 yards on 10 carries.  Dontez Smith faired a little better, going for 24 yards on 7 carries.
The Cobras used two early fumbles by Aries Irby to jump out to a 10-point lead. The first Cobra score was set up following a Irby fumble deep in their own territory.  A few plays later the Cobra quarterback Bo Beagle hooked up with Tae Gibbons Sr to make it 7-0.
The Nightmares continued to catch bad breaks, as their next drive ended early and resulted in a punt that netted less then 15 yards after a horrible bounce.  The Cobras connected on a 25-yard field goal to go up 10-0.  Cleveland would not score again, and only cross the 50-yard line once.
From there it was all Nightmares. DiMarco led them on their first scoring drive of the night.  It was capped off by a 2-yard touchdown rumble from Irby to get the Nightmares on the board.  Lorain would have another chance to score, but a high snap 3 feet over DiMarco's head backed them up 20 yards.  That high snap stalled a promising drive to close the opening half.
The Nightmares came out smoking in the second half.  Backing up the Cobra's deep and then Chase Laudato made them pay by sacking Cleveland backup quarterback Brandon Robinson in the enzone for a safety.
Despite being down 10-9, it was clear that everything was turning the Lorain County way.  A few plays later, following some excellent catches by Mario Walton, the running back turned wide receiver found the endzone.  He scored on a 14-yard pitch and catch.  Walton who is listed as a running back on the official roster, closed out the night with 6 catches for 52 yards.
The touchdown gave the Nightmares their first lead of the game at 16-10 midway through the third quarter.  The Nightmares piled on from there.  With a little under 12 minutes left in the game. Chase Laudato picked off a Cobra pass at the 41-yard line.  DiMarco made them pay on the next play with a 41-yard touchdown launch to CJ Powell JR.  The Nightmares would tack one more DiMarco to Powell JR touchdown toss on before it was over for the 28-10 victory.
Box Score
LCN 0 7 9 12 = 28
CLE 7 3 0 0 = 10
Scoring Summary
10-yard touchdown pass from Beagle to Gibbons CLE 2Q @3:45
25- yard FG by Kaplan CLE 2Q @14:08
2-yard TD run Irby. LCN 2Q @7:50
Safety LCN 3Q @12:10
14-yard touchdown pass DiMarco to Walton LCN 3Q @4:47
41-yard touchdown pass DiMarco to Powell JR LCN 4Q @11:41
32-yard touchdown pass DiMarco to Powell JR LCN @0:32

NEO Sports Insiders Newsletter
Sign up to receive our NEOSI newsletter, and keep up to date with all the latest Cleveland sports news.