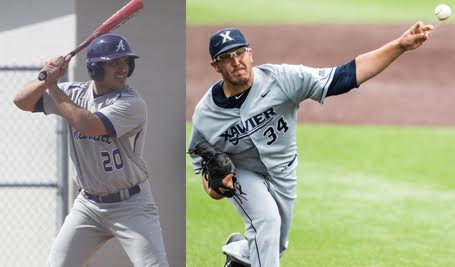 The 2016 MLB Draft has came and gone, now the 2017 Draft is on it's way. Two local boys are looking to get drafted in that draft. Zac Lowther of Brooklyn Heights and JP Sorma of Independence are beginning to get looked at for their abilities.
Lowther, a Left-Handed Pitcher for Xavier University , stands at 6'2 and weighs 230 pounds. This past season Zac had a fantastic year for Xavier. Lowther lead Xavier in Wins (7) , Starts (16) , and Innings Pitched (102) . Xavier's Head Coach , Scott Googins, had this to say about Zac :
"Ever since Zac took the mound, even as a Freshman, he has always had the ability to make the batter swing and miss. He loves to compete and it isn't hard to see why he tied for the league lead with 84 strikeouts.  No doubt in my mind he will be very good at the next level."
Zac has continued to impress during this summer, in the Cape Cod League. Lowther made an All-Star appearance for the Brewster White Caps on July 23. Zac has recently been placed into the rotation for the White Caps, and has only started in three games so far. During this summer Lowther has a record of 2-1 with 1 save in 10 appearances, he is leading the team in strikeouts with 53 and has only walked 3 batters.
JP Sorma, plays Third Baseman for Ashland University, he stands at 6 ft and weights 220 pounds. Sorma ended the season for Ashland with a 29-game hitting streak that he will take into the 2017 season. Sorma finished the 2016 season with a .381 batting average , 17 home runs (second all-time in Ashland history) , 11 doubles, and 59 RBIs .
JP was playing summer ball for the Pompano Beach Clippers of the South Florida Collegiate Baseball League. Sorma lead the Clippers to their second championship in team history last week. JP put up outstanding stats for the Clippers with 19 home runs (a SFCBL record), 58 RBIs, and a .363 average.
SFCBL League President, Vince Farfaglia, had this to say about JP Sorma:
"There are not many amateur players that can hit with that type of power with a wood bat. He is a special player and I am sure we will hear his name this coming season in the draft. He added that he was really proud of the season Sorma put together and earned the respect of many pro scouts."
Live tweet from the @SFCBL_Official: @JPSorma2 already has 2 home runs and it's the 2nd inning

— Max Balter (@MBalt1) July 20, 2016