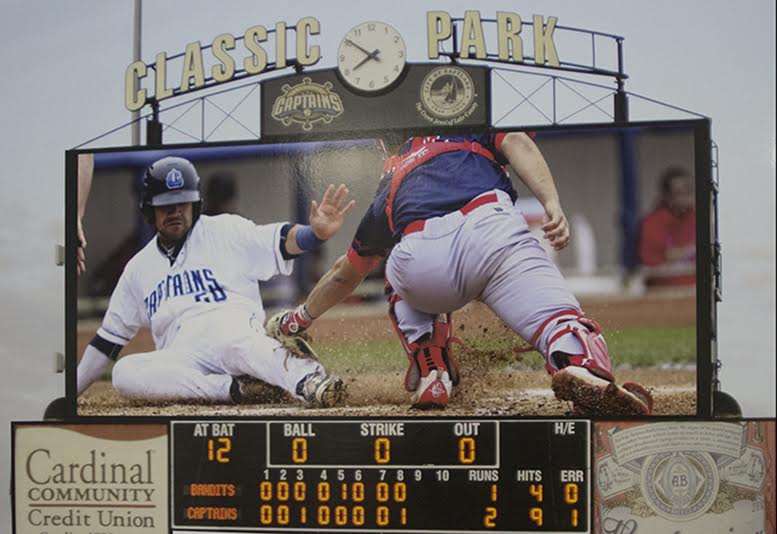 The Lake County Captains played part of their opener in Dayton on Thursday night against the Dragons, and tonight they will play the rest of that first game at 6pm, followed by a seven inning game for their second contest of the season.
Thursday's game was halted after four innings with Lake County leading the Dragons 3-1. Here's a quick recap of how things went for the Captains as they built the lead on Thursday.
Lake County will have runners on the corners with two outs and Erlin Cerda due up with a fresh count. That game will be nine innings. After the first game is completed, the Captains and Dragons will play a full seven-inning game that will begin 30 minutes after the end of game one.

Before the rain interrupted Thursday night's ballgame, the Captains jumped out to an early lead. The second batter of the game, Todd Isaacs, lifted a high-flying home run over the left field wall to put Lake County ahead, 1-0.

Dayton answered in the bottom of the first. Taylor Trammell, the Dragons' number-three hitter, belted a line drive solo home run to right-centerfield to knot the score at 1-1.

The Captains rallied in the fourth. Luke Wakamatsu rolled a slow grounder up the first base line and reached safely when Dragons pitcher Tony Santillan fumbled the ball. Santillan then walked Emmanuel Tapia to put two men on with nobody out. Li-Jen Chu put the Captains back in front with a sharp ground ball single through the left side that scored Wakamatsu. Shortly thereafter, Logan Ice sacrifice bunted the runners to second and third, and Santillan uncorked a wild pitch that brought home Tapia to give Lake County a 3-1 advantage.

After the wild pitch, Santillan got Alexis Pantoja to bounce a ball back to the mound for the second out. The right-hander then walked Conner Capel to put runners on the corners for Cerda. At that point, the grounds crew attempted to fix the dampened infield. Before long, the Dragons' grounds crew abandoned that plan and rolled out the tarp before officially suspending the game at 9:07 p.m.

In his first start of the year, Micah Miniard worked three innings and allowed one run on three hits. Miniard struck out a pair and did not issue a walk, though he hit one batter.
NEO Sports Insiders along with AllSportsCleveland.net are now part of the Captains Broadcast Network, and we will have daily posts on the Captains along with a link where you can hear all the games LIVE as they happen with the voice of the Captains – Andrew Luftglass.
For all the action starting with 'Captains Live' at 5pm and then the action from Dayton – Click the Captains Logo below to be taken to AllSportsCleveland.net where you can hear every pitch!