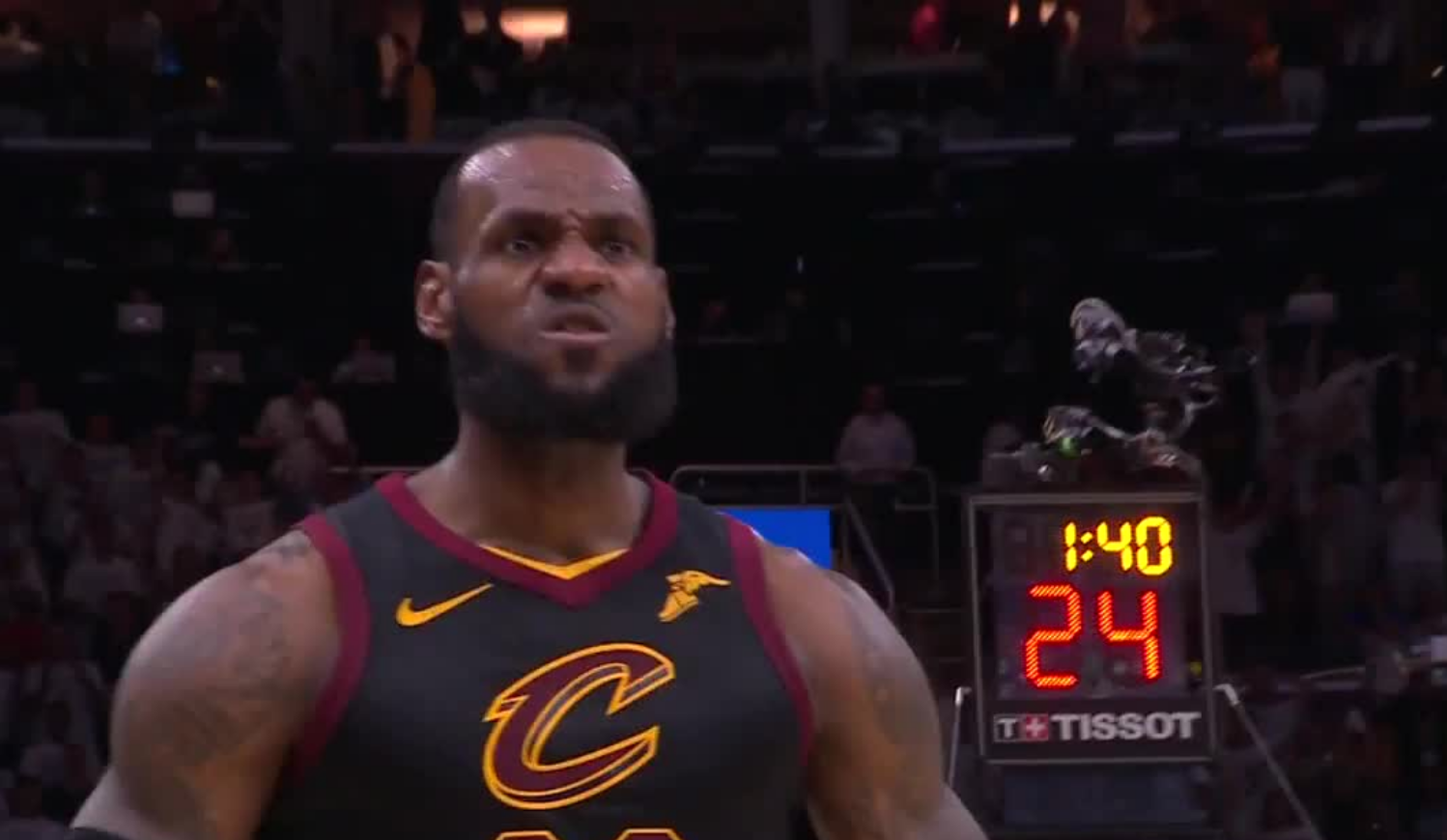 CLEVELAND– Just when you think he can't possibly have anything left in the tank, LeBron James pulls off an all-time playoff performance.
The Cavaliers topped the Boston Celtics in Game 6 of the Eastern Conference Finals, 109-99, to force a Game 7 in Boston on Sunday night, behind James 46 points.
Without further adieu, let's dive in to three takeaways.
1. LeBron James' Herculean effort
It may sound hyperbolic, but any word you could possibly think of to describe James' Game 6 performance simply feels inadequate.
James put up 46 points, 11 rebounds and nine assists in 46 minutes, resting only the final 57 seconds of the third quarter and final 57 seconds of the game with the Cavs up 12.
He scored the final eight points for Cleveland on two 3-pointers and a layup, and put up 12 points after he appeared to injure his leg as Larry Nance Jr. fell into him in the second half of the fourth quarter.
One of the most important stretches for James was during the second quarter. The Cavs trailed by five heading into the frame, but outscored Boston 34-18 behind 17 points from James, giving them an 11-point lead at halftime.
"He delivered. He was up for the challenge. He carried us home as usual," head coach Tyronn Lue said of James' outing. "Big shots, playing through being tired and fatigued. We needed him to be big, and he was big."
Lue on LeBron's night: Greatness. Championship pedigree. Giving it his all. We needed that, especially when Kevin [Love] went down. We had to play Bron as many minutes as he had to. He delivered. He was up for the challenge. He carried us home as usual. pic.twitter.com/lkawNT48TG

— Ashley Bastock (@AshleyBastock42) May 26, 2018
As big as James was, he's going to need to pull out all the stops for one last game in this series. But despite his own personal Finals streak and the Cavaliers season being at stake, James says he trusts the work he's put in more than anything.
"For me, I don't put too much added pressure on myself," James said. "I just go out and play my game. It's a Game 7. It's something that you wish you had when you're done playing, but more than that, it's just basketball for me. I know what I'm capable of doing, and I'm going to trust everything I put into it."
LeBron says he doesn't putt too much extra pressure on himself going into Game 7: "it's just basketball for me. I know what I'm capable of doing, and I'm going to trust everything I put into it." pic.twitter.com/YOu3YulnwB

— Ashley Bastock (@AshleyBastock42) May 26, 2018
2. Kevin Love goes down, and other Cavaliers step up
With about seven minutes to go in the first quarter, Kevin Love left the game after colliding heads with Boston's Jayson Tatum on this play:
Love did not return and continues to be evaluated. Per Jason Lloyd of The Athletic, Love said his status for Sunday's game is a "toss-up." Considering the Cavs' struggles finding a third option on offense at times in this series, their chances without him looked bleak. Thankfully, Cleveland had plenty of guys step up in his absence.
George Hill put in 20 points and was aggressive on offense from the jump. Jeff Green added in 14, and provided versatility on defense that allowed the Cavs to switch basically any position. Larry Nance Jr. added in 10 points and seven rebounds, and much like Green, provided an energy that was much-needed in an elimination game. Kyle Korver wasn't shooting lights out, but provided hustle and activity on the defensive end
James' heroics combined with the contributions of those four guys assured the Cavs a victory even in Love's absence.
"I think when you lose an All-Star like Kevin and our second go-to guy, pivotal part of what we try to do, and when he goes down and then you help you're brother up, that's what they did," Lue said after the game.  "Kevin left the game. He didn't come back, and guys got together and they played. They played for Kevin. They played for each other and were able to get the win."
3. George Hill once again shows how important he is
Hill's 20 points on Friday night were a high for him in the playoffs this season. He came out with an aggressive mindset early on and looked to attack, giving the Cavs plenty of movement offensively.
"I took it upon myself to just put myself in situations where I can be aggressive," Hill said. "It's kind of like that moment where you don't want to go home. It's not time to go home. I think the adrenaline kicked in where I had that pressure and I was saying, I'm not going home today."
Another key for Hill? His pregame meal. Hill said all three games at home this series, his go-to has been barbacoa tacos with guacamole from Chipotle.
"I'm for sure going to find a Chipotle in Boston, I'll tell you that," he joked postgame.
Hill talks about his pregame meals during these 3 wins: Barbacoa tacos with guacamole from Chipotle. Says, "the three games here, that's what I ate before the game. I'm for sure going to find a Chipotle in Boston, I'll tell you that." pic.twitter.com/R2a3fX0Fs2

— Ashley Bastock (@AshleyBastock42) May 26, 2018