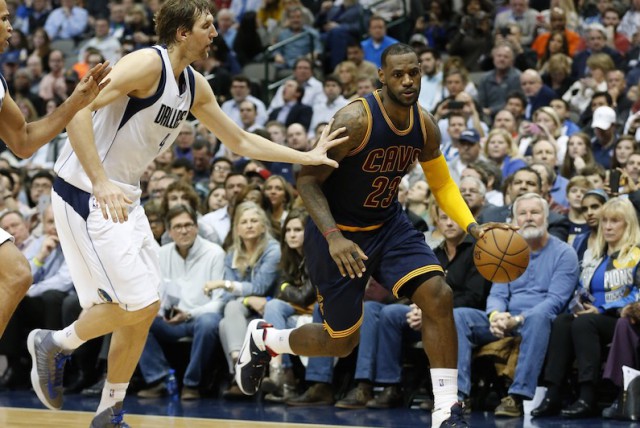 As bad as Monday night was for the Cavaliers, the sun was back out on Wednesday as the Cavs took the court in Brooklyn ahead of their Wednesday night affair against the Nets.
It was a slop feast at the Q on Monday, as the defending champion Warriors totally embarrassed the Cavs, sending doubt by the experts in the NBA as well as fans as to just how good this Cavs team can be.
The teams' leader, LeBron James, took center stage on Wednesday and told it like it is, Monday is gone, you can't go back and do anything about it.
"Our last game against Golden State," James said, "you can kind of throw it in the trash
It may sound trite for the leader of a team expected to again make the Finals to say such a thing, but at the same time, Monday was the first game off a long road trip, and it's fair to say the Cavs simply didn't show up.
They played like a tired, unprepared team, and give credit to the Warriors, who came out with a 'foot on the throat' mentality led by Steph Curry, who hit for five three's early in the game and even overall.
For James, he knows there's plenty of work for this Cavs team to still do in order to try and get back to playing in June, but he's not ready to jump off the bridge over one very bad outing.
"I think we're a good team," he said. "But I don't think we're a great team right now. We've got to continue to get better. I really think it's absurd to think about May and June; it's not guaranteed, man.
"If we continue to win and put ourselves in position and we do make the playoffs, then we give ourselves a chance. … But that doesn't guarantee you anything. One shot here, one shot there, a turnover here, a turnover there, can change a series. So for me, to focus on down that road when tomorrow isn't promised, I think, is absurd."
The Cavs are 28-11, and if you look back to last season and how bad things were early one and how they ended up, there's no comparison of just how good this team is over last seasons.
They have a better bench, they have played more focused (taking away Monday's awful game), and seem to be a team built to be playing for a title.
That's not something you can say last year at this time.
LeBron put it on the table Wednesday – the Cavs are a good team, one game does not a season make, and let's see how the next 3-4 months play out before you begin to make your NBA Finals predictions.
"When I [talk about] us playing at a championship level, that doesn't automatically guarantee us [playing] until June," he said.
"It's all about the habits; I preach the habits more than anything. For me to look and say that we're going to represent the East in the Finals would be absurd. I don't really talk like that. That's not what I'm about.

NEO Sports Insiders Newsletter
Sign up to receive our NEOSI newsletter, and keep up to date with all the latest Cleveland sports news.