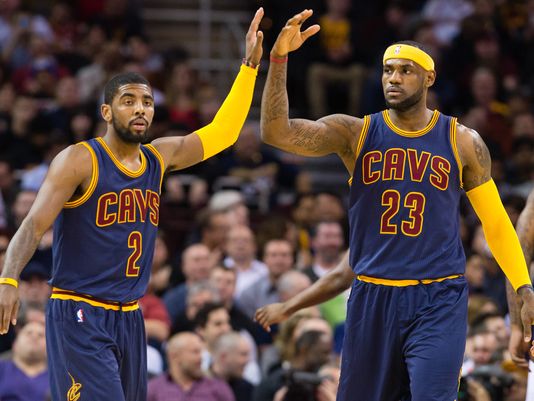 After the Cavs' 100-96 win over Indiana on Monday night, the Cavaliers' locker room was all smiles.
General Manager David Griffin came down to have a brief chat with LeBron James and congratulate him on the win.
Kyrie Irving went up and "dapped" LeBron and smiled and joked around with him before they both were ready to take questions.
If you didn't watch or read the news around the world of sports yesterday afternoon, it would have been impossible to tell that hours earlier, Stephen A. Smith of ESPN reported that Irving was "unhappy" in Cleveland.
Apparently LeBron didn't watch or read the news. He acted surprised when a question came up about Irving being "unhappy" in Cleveland. LeBron said "I didn't hear that. Those are just reports I don't get involved."
Whether you believe that or not, I respect the attitude the team showed after the win last night. Maybe this rough stretch can bring them closer together like it seemed the adversity of the 2015 NBA Playoffs did.
Irving was more direct when responding to the rumors, "There's nothing to really address," Irving said. "Obviously there's going to be some misunderstandings, it's part of being on a team. For me, as a maturing young player in this league, I know what we have and the opportunity we have in order to be something special. My communication is open with all of my teammates, just knowing what's going on and how I feel about things."
"For me, all that other stuff, what everyone is going to say, they're going to pick one player and it's going to change every single week," Irving said. "When they think that we're down and out, they're going to choose one player. For me, it has no effect on my life or what's going on. It's all about winning and winning a championship for Cleveland."
Winning cures everything and the Cavs fortunately came away with a hard-fought win that may have been an overturned three-pointer away from turning into a third-straight loss. The Cavs finished strong, Irving made four clutch free throws, and Tristan Thompson may have saved the day on both sides of the court in the final minute.
The Cavs have three days to get ready for their next game, so maybe this win will spark a turnaround for the rest of the season.