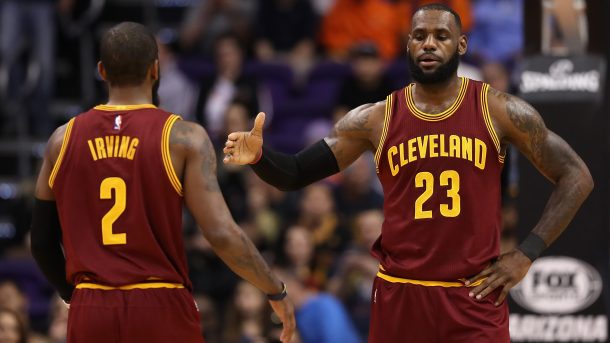 This off-season has been a mess for the Cleveland Cavaliers. Let's get that out of the way first.
From not re-signing David Griffin to missing out on Jimmy Butler and Paul George, this off-season can be summed up in one word: Ouch.
With the main worry this off-season being the fact that LeBron can leave after next year, Kyrie Irving threw a huge wrench into the Cavs' plan for the future, requesting a trade from the organization so he could seek out a goal of being "the man" of a team. It came as a puzzling decision and essentially out of left field, as Irving was expected to be the new face of Cavaliers basketball when LeBron either left or retired.
Since Irving's request was made public, everyone has had an opinion on the subject. Irving seemingly hasn't held back as well, appearing to mock LeBron in a recent Snapchat on his way home from his trip to Asia. By the way, this trip was lined up with the news of Irving's trade request getting out to the public. The trip seems mapped out perfectly by Irving, who was going to focus on himself and his brand during the trip, posting more on social media than he had in months. It all lines up for Kyrie, who wanted to get his brand established and has already done so with his latest trip.
Nonetheless, Irving's selfishness may have solved the primary worry when the Cavs entered this off-season and eventually next off-season: Keeping LeBron James in Cleveland past this season.
Think about it. What's one of the worst thing you can do to someone in any work setting? Question the way they perform and go about their business.
Alas, this is what Kyrie Irving has done. He has stated that LeBron gets "preferential treatment" and that he feels as if he's the Robin to LeBron's Batman. Kyrie basically said that James is holding him back.
This is the last thing anyone wants to hear, especially not the best player on the planet.
In all honesty, this is the first time a teammate has openly criticized James since before James rookie year. There's an old video of members of the 2003-04 Cavaliers roster criticizing James off the speculation that he could be a member of the roster after the 2003 NBA Draft, stating that he wasn't going to be a game-changer. In fact, Carlos Boozer stated that there were "already better players at his position".
Take a look at the video below:
Ah yes, guys such as Smush Parker, Darius Miles and Ricky Davis. Every one of these players that underestimated and low-key bashed LeBron's game all went on to become afterthoughts, if they weren't already. Even Boozer, who at one time thought he was LeBron's equal.
Since LeBron's rookie year, he has never been questioned. In fact, guys flock to him because of how great of a teammate he is. So the news of Irving announcing his disinterest and uncomfortablility playing with him seems awfully weird.
So here's my outlook on the situation: LeBron James will stay in Cleveland past 2018.
Why you ask? Because Kyrie Irving has angered him to the maximum with his accusations.
LeBron has performed the best when he is questioned, whether it be in 2003 when he went on to win Rookie of the Year. Or even two seasons ago, when LeBron's manhood was questioned by Klay Thompson before he and the Cavs stormed back from a 3-1 NBA Finals deficit to bring home the franchise's first championship. So once again, LeBron has been questioned. Expect him to perform at an all-time high again.
And what better way to do that then by staying in Cleveland and bouncing Kyrie Irving from the playoffs for the rest of his career? Whether Irving is traded to an East team or sent out West, he will cross paths with James more than once. I can assure you, LeBron would get ultimate satisfaction from depriving Irving of another chance at a championship. It would be even more sweet for The King to eliminate Kyrie while doing so in a Cavaliers jersey.
The whole perception from these trade rumors is that the Cavs are falling apart and everyone needs to brace themselves for when LeBron leaves town again. And for the most part, I would tend to agree that the chances of him staying didn't look good.
Then Kyrie Irving crossed The King.
So what if LeBron doesn't leave? What if he stays and keeps performing at the top of his game while Kyrie watches from home? Even better, what if LeBron won another NBA Championship without Kyrie?
LeBron has two options. He can leave Cleveland again and go play with his friends, attempting to win a title but at least having a good time. Or he can stay home, having the chance to continue winning titles for his hometown and sticking it to Kyrie Irving while doing so.
When that time comes, I think he will choose the more unlikely route of the two. Because that's what he's always done.