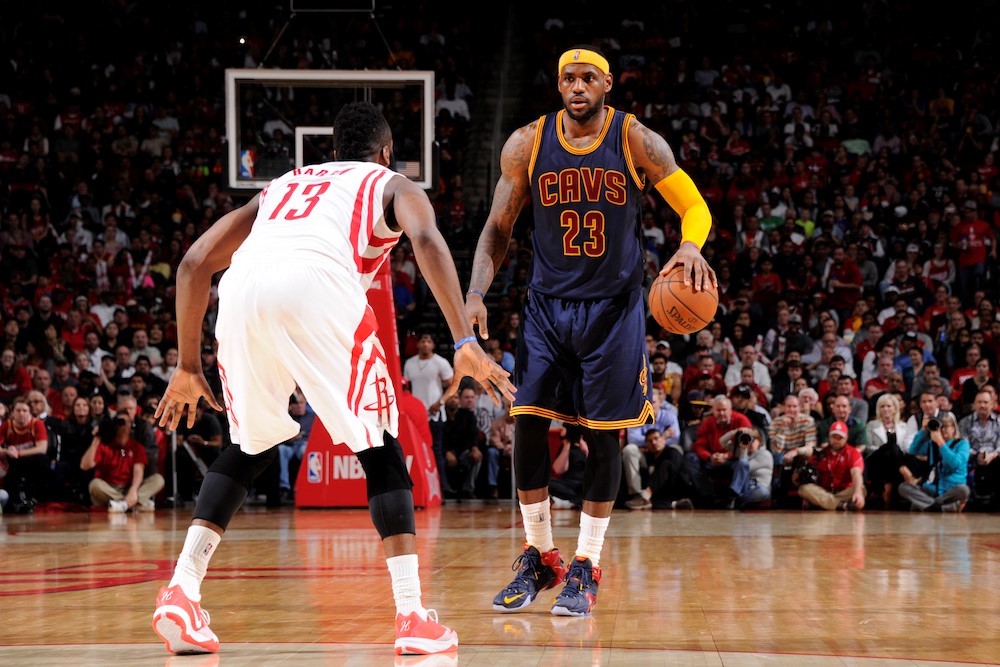 LeBron James is bidding to win the fifth regular season MVP award of his glittering career and appears to be locked in a two-horsed race with James Harden. The Beard leads the league in points per game, win shares and player efficiency, but James is ahead second on player efficiency and is posting his best numbers in many years. If he can claim the title he will join Michael Jordan on five MVP titles and provide further ammunition for those who say he is the greatest of all time. Harden is a formidable opponent, but could the Grade 2 hamstring strain he suffered on New Year's Eve hand the initiative to James?
The Houston Rockets' form has nosedived since Harden limped off the court, and that cannot hurt his chances of individual glory – provided he is not out of action for too long. To win the MVP race you need to win games singlehandedly, tell a compelling story and maintain near perfect health. That is disheartening from Harden's perspective, particularly as James is yet to miss a game this season and is among the league leaders for minutes played. What's more, the great man is posting numbers he has never before achieved during his long and glorious Hall of Fame career.
He is on 27.5 PPG, 8.1 RPG, 9.1 APG and only two players have ever posted a 27/8/9 line in the three-point era are last season's winner, Russell Westbrook, and runner-up Harden.
The Beard has a compelling story to tell as voters may think it is his time. After all, he has finished runner-up twice in the last three years and posted phenomenal stats and broke all manner of records with his triple-double exploits last season. A late surge from Westbrook saw the award elude him at the death, and he could finally be rewarded for a magnificent career, much like Leonardo DiCaprio was in 88th Academy Awards. But James also possesses a persuasive and captivating story because may will feel he is deserving of a lifetime achievement nod. Five MVPs would put him level with Jordan and he will never have a better opportunity to win it thanks to his stunning form this season. He has been widely revered as the best player in the league since his last win, in 2014, and could expect to be rewarded with another MVP award.
If Harden faces a lengthy layoff – and initial prognoses of two weeks out seem highly ambitious – Houston's points differential should continue to slide. That would make The Beard's case less persuasive as he would no longer be the leading light on an elite offense. But could anyone else benefit from Harden's absence and force his way into contention? It is surely too late for Kawhi Leonard, who missed several months with injury, while Westbrook no longer has to carry OKC, but that franchise has had a rocky season and Westbrook's stats have declined. Stephen Curry and Kevin Durant are intriguing sleepers in this market, but appear to cancel one another out and they will be more interested in collective rather than individual glory.
You can never rule those two out as they are sensational players, but a real wildcard could be Giannis Antekounmpo. The Greek Freak led the betting in the early season and is still third favorite with the sportsbooks. The best sportsbooks will offer odds on the MVP race, check them out and you will see that Harden is +150 and James is +200. They are close, and Harden's narrow advantage may slide in the weeks ahead. Next up is Antekounmpo, who is +1000, followed by Kyrie Irving at +1200. Antekounmpo is an interesting choice, but he is nowhere near as polished as the likes of James, Harden, Curry and Durrant and his individual brilliance as not translated into team success for the Bucks.
That is where James can win plenty of points: by sheer force of will he has maintained Cleveland's status as an elite team, despite the departure of Irving, injury to Isaiah Thomas and inconsistent team selection while newcomers are bedded in. You can still get +225 with some books on him, and you can lay that with a stake on Harden, then cover yourself with small stakes on Durrant at +2000 and Curry at +3300. But the longer Harden misses, the more momentum James will gather and this really could be the year he matches Jordan's record.

NEO Sports Insiders Newsletter
Sign up to receive our NEOSI newsletter, and keep up to date with all the latest Cleveland sports news.