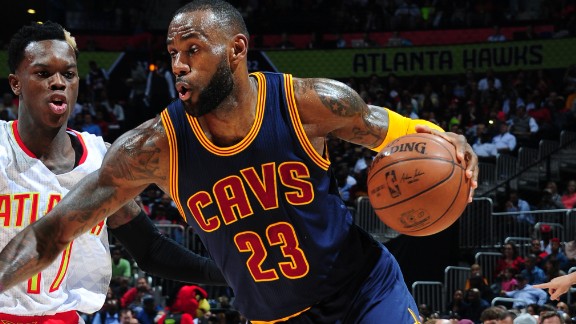 SANDUSKY– LeBron James ended his LeBron James Family Foundation "We Are Family Reunion" by speaking about the recent violence in Charlottesville, VA and President Donald Trump.
While speaking at the Cedar Point event, James touched on the events that occurred in Charlottesville over the weekend while holding his daughter, Zhuri.
"I know there's a lot of tragic things happening in Charlottesville," James said. "I just want to speak on it right now. I have this platform and I'm somebody that has a voice of command and the only way for us to get better as a society and for us to get better as people is love. And that's the only way we're going to be able to conquer something as one."
"It's not about the guy that's the so-called president of the United States, or whatever the case. It's not about a teacher that you don't feel like cares about what's going on with you every day. It's not about people that you just don't feel like want to give the best energy and effort to you. It's about us.
"It's about us looking in the mirror. Kids all the way up to the adults. All of us looking in the mirror and saying, 'What can we do better to help change?' And if we can all do that and give 110 percent, then that's all you can ask for."
James has been outspoken politically numerous times before Tuesday's event. He and his Cavaliers teammates donned "I Can't Breathe" t-shirts to protest the death of Eric Garner during the 2014-15 season. He also protested Trayvon Martin's death when he was still with the Miami Heat.
Last summer at the ESPY Awards, James, Carmelo Anthony, Chris Paul and Dwyane Wade opened the event with a speech demanding social change.
Tuesday is also not the first time that James has criticized President Trump. During the 2016-17 season, James was asked about the NBA All-Star voting process, and took a swipe at the president in the process.
"There's always goofy votes," James said. "I mean, Donald Trump is our president."
In fact, just prior to his family foundation event, James took to Twitter to criticize the president following a news conference earlier in the day:
Hate has always existed in America. Yes we know that but Donald Trump just made it fashionable again! Statues has nothing to do with us now!

— LeBron James (@KingJames) August 15, 2017
James' Twitter criticism came after Trump said "there is blame on both sides" when addressing the violence that occurred between white nationalists and counter protestors in Charlottesville over the weekend.

NEO Sports Insiders Newsletter
Sign up to receive our NEOSI newsletter, and keep up to date with all the latest Cleveland sports news.