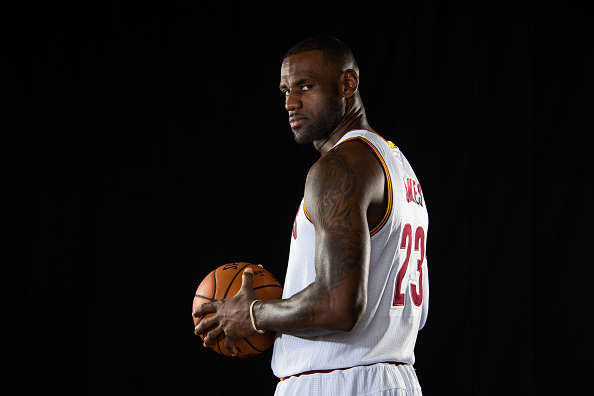 It's not been an easy day for Cavaliers superstar LeBron James, who had his home in Los Angeles vandalized with racist graffiti.
No one was hurt in the incident, but James was shaken when he took to the microphone today in Oakland for media day, one day before he and the Cavaliers take on the Golden State Warriors in game one of the NBA Finals.
Here's a transcript of what James had to say about the incident at his Los Angeles home.
"As I sit here on the verge of one of the greatest sporting events we have in sports, race and what's going on comes again – and on my behalf and on my families' behalf – but I look at it as if this is to shed the light and continue to keep the conversation going on my behalf then…then I'm OK with it.

My family is safe, at the end of the day they're safe, and that's the most important.

But it just goes to show that racism will always be a part of the world, a part of America.

You know, hate in America, especially for African-Americans, is living every day.

And even though that it's concealed most of the time, you know people hide their faces and will say things about you and when they see you they smile in your face, it's alive every single day.

And I think back to Emmett Till's mom – actually it's kind of one of the first thing I thought of – and the reason she had an open casket is cause she wanted to show the world what her son went through as far as a hate crime and being black in America.

No matter how much money you have, no matter how famous you are, no matter how many people admire you, being black in America is tough and we got a long way to go for us as a society and for us as African-Americans until we feel equal in America…..

I can't sit in front of my boys right now and I won't be home until next week it's kind of killing me inside right now.

My wife is unbelievable, my mother, my mother-in-law, my sister-in-law, they're gonna do a great job of talking to them when they get home from school today. Because of Apple being so great I can Facetime them…but I like to do face-to-face conversations with them because of the situation like this.

I've talked about this before. Having two sons as very – they have great minds – they are very open to life and love life and things of that nature so for me to be able to blueprint on them as much of what life has to offer, at the end of the day they have to walk their own path and hopefully I've given them enough life skills throughout their journey where when they're ready to fly they can fly on their own."