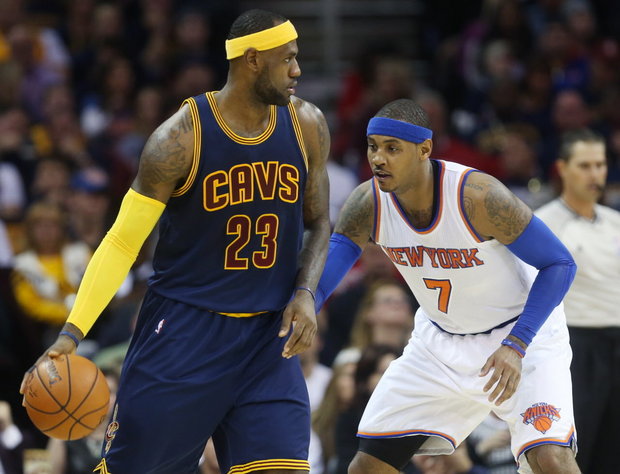 LeBron James was named Eastern Conference Player of the Week once again. The Cleveland Cavaliers issued the following press release on Monday:
The NBA announced today that Cleveland Cavaliers forward LeBron James has been named the Eastern Conference Player of the Week for games played Tuesday, October 25, through Sunday, October 30. James is the first player in Cavaliers history to win the award in the opening week of an NBA season. He has now collected 54 Player of the Week awards, the most in NBA history and 21 more than the next closest player (Kobe Bryant-33). This also marks the 54th time in franchise history a player has earned Player of the Week honors and the 35th time James has earned the honor as a member of the Cavaliers.

James and the Cavaliers produced the most wins in the Eastern Conference this past week after opening the 2016-17 season with a 3-0 record for the first time since 2000-01. In Cleveland's three wins, James averaged 21.0 points on .500 (23-46) shooting from the field, 8.3 rebounds and 10.0 assists in 36.7 minutes. Among Eastern Conference leaders, he ranked third in assists per game (10.0), tied for 10th in points per game (21.0) and 14th in rebounds per game (8.3). The 12-time NBA All-Star was the only player in the East to notch a triple-double last week, as well as the only NBA player to shoot at least .500 from the field with averages of at least 20.0 points, 8.0 rebounds and 10.0 assists. He scored in double figures in all three games, increasing his streak of consecutive games with at least 10 point to 720 (third-longest in NBA history).

James, the 2016 NBA Finals MVP, started off the week with a triple-double performance (19 points, 11 rebounds, 14 assists) in the Cavaliers' 117-88 season-opening win over New York on October 25. James tied Fat Lever (43) for the sixth-most triple-doubles in NBA history, while also becoming the first player in franchise history to have a triple-double on opening night and first NBA player to have a triple-double in a season opener since Jason Kidd in 2006. In a 94-91 win at Toronto on October 28, James poured in 21 points (eight in the fourth), eight rebounds and seven assists in 39 minutes as he passed Patrick Ewing (9,702) for 15th all-time in field goals made with his seventh and final basket of the night. In the final game of the week, a 105-99 win against Orlando on October 29, James became the Cavaliers' all-time leader in defensive rebounds (4,021), passing Brad Daugherty (4,020), after tallying 23 points, six rebounds (five defensive) and nine assists in 39 minutes.

Russell Westbrook of the Oklahoma City Thunder was named the Western Conference Player of the Week.