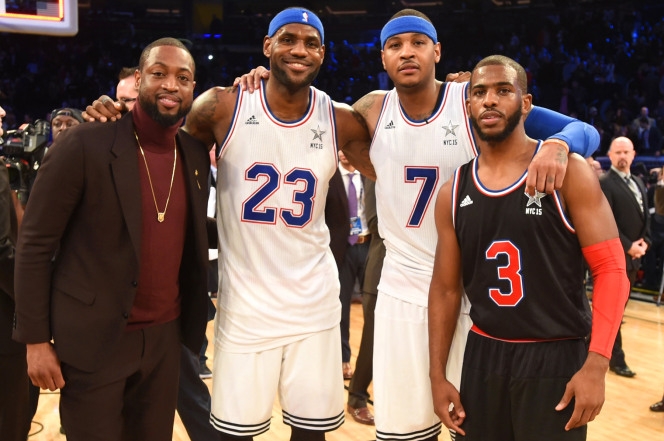 On Wednesday evening a report came out from The Vertical's Adrian Wojnarowski. In the report, he says that Cleveland Cavaliers 13-time All-Star LeBron James could be heading elsewhere.
James cannot become a free agent until 2018 but rumors are floating around that LeBron could be heading to either Los Angeles or even Miami.
Wojnarowski on the Vertical Podcast with Woj had this to say:
"Not only is there no guarantee he's coming back, I'm not sure there's an expectation he's re-signing there. I think they feel, I think within Cleveland and around the league, they feel that he's very much in play to leave again and likely head out West to one of the two L.A. teams. The Lakers could very well be a target.

The possibility of Miami again, based on how they, what that team looks like and where they are. Would Dwyane Wade go back there?

But I think the focus, a lot of LeBron's – his business interests, his Hollywood aspirations, his media ventures are base out there.

And I wrote this last year and said it and believed it: The minute he won that championship in Cleveland he was liberated to leave again. Now, if he had not won a title in Cleveland and then left again, I think there would be tremendous backlash again. But the fact that he came back and did what he set out to do, which was to bring a title to Cleveland."
Remember though that LeBron did leave Miami and Wade behind when he came back to Cleveland but can a reunion happen? If you believe it couldn't because he left Wade behind, James did something similar to Cleveland and most of the city of Cleveland opened him back with open arms.
Wojnarowski also gives reasons as to why the rumors of James heading out west to either the Clippers or Lakers makes sense to him:
"1. LeBron has hinted at having eyes for another team. He said he'd take a pay cut to play with Carmelo Anthony, Dwyane Wade and Chris Paul. If it weren't already difficult to see that happening in Cleveland, Anthony said they'd want to go "someplace warm." Los Angeles certainly qualifies.

2. LeBron seemingly enjoys the Los Angeles lifestyle. He owns a house there, as does his agent. LeBron has organized offseason workouts there for the Cavs.

3. LeBron wants to keep the Cavaliers on their toes. His return came with terms – a financial commitment from Cavs owner Dan Gilbert. Don't spend enough, and LeBron could leave. Whether he actually would follow through, LeBron stands to make his Cleveland experience better by having the threat known.

4. It's fun. LeBron is the best player in the league, and the Lakers the NBA's most popular team. The Clippers have newfound relevance and play in a large market. It's just plain fun to speculate on the possibility and the upheaval it'd cause."
Not to worry though Cleveland Cavaliers fans, please remember though that LeBron has left once before and everyone was blindsided when this happened.
Hopefully "The King" will stick around in The Land for the rest of his NBA career, but you never know what can happen.

NEO Sports Insiders Newsletter
Sign up to receive our NEOSI newsletter, and keep up to date with all the latest Cleveland sports news.