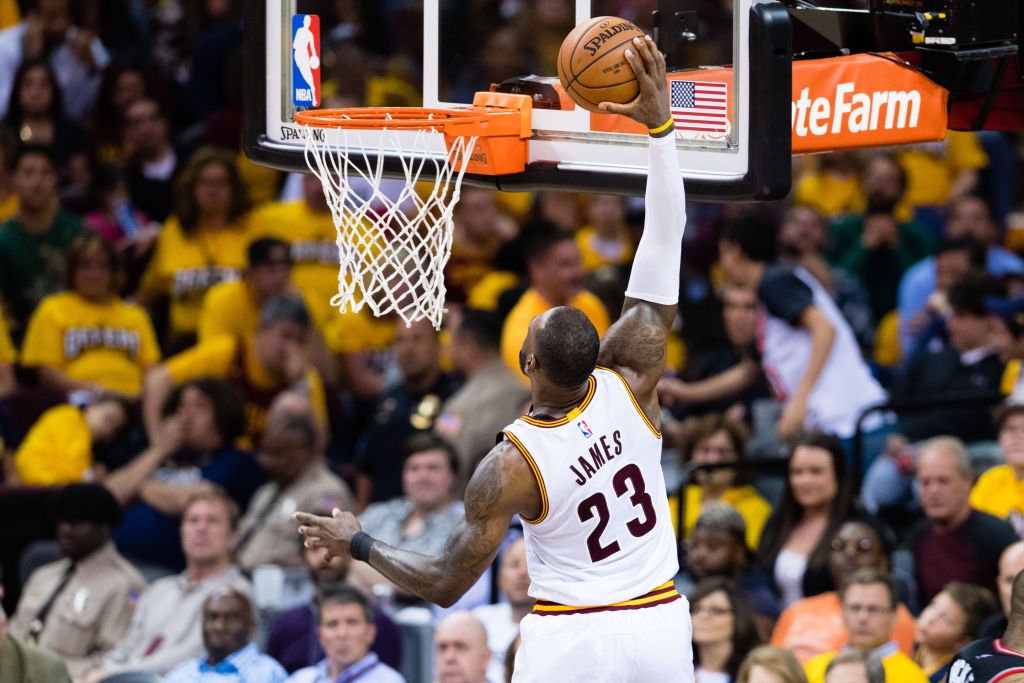 The Cavs head to Toronto with a 2-0 series lead after topping the Raptors 125-103 behind LeBron James' 39-point onslaught.
For the sixth straight game, James was everything the Cavs needed him to be. He's been their Superman when they've needed him most–the only difference being no one has been able to figure out his kryptonite.
The truth is, nothing you say about James' performances during these last six games would be hyperbolic.
James is averaging a whopping 34.2 points per game in the playoffs so far, including tonight's contest. At halftime he had 19 points, and by the end of the third quarter, he racked up 36. He ended the night on 10-14 shooting, including four threes.
He's notched a double-double in five of the last six games, and a triple-double during that miraculous comeback against the Indiana Pacers in Game 3 of the first round series.
When asked about how strong he's come out of the gate to start the postseason, James kept his answer pretty simple.
"I'm feeling pretty good."
That might be the understatement of the playoffs so far.
James also stressed that while he has put on high-octane offensive performances, he still doesn't consider himself a natural scorer, but rather, someone who can put his teammates in positions to be successful.
"I only took 14 shots tonight, that wouldn't be a natural scorer right there. I'm a guy who just tries to play the game the right way," James said.
LeBron on whether or not he is a "natural scorer" pic.twitter.com/X4VF2Sc8Pf

— Ashley Bastock (@AshleyBastock42) May 4, 2017
Natural scorer or not, the offensive accolades and records continue to find James.
Tonight he passed Kareem Abdul-Jabbar to move into second place on the league's all-time playoff scoring list. He now needs only 211 points to overtake Michael Jordan at the top spot.
"I'm very blessed, and I've taken advantage of the opportunity I've been given," James said when asked about the feat.
"Once I had mentors and people around me that was going to allow my gift to flourish, I didn't take it for granted. And I still don't, even at 32. I've been in this league for 14 years, I don't take the opportunity for granted."
LeBron reacts to passing Kareem on the all-time playoff scoring list pic.twitter.com/vOrFxFnGW2

— Ashley Bastock (@AshleyBastock42) May 4, 2017
He also became just the fourth player in league history to make 300 playoff three-pointers, along with Ray Allen, Reggie Miller, and Manu Ginobli.
James has never been one to talk too heavily about himself or accolades. On more than one occasion he has said that when his career is over, he will have time to sit back with a glass of red wine and reflect.
With this series, and this postseason, it's no different. Whether thinking about his own accolades, or how the Cavs are playing in these first two playoff rounds so far, James always has the bigger picture in mind.
"You have to enjoy it. Obviously it's stressful, the postseason is always stressful," he said.
"But for me, I never get too high, I never get too low, win or loss. It is what it is, you move on to the next one, see how you can be better."
James: "I never get too high, I never get too low, win or a loss" pic.twitter.com/ayYaP18HCR

— Ashley Bastock (@AshleyBastock42) May 4, 2017
In the end though, it was Toronto's Kyle Lowry who summed up James' performances best.
"He's playing unbelievable. He's playing like LeBron James."
The Cavs will take on the Raptors during Game 3 in Toronto on Friday at 7 p.m.

NEO Sports Insiders Newsletter
Sign up to receive our NEOSI newsletter, and keep up to date with all the latest Cleveland sports news.