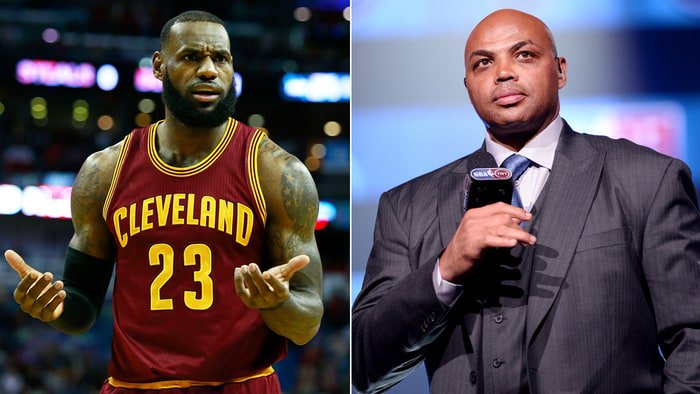 LeBron James is tired of hearing Charles Barkley's criticism.
James was asked about it again after the Cavs' loss to the Dallas Mavericks on Monday night and held nothing back, per ESPN.
He's a hater," James told ESPN of Barkley following the Cleveland Cavaliers' 104-97 loss to the Dallas Mavericks on Monday. "What makes what he says credible? Because he's on TV?"

I'm not going to let him disrespect my legacy like that," James told ESPN. "I'm not the one who threw somebody through a window. I never spit on a kid. I never had unpaid debt in Las Vegas. I never said, 'I'm not a role model.' I never showed up to All-Star Weekend on Sunday because I was in Vegas all weekend partying.

"All I've done for my entire career is represent the NBA the right way. Fourteen years, never got in trouble. Respected the game. Print that."

"I'm here to win ballgames and take care of my teammates and take care of my, what's that word, oh, my 'posse,'" James said, animatedly.

"I know he wanted to retire a long time ago, but he can't," James said. "He's stuck up on that stage every week."

"And if this makes him want to talk to me, the schedule's out there," James said. "He knows every road arena I'll be in. Don't just come up to me at All-Star and shake my hand and smile."

"I collect one paycheck from this," James said of his role with the Cavs. "There's the owner, Griff's [David Griffin] the GM, I'm the player. Screw Charles Barkley."

"I'm tired of biting my tongue," James said. "There's a new sheriff in town."
This seems like another case of the Old School NBA "Get off my lawn" crowd feuding with the new school over how "Back in my day," we did things differently.
Barkley is going to be Barkley, but at least within a 100 mile radius of Cleveland, it's going to be tough for Sir Charles to find anyone to take sides against The King.
The way the NBA is changing with new superstars, LeBron has become a sort of mentor to up and coming players, and these past few years have shown a changing of the guard.
It's likely that Barkley's way of thinking, which is shared by some, but not all of his fellow Hall of Famers, is on its way out of the norm.
LeBron will continue to try to win championships for Cleveland and in the end, that will determine his legacy more than how Barkley wants to define it.