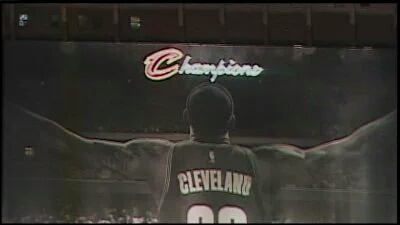 Sherwin-Williams announced on Tuesday that the Nike LeBron banner will stay up through the Republican National Convention.
Sherwin-Williams' community communications director Mike Conway said, "We heard, we listened and we responded."
What is ironic about the whole experience is that Clevelanders may, in part, have Donald Trump to thank for the decision to keep the banner up.
Tom Beres of WKYC writes, "A reliable source tells Channel 3 that Donald Trump himself called Republicans in town planning the convention to express his wish that the banner stay up. That's the only time they've heard directly from Trump in the convention-planning process."
Whoever made the final call, we're just glad it stays up for our championship summer.