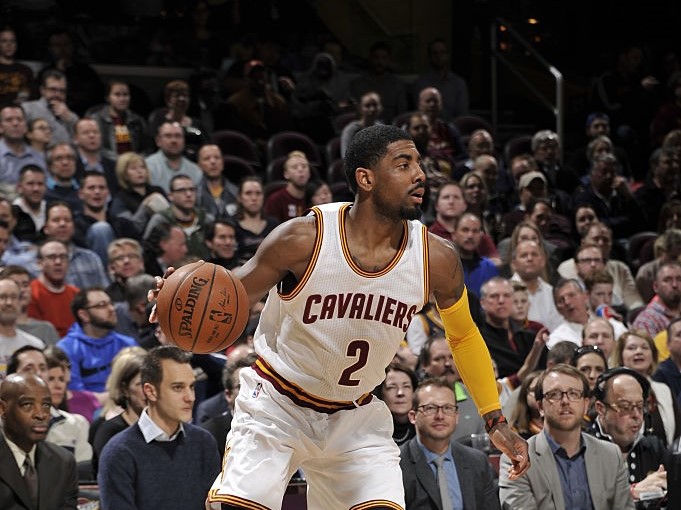 On Sunday, the Cavaliers defeated the Charlotte Hornets with a convincing 112-103 win, in which LeBron James, Kevin Love, and J.R. Smith combined for 83 points.
This caused a common reaction among Cavs fans, saying "Who needs Kyrie Irving?" or "Look how much better Love is without Irving." Some even said, "Let's trade Irving for Chris Paul this summer."
My message to those fans is to pump the brakes.
It is true that Love has played much better without Irving on the court this season, but to say the team as a whole without Irving would be better is absurd.
Remember last postseason?
The Cavs lost Love in Game 4 of Round 1 against Boston. We all remember that. Kelly Olynyk.
What fans are quick to forget is how Irving balled out for the entire playoffs before he got injured.
Irving played in 13 playoff games in 2015, but he only played 12 minutes in one of those games, which was a blowout win over the Chicago Bulls.
So of the 12 games in which Irving played a significant amount of minutes, the point guard scored 25 or more points five different times. He scored at least 20 in seven of the 12 games. If you average out his postseason numbers, taking away the game where he played only 12 minutes, Irving averaged 20 points per game in the 2015 playoffs.
He was not 100 percent in the playoffs, dealing with knee tendinitis throughout the Conference Semi-Finals with the Bulls and the Conference Finals with the Hawks.
Imagine if he was fully healthy what he could have done in those games. We're about to find out in a couple of weeks.
Meanwhile, we still don't know what Love can really do in a postseason. He played four games last year and it was encouraging. But we have basically no clue which Love will show up in the playoffs.
Will it be the Love who scores 20 points and grabs ten rebounds? or the Love who scores 12 points on 4-of-14 shooting?
It seems like somewhat of a double standard for fans to put all of the blame for Love's lack of production on Kyrie.
Isn't Love equally responsible for finding a way to fit in with the group?
Irving is the most consistent player of the two.
I'm not writing this to bash Love because he has, at times, looked like an All-Star.
But Kyrie is the only player on the team not named LeBron James, that Cavs fans can count on to show up and score 20 on a nightly basis.
This has not been a great season for Irving. Some of that could be due to coming off an injury and a six-month layoff, which requires both physical and mental recuperation to get back to 100 percent.
Maybe some of his "struggles" are due to an apparent lack of chemistry between the Big Three.
We heard rumors of a possible Love trade. We heard rumors that Irving is unhappy in Cleveland. We also heard that LeBron wants to play with his three best friends in the league. Which might not be music to the ears of Kyrie and Love.
But personally, I think as much of the apparent "struggles" with Kyrie has to do with how great other point guards around the league, particularly in the Eastern Conference, have been playing.
Look at Kyle Lowry, Isaiah Thomas, Reggie Jackson, and John Wall.
Aside from Wall, the other three will be playing in the Eastern Conference Playoffs.
Lowry and Thomas have been phenomenal this season, having a better 75-game stretch than Irving, and playing better since Irving returned from injury.
Maybe Kyrie has slid down in the "Top 10" Point Guards rankings. But that's not the end of the world. It just means he has more competition. It should motivate him.
What can be overlooked with Irving is that although this is his fifth season in the league, he's still a 24-year-old kid, with tons of upside.
Lowry is 30 years old. Thomas is 27. Jackson is 25.
There's a reason those guys look more comfortable this season. Lowry and Thomas are veterans. Let's see where Kyrie is at when he's 27. or 30.
It's unrealistic to expect Irving to play like Steph Curry at the age of 24. Especially when factoring in his rehab coming off of injury this season.
Aside from Irving's consistent scoring, the other trait he has, that is a characteristic of a superstar in the making, is the Clutch Gene.
It cannot be taught.
Even as a rookie, Irving was hitting buzzer-beaters for a terrible Cavaliers team, where he had practically no help.
Today, with LeBron and Love around him, he still shows up big in crunch time.
Irving is ninth in the entire NBA in fourth quarter scoring in 2015-2016, averaging 6.5 points per game in the 4th.
LeBron is fourth in the NBA, averaging 6.9.
Love, on the other hand, averages 2.9.
I know there are only so many points to go around between the Big Three, but that is one the biggest areas of criticism I have for Love's game, whereas it's one of the biggest strengths of Irving's.
If Love really is a third star, it would be nice to remember he's on the court in the fourth quarter.
What is also of note with Irving is that when he shoots free throws in the fourth quarter, he knocks down 89 percent.
LeBron shoots 75 percent from the line in the fourth quarter.
This could also be applied to all four quarters in general. LeBron is not a great free throw shooter. Irving is.
But when do those free throws usually make the biggest impact? Crunch time.
There's no one on the team I would rather have with two crucial free throws needed than Irving.
He shows up in big moments. LeBron does, as well, as a future Hall of Famer would be expected to do, but there is no one else on the team aside from LeBron and Irving, who can be counted on to make big plays when the game is on the line.
J.R. Smith is inconsistent. He can show up in the biggest moments and erupt for 25 plus points. Or he can lay an egg.
Tristan Thompson gets huge offensive boards in the clutch, but will often miss close range shots that make fans scratch their heads. And the free throws? We'll leave that alone.
Trying to find Love on the floor in the fourth quarter is the basketball equivalent to Where's Waldo.
Shumpert makes big stops, but 2015-2016 has been an especially unimpressive year on the offensive end for the wingman.
Aside from LeBron and Kyrie, who can be trusted when the game is down to the wire?
That's why Irving, at 24 years old, is such a special and tremendous talent. Even LeBron at 24 didn't have that aspect of his game developed to the extent Irving has it right now.
As long as Irving can stay healthy, which is really the biggest flaw of his career thus far, he is going to make clutch plays seem routine this postseason.
If the Cavs don't win the Finals in June, Kyrie will not be the reason.