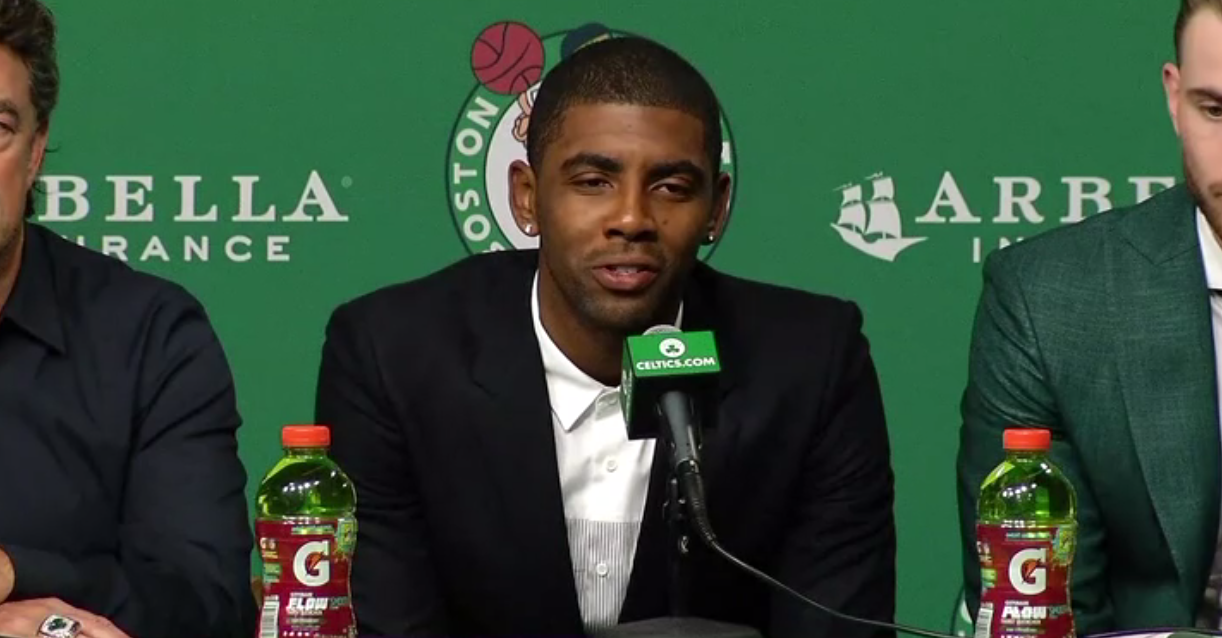 Kyrie Irving and Gordon Hayward appeared at a press conference late Friday morning, marking Irving's first appearance as a Boston Celtic.
Irving made a trade request to Cavaliers owner Dan Gilbert on July 7, while news of his request broke at the end of July. After weeks of speculation, the Cavs eventually came to an agreement with the Boston Celtics on Aug. 22, and acquired Isaiah Thomas, Jae Crowder, Ante Zizic and a 2018 first-round draft pick via the Brooklyn Nets for Irving.
The trade was stalled, however, when questions about Thomas' health arose, due to a labrum tear in his hip that he suffered this past March and re-aggravated in the Eastern Conference Finals. The trade was finalized on Wednesday when the Celtics agreed to send Cleveland a 2020 second-round pick via the Miami Heat.
During the press conference, Irving was naturally asked about his decision to leave Cleveland, and he gave a pretty thorough answer:
"Well, when you get drafted into this great league, some of us come in at different ages, and as a 19-year-old kid, if you think about it, I'm starting my first year of college, or finishing my first year of college my freshman year, and life hits."

"You go to different hotels, you're in different places, in different cities, and you have to adjust to what's going on. And it took me a little while to do that. On the court was incredible, but then you start figuring out what is important to you off the floor,and how it's conducive to your development on the floor, then you start finding that importance, and then it all starts making sense.

"It took a a few things for me to go through in Cleveland for me to understand that, of learning the hard way. But, we're all human beings and I think we've all been through a few hard times to where it's changed the landscape of what you think and what you feel. So, it was my time to do what was best for me in terms of my intentions, and that's going after something bigger than myself and honestly, being in an environment that was conducive for my potential. And I think that statement is just self explanatory because it's pretty direct in terms of what my intent is, and it's to be happy and be with a group of individuals that I can grow with.

"And that is not a knock on anything that has transpired in my six years because it was an unbelievable experience. Man, I mean, to think about what we accomplished in Cleveland, and individually as well, it bypasses the amount of moments that I had with all the special people out there so me leaving there wasn't about basketball, it was more or less about creating that foundation with me in Cleveland, and then now taking the next step as a 25-year-old evolving man, and being the best basketball player I can be."
Watch the full clip below, courtesy of ESPN:
Irving also was asked about his relationship with LeBron James, and said he has not spoken to him since the trade process began:
"No, I haven't spoken to him. And, my intent, like I said, was for my best intentions and to look back at the amount of ground we covered in the last three-year span, or even before that because we had a prior relationship, and to really realize how special that was and how much growth happened in that amount of time. I'd be sitting up here and telling you guys a lie if I didn't tell you I learned so much from that guy.

"The perfection of the craft comes in a variety of forms and you watch, and you watch, and you ask a lot of the great players, 'What does it take to be great?' And I've had the unique opportunity to play with one of the greats, and it was awesome.

"At times it was all over just like it is in any other team. And when you look back, you're eternally grateful for the moments that you've had and you've shared, you're able to put peace with that journey and start anew. This was a very, very challenging decision at first, but after awhile when you understand and you have that confidence in yourself to understand the magnitude of what you actually can accomplish and potentially can do with other great people.

"And now that I'm sitting here, it just echoes in terms of me just being very appreciative of not only the Cleveland fans, all of Ohio, but as well as Bron and incorporating me into that special team that we had in Cleveland. Because, three finals in a row, all the shared memories with all the individuals, with T. Top, Swish, I can go down the line with the guys that I played with in Cleveland, but they all know how I feel about them individually, as well as the amount of love that we have for one another. The brotherhood exists, even without all of this, and it will continue. So, that's exactly where it is and I'm very appreciative of it."
You can watch his full answer below, via ESPN: