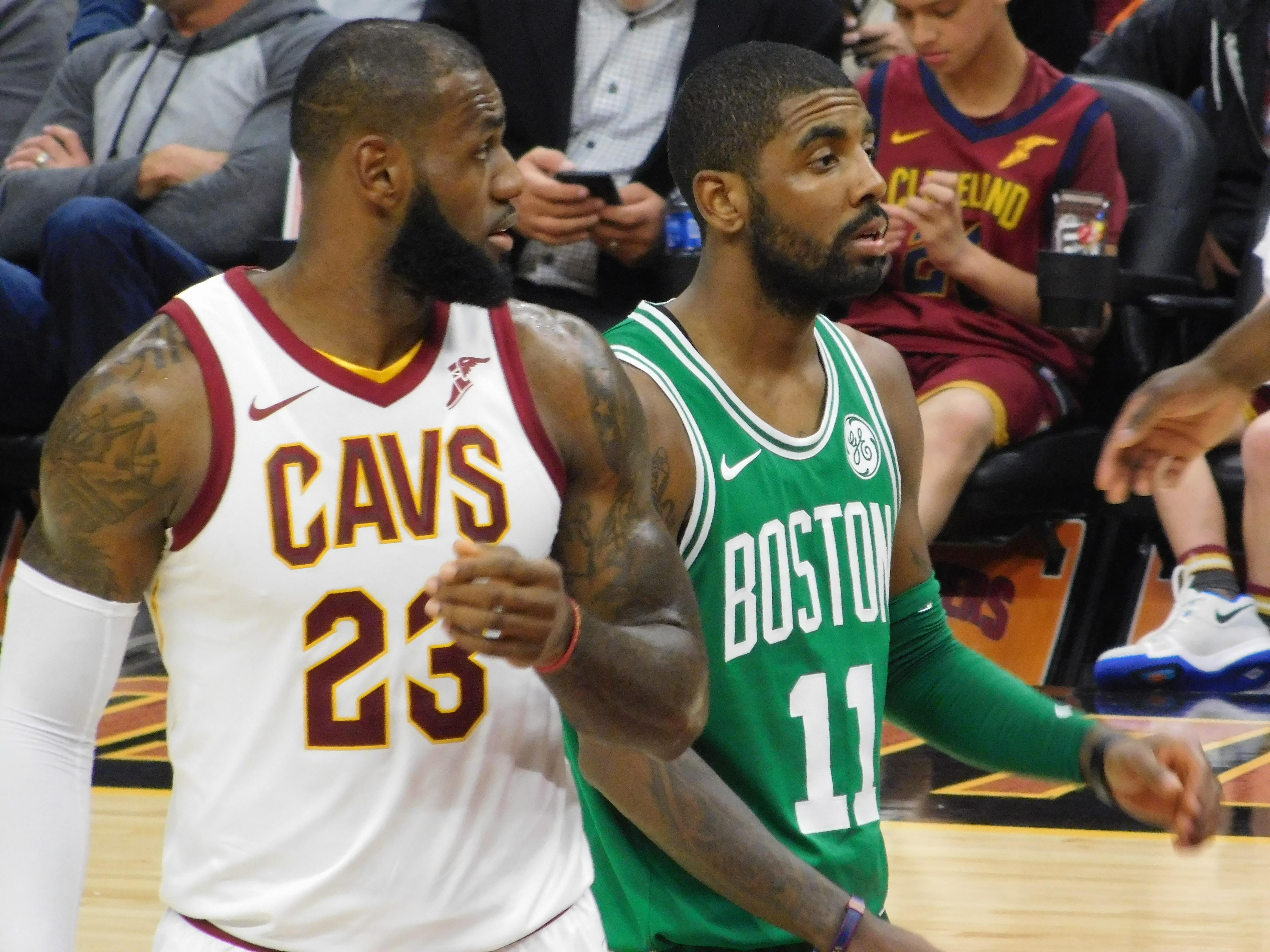 When Kyrie Irving was traded from the Cleveland Cavaliers to the Boston Celtics this past off-season, there were a lot of reports circulating around the severed relationship between Irving and LeBron James. Irving stated multiple times throughout the trade debacle just how much he didn't want to play with James anymore due to the fact that he was in his shadow and none of the attention shown to LeBron was expressed to him as well. As a result, Kyrie's in Boston and Cleveland fans have accepted the fact that there will never be another "Uncle Drew" moment while donning the Wine and Gold.
Not so fast, actually.
Irving appeared on "Jimmy Kimmel Live!  yesterday to discuss an array of topics, including the most pressing of issues. The most obvious question asked was regarding LeBron's selection of Irving for his NBA All-Star team.
"I feel like it was a great choice," Irving told Kimmel when asked his reaction to the selection. "In probably my mind, I want to say I got picked number one. But in actuality, probably not. It's cool, I'm fine with that, I'm fine with that."
The light-hearted debate about the NBA All-Star Game is trying to figure out who LeBron took number one overall in the draft. James has a very talented team as to be expected when drafting the cream of the crop in the NBA, but it's a mystery to whether he took Irving or Golden State's Kevin Durant with his top choice. The NBA All-Star Game Draft was not televised due to a request by the NBAPA.
The All-Star question led Kimmel to the follow-up that everyone wanted to know the answer to.
"Do you talk to LeBron at all? Is there any chance that one day you guys will be on the same team, not just in the All-Star Game but like for real?"
"We've talked," Irving responded. "I mean in professional sports anything can happen. So you know, you never know."
Irving was a tad hesitant before finishing his second part of his statement, meaning that he was sure of what he was about to say. Whatever he said would be put in headlines everywhere, something he was very alert about.
Of course, the potential reunion could not happen in Cleveland. James is a free agent this season and Irving's contract is due up at the end of next season. With neither one being locked up in a longer contract, the possibility of a team-up once more is attainable. Would both players want to be teammates again, that's the question.
Below is the full Kyrie interview with Kimmel in which they talk about the NBA All-Star Game, Irving's new movie "Uncle Drew" coming to theatres on June 29th, and whether or not he still believes the Earth is flat: