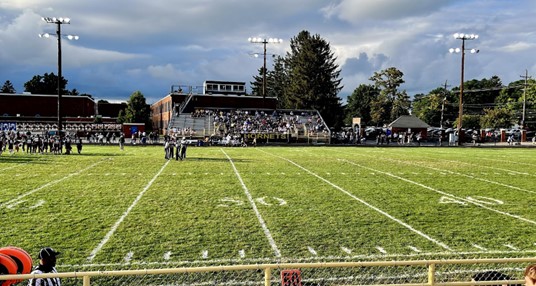 KIRTLAND – There was a lot of excitement coming into the Week 2 matchup between the Kirtland Hornets and Lutheran West Longhorns. Kirtland's head coach Tiger LaVerde was coming off his 200th career win at Kirtland. Kirtland took down Harvey in Week 1 34-8. Meanwhile, Lutheran West was coming off a dominant win of their own. They took down Fairview 34-0 in Week 1. Kirtland was looking to slow down the impressive Longhorns to continue their winning ways.
First Quarter
Throughout the first quarter, both teams showed that they had run-heavy offenses. Kirtland did not attempt a single pass while Lutheran West attempted just 3. However, Kirtland was able to capitalize on their run plays. Running back Gino Blasini broke a 56-yard run that would later set up a touchdown for the Hornets. Lutheran West on the other hand struggled to get into an offensive rhythm. They were only able to string together 39 yards of total offense in the first quarter. After one, Kirtland held a 6-0 lead over Lutheran West.
2nd Quarter
The second quarter showed much of the same from both sides. Kirtland and Lutheran West continued to go to the run game. Both teams stalled in their opening drives of the quarter. Kirtland then came out and drove down the field for a 68-yard scoring drive. Quarterback Jake LaVerde found Gino Blasini for a 31-yard reception during the drive. It was capped off by a 1-yard touchdown run from Rocco Alfieri. On the ensuing Lutheran West possession, Kirtland recovered a Lutheran West fumble. This set up Kirtland at the Longhorn 33 with 36 seconds to go in the half. Kirtland took advantage of the turnover and scored on their closing drive. It was capped off by a beautiful 14-yard touchdown pass from Jake LaVerde to Gino Blasini in the corner of the end zone. Going into halftime, the score was 21-0 Kirtland.
Second Half Defense
Coming into the half, Lutheran West was looking to get a groove going with their offense. They started the opening drive at their own 42. The drive stalled quickly, and it turned over to Kirtland. The second half was all about defense as neither team seemed to gain much yardage. Kirtland was led by their senior captain linebacker Phillip LaVerde. LaVerde swarmed the backfield on multiple occasions throughout the 2nd half, disrupting the Lutheran West offense.
Lutheran West's defense was led by sophomore defensive back Jamarrion Banks. Throughout the game Banks was making tackles and big hits. In the fourth quarter, he ended a Kirtland drive as he forced Hornets running back Macguire Boyd to fumble. Banks also recovered the fumble and gained possession for the Longhorns. Lutheran West held Kirtland scoreless throughout the second half.
Week 3
Next Friday, Kirtland (2-0) plays host to Beachwood (1-0) at 7PM while Lutheran West (1-1) travels to Keystone (0-2) to take on the Wildcats.
Tiger LaVerde Interview
Earlier in the week, I had the opportunity to talk with Coach LaVerde about his success with Kirtland and the expectations for his team. I asked LaVerde on how it felt to reach the 200-win mark with Kirtland. He answered, "I just want the kids to have a great experience. It was never about winning as many games as possible. It was about getting the guys together to work hard and enjoy playing the game together… Winning has been the final culmination of working hard and having fun with each other on the field."
Coach LaVerde has two sons on the team, Phillip, and Jake. He shared what it's like to coach his sons at the high school level saying, "Jake still has a lot of work to do as a freshman, but it's been great to see Phillip and all his buddies work so hard over the years and enjoy the game. They are a great group of kids."
I asked Coach LaVerde what if any expectations are there for the team moving forward. He responded, "These guys have had such a good run that right now the expectations are higher than they should be. When these kids come up from Kirtland Elementary School, they get to work and always compete as hard as they can. It's all about them working hard and enjoying the game. When you look ahead is when you can get caught up."

NEO Sports Insiders Newsletter
Sign up to receive our NEOSI newsletter, and keep up to date with all the latest Cleveland sports news.