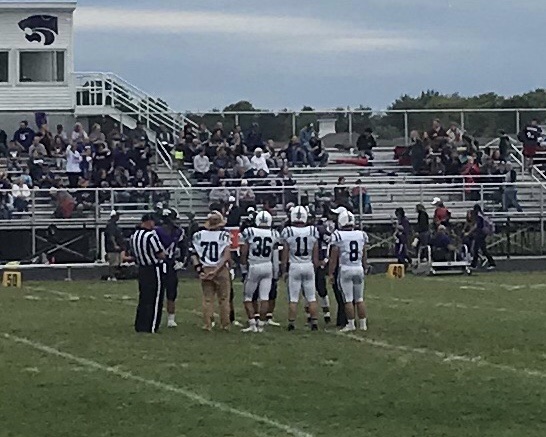 By Don DiFrancesco
LAGRANGE, OHIO – When Cloverleaf's Kodey Trent scored on a 30-yard sweep play with 11:13 left in the fourth quarter, it looked like the Colts were in business. They took a 21-7 lead, and had held Keystone scoreless since midway through the second quarter.
But the Wildcats were not ready to give up quite yet.
After an exchange of punts, Keystone's offense suddenly came to life. Senior quarterback Jacob Shackelford finished off a 70-yard drive with a 2-yard touchdown run to cut the Cloverleaf lead to 7 with 5:25 to play.
The key play of the drive was a 26-yard pass from Jacob to his freshman brother, Ryne Shackelford.
Good coverage on the subsequent kickoff had Cloverleaf bottled up inside their 10-yard line. Three plays gained zero yards, so the Colts lined up to punt.
And then—disaster.
The ball was mishandled at the line of scrimmage and when the bodies were unpiled, Keystone had possession, first and goal at the Cloverleaf 9-yard line.
Two plays later Shackelford scored on a 3-yard run, making the score Cloverleaf 21, Keystone 20.
Wildcats Coach Don Griswold called time out, and the decision was made to go for two. It turned out to be the right call as Shackelford connected with sophomore receiver Evan Maiden to take the lead, 22-21.
Cloverleaf had 2:33 to mount a comeback, but Shackelford was Johnny-on-the-spot again, this time from the defensive backfield. He picked off a pass from Colts' quarterback Brody Stallings and took it all the way in for a touchdown—his third score within a span of 3:04.
Final score: Keystone 29, Cloverleaf 21.
Cloverleaf 7 0 7 7 = 21
Keystone 0 7 0 22 = 29
1st Quarter
Cloverleaf Brody Stallings, 2 run (Logan Tierney kick)
2nd Quarter
Keystone Ryne Shackelford, 3 pass from Jacob Shackelford (Zac Marsh kick)
3rd Quarter
Cloverleaf Kodey Trent, 24 pass from Stallings (Tierney kick)
4th Quarter
Cloverleaf Trent, 30 run (Tierney kick)
Keystone J. Shackelford, 2 run (Marsh kick)
Keystone J. Shackelford, 3 run (Evan Maiden, pass from J. Shackelford)
Keystone J. Shackelford, 38 interception return (Marsh kick)

NEO Sports Insiders Newsletter
Sign up to receive our NEOSI newsletter, and keep up to date with all the latest Cleveland sports news.