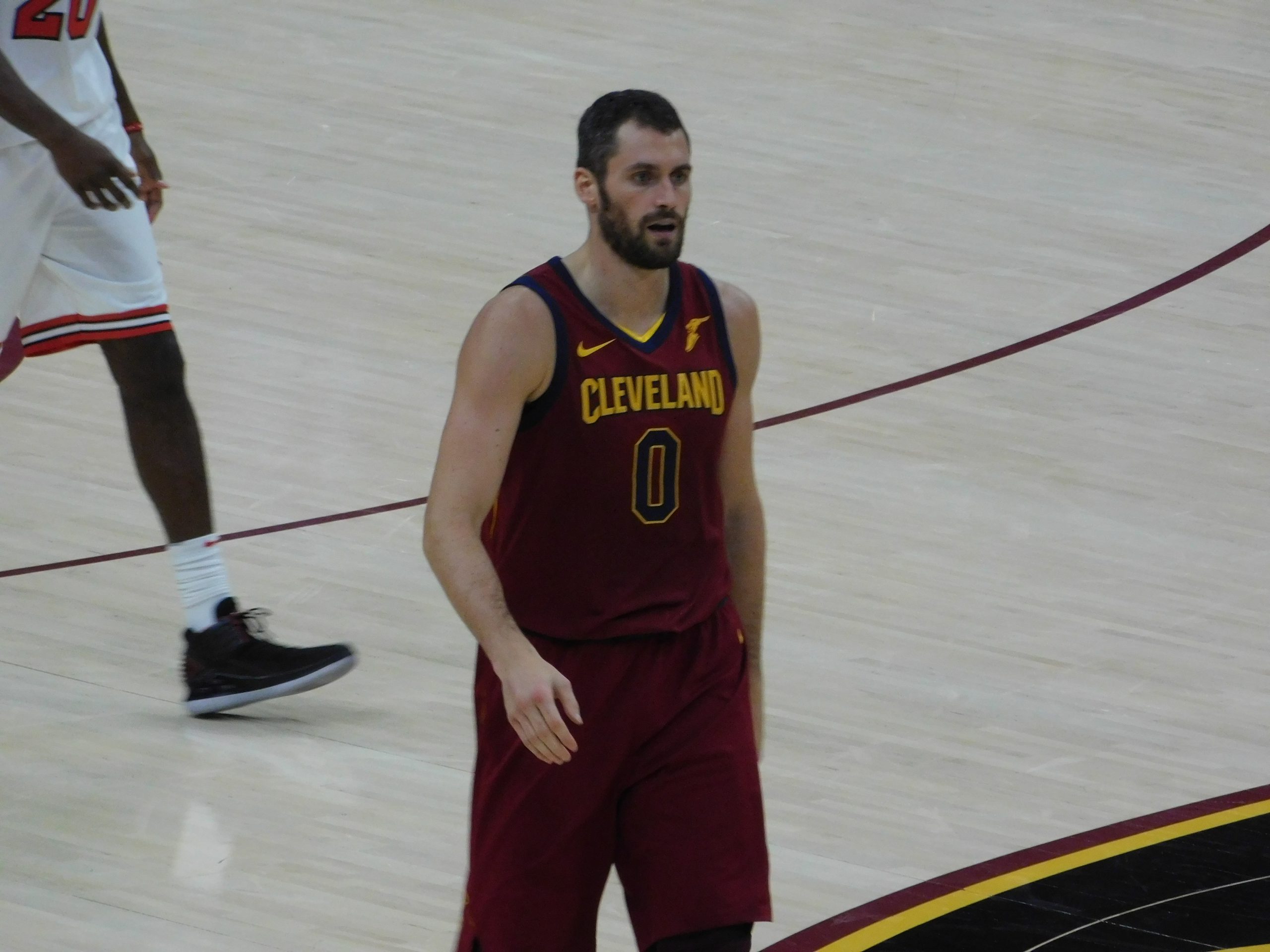 CLEVELAND– Kevin Love chalks up his broken hand to one thing: "s— luck."
"It just seems like s— luck, really," Love said Saturday prior to the Cavaliers' game against the Houston Rockets. "I don't know how to categorize it, I really don't. It's just when I looked at Steve Spiro kind of walking off the court, I said, 'I know this feeling. This sucks. I can't believe it. Two years in a row,' "Injuries are injuries, but it's not like a significant injury. It's just one of those unlucky s*** luck kind of things. You can quote me on that."
Love exited Tuesday's game against the Detroit Pistons in the first quarter, after suffering a non-displaced fracture in the fifth metacarpal of his left hand. X-rays at the arena revealed the fracture, and Love saw specialists at the Hospital for Special Surgery in New York Thursday. While doctors there and the Cavs medical staff determined he won't need surgery, he will still miss eight weeks, slating his return with about two weeks remaining in the regular season.
Love was asked directly if he thought that would be enough time for him to regain his rhythm before the postseason.
"Yeah I think rhythm is an important word there," he said. "I think it will be very meaningful to get back as quickly as I can knowing that as I previously mentioned it's going to be big for me to stay in shape. … But that rhythm is going to be a big part of it and not I'm not rushing it. But when the doctors say I'm good to go, I'll be able to get out there and get back in rhythm."
But when it comes to how the injury itself actually happened, Love said he still isn't entirely sure.
"I keep looking at the replay trying to figure out where it happened, if it happened up top on the pass or whether it was down low with … I know it was [Anthony] Tolliver and Stanley Johnson," he said. "It happened so fast I couldn't really tell."
This is the third time Love has broken one of his hands in his career. The two previous times came with the Minnesota Timberwolves in the 2009-10 and 2012-13 seasons. This is also the second straight year Love has been selected as an All-Star but will be unable to participate in the game due to injury, as he underwent a left knee scope in 2017. But as Love said, "it's not just All-Star, it's missing time."
Earlier in the week, head coach Tyronn Lue said that Love's spirits were down. That still hasn't changed, but Love continues to try and change that.
"I'm down, I'm still down," he said. "I guess I'm always looking for a silver lining or something that's going to keep my spirits up. I just look at it like it's my left hand, I didn't need surgery and I can still be here to support this team, I can still almost do everything besides go out there and play, which obviously is what I want to be doing. I can stay in shape and keep my legs underneath me and be well-rested for the playoffs."

NEO Sports Insiders Newsletter
Sign up to receive our NEOSI newsletter, and keep up to date with all the latest Cleveland sports news.