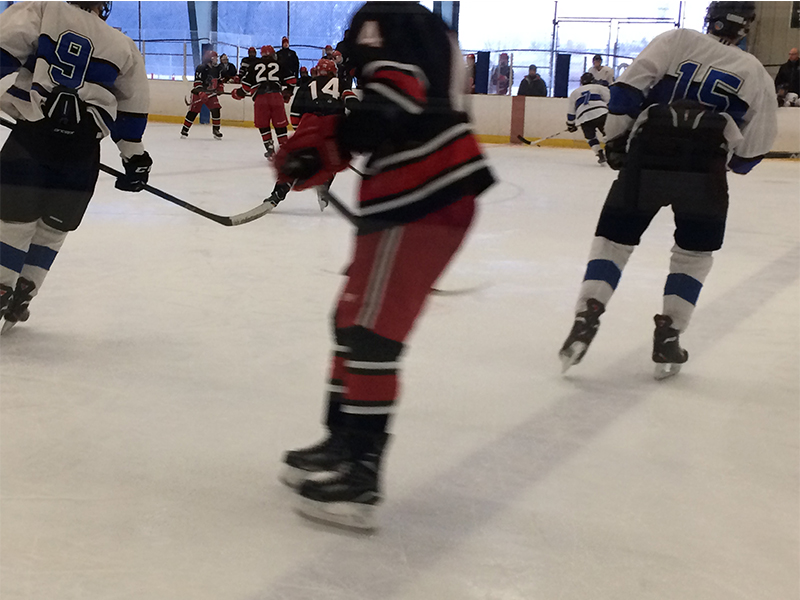 By Jacob Black
ELYRIA, Ohio – After beating Solon 4-3 last night; Midview (4-0-0) is back in action tonight to take on Kent Roosevelt (0-3-1) at the Elyria North Rec. Kent Roosevelt tied North Olmsted last night 3-3. This is another red division south matchup in the GCHSHL.
At the beginning of the game both teams were flying around so you knew from the start that fatigue was not going to be a factor even though they played last night. The play in the first period was very physical.
Nick Krestan was able to put Kent on the board first, at the 8:36 mark in the first period. Hunter Hillebrecht and TJ Harrod assisted him on the play. During the first period Kent committed two penalties.
Despite giving up a goal in the first period, Midview managed to outshoot Kent 25-10 in the first period, but trail 1-0 heading into the second period.
To start the second period, Midview changed goalies from Logan Perkins to Zach Seel. For the majority of the second period Midview controlled the puck, but was unable to capitalize on their chances. In the period Midview outshot Kent 34-15; however, Kent scored two more goals.
Kent's first goal of the period was unassisted and tallied by Chris Heim at the 4:03 mark in the second period, giving Kent a 2-0 lead.
The second goal was scored Phil Kaderle with 37 seconds left in the second period. Kai Klempp and TJ Harrod assisted him on the play, giving Kent a 3-0 lead after the second period.
In the third period, Midview stuck with Zach Seel as their goal tender. Kent's Bailey Collier committed a five-minute major penalty for an open ice check from behind and Midview's Jake Behler was able to score their only goal of the game as a result of it.
Midview pulled their goalie three times in the third period; in hopes they could score against a short-handed Kent team. Kent's defense stood up against Midview's constant pressure and held on for the 3-1 victory.
The third period was no different than the first two periods of the game because the physical play continued by Kent, which was the driving force that helped them defeat Midview, and hand them their first loss of the season. Kent also picked up their first win of the season improving to 1-3-1. Midview falls to 4-1-0 on the season.
Kent's goalie, Zachary Harper made 46 saves and Midview's two goalies combined to make 12 saves.

NEO Sports Insiders Newsletter
Sign up to receive our NEOSI newsletter, and keep up to date with all the latest Cleveland sports news.