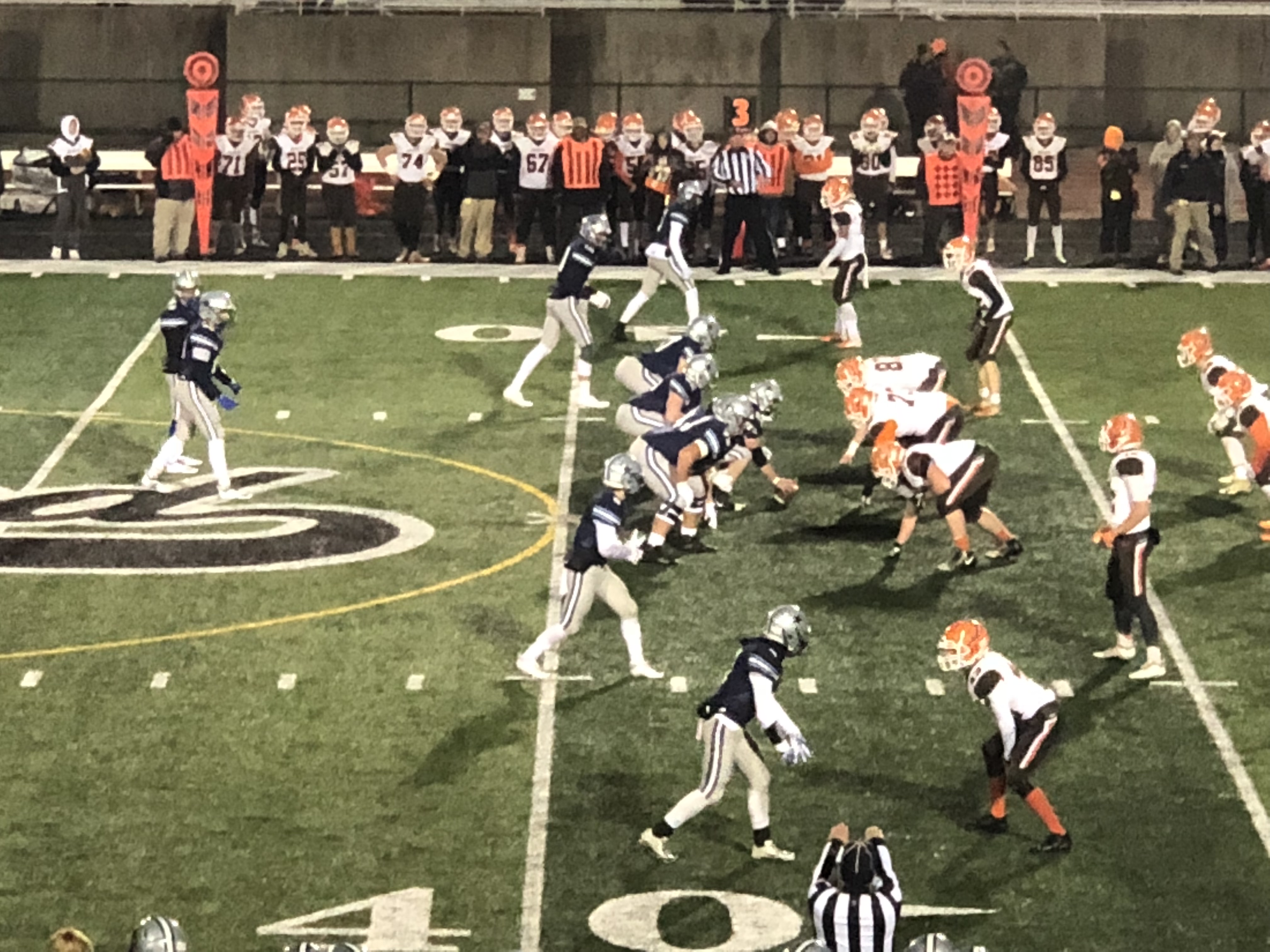 BEDFORD, OHIO – The Kenston Blue Bombers took awhile Friday night to get going, but once they did their stellar offense took over and did more then enough to end the Buckeye Bucks season with a 40-21 win to move on in the Regional Semifinals of the OHSAA Division III Football playoffs.
The twosome of Kenston quarterback Jon Tomcufcik and 1st team All-Ohio running back Jack Porter led the way for the Blue Bombers, who will meet Canfield next week to decide the champion of Region 9 of Division III.
Tomcufcik threw for 196 yards and three touchdowns, while Porter, who rushed for 1835 yards and 23 scores during the regular season, ran for 127 yards with a touchdown both rushing and receiving in the win.
Buckeye hung tough with the 10-1 Bombers into the second quarter with the game tied at seven, but a pair of quick touchdown passes, one to Tyler Mintz from four yards out and another to Jay Middleton who broke a couple Bucks tackles from 53 yards out, pushed Kenston's lead to 20-7.
They scored again in the second quarter as Porter pulled in five-yard score to push Kenston's lead at the half to 26-7.
The Bucks had a shot in the third quarter as they got the football first, but were forced to punt after managing just one first down, and again Kenston's offense went to work.
The Bombers went 57 yards in 10 plays, with Tomcufcik rushing in from three yards out to extend the Kenston lead to 33-7 following the extra point.
After a Kenston touchdown in the fourth quarter by Bransen Stanely made it 40-7, the Bucks made sure their season would not end quietly, as they put two nice drives together to score twice in the final minutes.
Dom Monaco, who was playing in his final game as a member of the Bucks before he graduates in June, ran in a pair of touchdowns to end nice drives for Buckeye.
His first touchdown covered three yards on a fourth down to cut the lead to 40-14. After a turnover gave the ball back to the Bucks, he wrapped up another drive with a five-yard score that ended the scoring after the point after at 40-21.
Buckeye was led by junior running back Armando Nigh, as he pounded out 98 yards on 11 carries. Monaco rushed for 60 yards and the two scores for Buckeye.
Junior quarterback Jacob Doerge ran for 27 yards and a score for the Bucks, and he was 5-for-9 throwing for 46 yards and two interceptions.
The Bucks season ends with a mark of 10-2, and they will have a change next season, as they will enter the Great Lakes Conference, a Conference that will put them with four 2018 playoff teams.
As for Kenston, they will look to keep their high-powered offense rolling next week as they look to take home the Division III Region 9 title against Canfield, and continue their run towards a state championship.