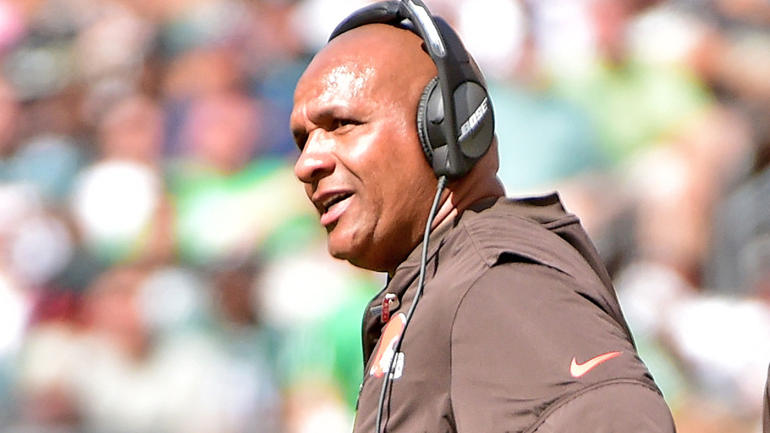 by Nick Broulis
CANTON, Ohio–
In this edition of the Broulis Beat Report, Sashi Brown is out, Jackson stays as head coach and Cleveland hires John Dorsey as their new GM.
The Cleveland Browns fired Sashi Brown Thursday morning in, what comes to be a huge relief to, not only myself, but many Browns fans.Make no mistake, this was the right move made by Cleveland. When Browns owner Jimmy Haslam made Sashi Brown the Executive Vice President of Football Operations, I said this was a bad move/idea. Brown had no previous experience at all, of evaluating players, let alone drafting players. Brown has strictly been a salary guy. Sashi Brown had no business being in this role.
This now takes me to Jimmy Haslam, who is responsible for making Brown the EVP of Football Ops. The Cleveland Browns have done nothing but become even worse under Haslam's ownership. I made a statement a few weeks ago, that as long as Haslam owns the Browns, I don't see them becoming a marquee organization. You look at how this team has been viewed since their return in 1999. People laugh and make jokes about the Browns. Why? Because each regime has come in and claimed to have the secret formula to getting the Browns back to their old winning ways. That was 30+ years ago.
A lot of people are mad/confused as to why Sashi Brown was let go, but Hue Jackson gets to keep his job.
Could it be harmful to keep Jackson? Of course. But keeping Hue Jackson around keeps the Browns away from changing their offensive and defensive schemes.
With Cleveland hiring John Dorsey to replace Brown less than 24 hours, this tells me some things. 1) Jimmy and company have been in contact with Dorsey for some time now. 2) Since Jackson is still around, Hue Jackson told Haslam he can work with Dorsey. 3) Haslam was also worried that the New York Giants were going to get their hands on him before the Browns did. 4) Jimmy Haslam wanted to get a new guy in as soon as possible, so he and his staff could get a head start on evaluating this team and who they want in the draft and possible free-agents.
I have my reasons why I'm glad Hue Jackson will be back at head coach next season. Granted, his play calling hasn't always been the best, and again, as I've wrote previously, Jackson could make his life a lot less stressful, if he stopped using Kenny Britt and convinced Haslam to kick him to the curb tonight or tomorrow, put the best players at each position on the field more often and stopped using the players that aren't getting the job done, like Isaiah Crowell and Britt. Using Johnson more often, Matthew Dayes and telling Gregg Williams to stop having Peppers lined up out on a boat on Lake Erie.
Here is why I want Jackson to stay: First, can you find and bring in a replacement that will do better than him? Also, does he want to come to Cleveland?
Second, keeping Jackson here allows you to keep the same system in place. Firing the coaching staff would result in these players having to learn another system. That goes for offense and defense. The Browns are extremely young, changing schemes would only hurt the development of these players.
Third, Cleveland doesn't have much to speak of when it comes to playmakers, more so on offense. It's no secret that the Browns lack talent and definitely depth at multiple positions. It would be tough for any coach to win in a situation like this.
Fourth, the Browns failed to have a veteran quarterback on the roster that would allow Kizer to learn from the bench or at least have someone to talk to about what he did wrong or right on different plays. Coach Jackson is working with a very raw QB who is only 21 and no mentor at his side.
Did Hue Jackson play a role in this record of 1-27? Yes. But, this was and still is an organizational problem.
I was encouraged to hear Hue say he would definitely consider hiring someone to be his offensive coordinator. It's pretty obvious that Hue is and has been having a difficult time playing the role of head coach and offensive coordinator. It wouldn't be hard for him to find someone that he trusts to run his offense. Making that move could only benefit this team.
Here are the top ten most successful NFL teams in the last 10 seasons:
1. Patriots- (126-34)
2. Packers- (106-53-1)
3. Steelers- (103-57)
4. Colts- (100-60)
5. Broncos- (94-66)
6. Cowboys- (92-68)
7. Saints- (91-69)
8. Ravens- (90-70)
9. Seahawks- (89-70-1)
10. Falcons- (89-71)
Here are the bottom Five worst teams in the NFL in the last 10 seasons:
1. Rams- (46-113-1)
2. Cleveland Browns- (48-112)
3. Jaguars- (53-107)
4. Raiders- (60-100)
5. Buccaneers- (63-97)
John Dorsey and his staff have the monumental task of figuring out how to get Cleveland out of the bottom five of the NFL and start making strides in making the Browns relevant again.
Here's a quick look at John Dorsey's bio:
· Kansas City Chiefs GM (2013-2016)
· Green Bay Packers Director of Football Operations (2012)
· Packers Director of College Scouting (2000-2011)
· Seattle Seahawks Director of College Scouting (1999)
Notice he has plenty of experience in scouting and has already been a GM. This position isn't new to him. Does this promise brighter days ahead for Browns fans, no. But, at least Cleveland has a football guy as their GM instead of a guy that never had experience in both areas (Scouting and GM). And keep this in mind. From the looks and sounds of the hiring, Cleveland knew who they wanted and they didn't waste time, went out, and got the guy they wanted. This was not a case of having to go to a 4th or 5th option.
John Dorsey will be at Sundays Packers, Browns game, as he should be.