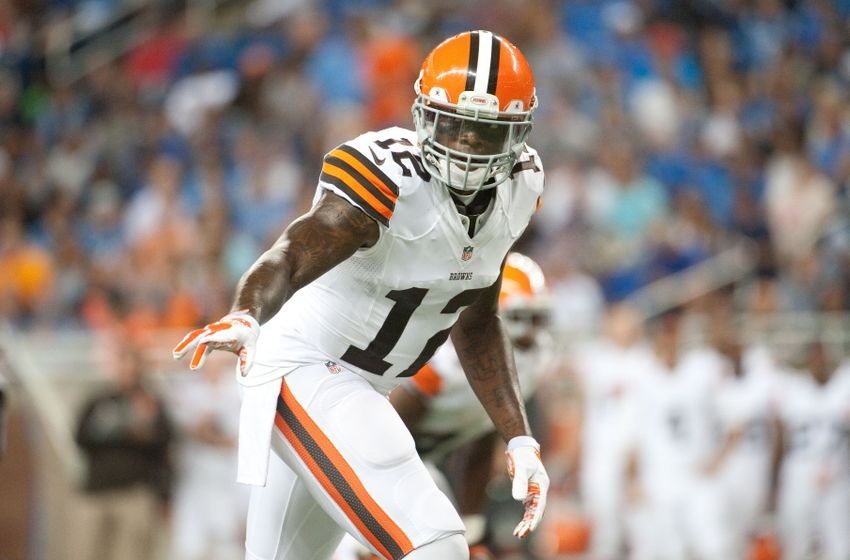 The Cleveland Browns did all they could for Josh Gordon. But truthfully, Monday's divorce that sent the embattled wide receiver to the New England Patriots for a 2019 fifth-round pick was long overdue.
For the last six years Gordon has tested his luck, pushed every last button he could and pulled the wool over the eyes of the franchise and its fans. Through three different substance abuse suspensions — including a year-long one in 2015 — a season-long absence while he sought out help at a rehab treatment facility and a delayed arrival to training camp this summer, the Browns were there welcoming him back with open arms.
Year-after-year, training camps began with thoughts of how special Gordon could be and a misguided belief that he had finally got his act together. Three different general managers fell for it. Three different head coaches fell for it. The hope was for Gordon to recapture that 2013 season that saw him lead the league in receiving and make the Pro Bowl. It never came.
The Browns were loyal to a fault and Gordon took advantage of it. This weekend was the last straw and props to general manager John Dorsey for finally being able to do what a handful of executives before him couldn't: draw a line in the sand.
Word is that after Gordon's late arrival to training camp, while he was off taking preparations to ensure he was ready for football and wouldn't slip-up yet again, Dorsey made it clear to the 27-year-old that his leash was short. They had been patient with him, gave him his time and wanted him to be a key contributor on their football team, but they needed to know he was as committed as they showed they were to him.
So when Gordon showed up late to a meeting on Saturday ahead of the team's departure to New Orleans and had re-injured his hamstring at a promotional shoot, it was the last straw. The story isn't so cut and dry and there are details we'll probably never know. But what is known is that Gordon left practice on Friday completely healthy, came to the team facility to do a photo shoot late Friday night for what he said was for his clothing line, then showed up Saturday morning injured to the point where he couldn't play Sunday.
There is a report that Gordon may have lied about what the shoot was actually for and that he participated in a workout that night as part of a comeback promotion he was doing. There was also a report from Cleveland.com that he was acting strange when he arrived in Berea Saturday, which left some fearing he had relapsed. The fishiness was enough to break Dorsey's trust and the trust of the organization for the last time.
Some suggested Gordon may have even set the whole thing up to force his way out of Cleveland. If so that's a damn shame after the city and the team stood by him all these years. And if so, good riddance.
Fortunately, Dorsey was able to get something for the troubled wideout, who's also been accused of freelancing his routes and not loving the game. That stuff won't fly with Belichick.
Naturally, there will be critics of the trade, who feel the Browns should have demanded more for such a talented asset. If Gordon flourishes with the Patriots it will only be worse. People will call it the Browns being the Browns and point to Gordon's 2013 numbers dumbfounded that a team would just give that up for a messily fifth-round pick.
But the truth is Gordon was never going to return to his 2013 glory, at least not here in Cleveland, and probably not even in New England. The best ability is availability and since 2013 Gordon has rarely been available. It's why the trade includes a condition that if he isn't active for 10 games the Browns must send back a seventh-round pick.
Browns fans will forever look back on Gordon's career through the lens of "what if?' What if he had sought help for his substance abuse issues sooner? What if he hadn't missed more than 50 games over the last five seasons? What if he had put his Hall of Fame talent to good use?
The Josh Gordon experience was a draining one: for the organization and for fans. So while both parties wanted to see him succeed in Cleveland, they're equally relieved for the nightmare to be over.
It was about time. And even if Gordon goes on to be prosperous with the Pats, the value of having him out of the Browns young impressionable locker room can't be overstated.
Dorsey is trying to build the Browns into a winning organization and with minimal contributions from Gordon, the team is a few missed field goals and extra points away from being 2-0.
Simply put, moving on from Gordon a necessary step in Dorsey completing his sweeping culture change. He challenged the system and wasn't buying in: it was time to move forward with out him.
Follow: @Spencito_

NEO Sports Insiders Newsletter
Sign up to receive our NEOSI newsletter, and keep up to date with all the latest Cleveland sports news.