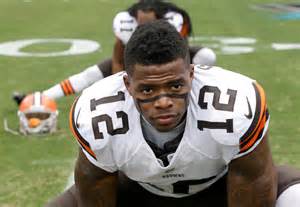 TMZ released an article and video reporting that wide receiver Josh Gordon is working out with Fox Sports NFL reporter, Jay Glazer.
A strange combination, no doubt, but the training facility, "Unbreakable Performance Center" in Los Angeles is known to be a state-of-the-art complex.
Gordon has had a wide array of workout buddies in the past year, including Terrelle Pryor and Randy Moss last summer.
Gordon is still waiting to hear back on his application for reinstatement in the NFL and it's no secret one of the Browns' many glaring weaknesses is lack of playmakers, especially at wide receiver.
If he stays out of trouble and keeps working hard with guys like Glazer and Moss, maybe he can be the comeback story of the 2016 NFL season.
To see the video of Gordon's workout session with Glazer, click here.