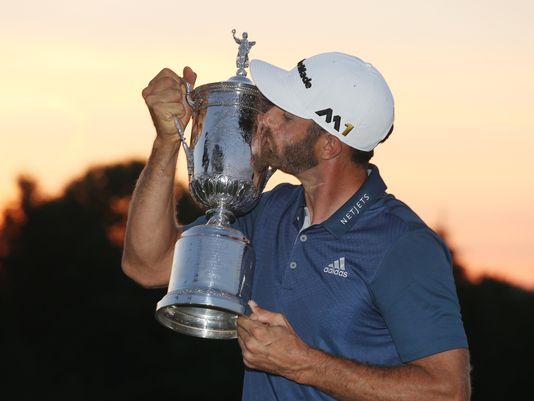 Oakmont has always been known for it's overall length, thick rough, and the speedy greens with a few false fronts to mix it up. Even when a huge storm delayed the first round and made the course more receptive and not as treacherous, Oakmont still bore its teeth by the end of the first round which would have to be finished on the second day.
All the rounds would have to share days with the previous round due to the rain delay. It is always helpful to hit your fairways and greens in regulation, but it is especially important to hit them when you play Oakmont because of the lush rough that would swallow up player's golf balls without mercy.
The greens were in such crazy condition that players were doing a lot of defensive putting and being satisfied with getting any first putt close. Aggressive putting was not a strategy that any smart player would execute.
And needless to say, the U.S. Open provided everyone, spectators and players alike, with plenty of drama and scores that were more like what you would see from a scramble outing with your boss and coworkers.
Shane Lowry would enter the final round with a four-stroke lead and unfortunately gave it away. Dustin Johnson, last year's runner up, went into the final hole as the second-to-last pairing of the final round with a three-stroke lead. The two were tied going into the turn.
By the end of his round Johnson would have a four-stroke lead. However, controversy would strike fan favorite Dustin Johnson as he was addressing a putt on #11 when his ball moved.
He did the right thing and asked an official what he should do. Johnson claimed he had not caused it to move, and I believe video evidence confirms that.
But at the 12th tee, officials said they were going to review the putt and determine after the round whether Johnson had indeed caused the ball to move. So Dustin played the whole round not knowing whether or not he was going to have an extra stroke added to his score. Officials determined he did cause the ball to move and Johnson was assessed a one stroke penalty after the round.
However, since the final grouping did not hold up in the trenches of Oakmont, Dustin Johnson would have that weight lifted off your shoulders after three-putting on the final hole of last years U.S. Open to lose the tournament to Jordan Spieth.
Johnson's weekend was certainly highlighted by his long and accurate play off the tee and putting better than previous outings…especially last year.
To be fair, Johnson had everything going, since he is one of the longer hitters on the Tour, the length of Oakmont did not rattle him. Congrats to Dustin Johnson for getting his first win in a Major. Bringing his total win count to 10.
On the menu for next weekend we have The Quicken Loans National Tournament held at Congressional (Blue) Country Club in Bethesda, Maryland June 23rd thru the 26th where Troy Merritt will defend his title against the field. Next years U.S. Open (2017) will be held at Erin Hills in Hartford, Wisconsin.

NEO Sports Insiders Newsletter
Sign up to receive our NEOSI newsletter, and keep up to date with all the latest Cleveland sports news.