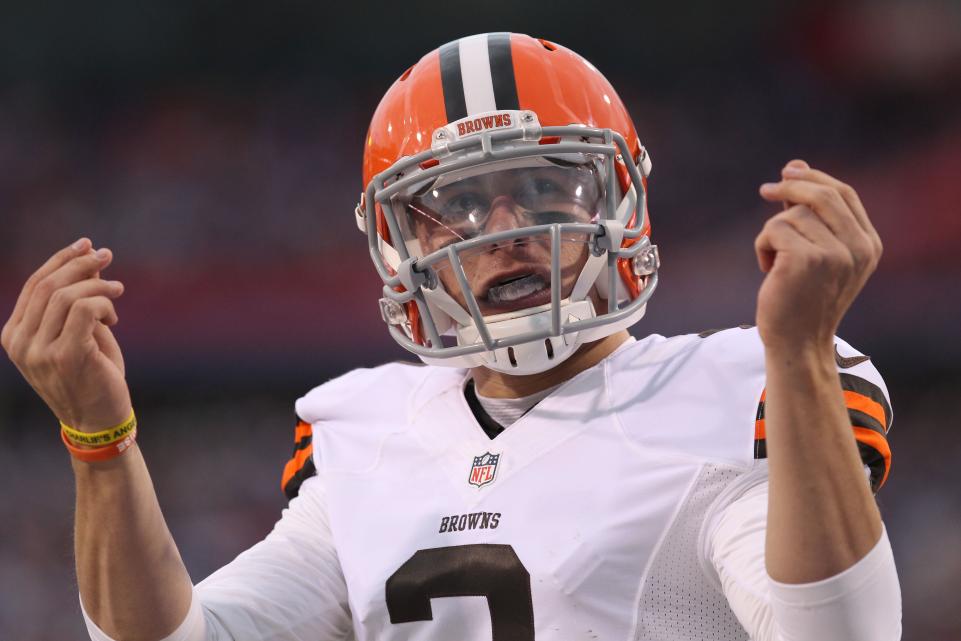 Johnny Manziel is hoping to return to the NFL, he said in a sit-down interview with Good Morning America.
In the interview, the former Heisman winner and Browns QB also said he has been diagnosed with bipolar disorder and is currently taking medication as he works towards an NFL comeback.
Manziel told GMA he was diagnosed with bipolar disorder "about a year ago." He also said that he's stopped drinking, and that he used alcohol as a way of "self-medicating" his depression.
"At the end of the day I can't help that my wires are a little bit differently crossed than yours, I can't help my mental makeup of the way that I was created," Manziel said in the interview. "But I know if I stay on these meds and I continue to do what I am doing right now … I think my dad, my mom, I think (girlfriend) Bre (Tiesi), would all agree that they see a drastic change."
Manziel was the first freshman to win the Heisman Trophy back in 2012 as the Texas A&M quarterback. He was drafted by the Browns but then released in 2016 after two unremarkable seasons and a myriad of off the field issues.
He took responsibility for what he called his "huge downfall," that included everything from drinking binges to a domestic violence charge.
"You are left staring at the ceiling by yourself and in that depression and back in that dark hole of sitting in a room by yourself, super depressed, thinking about all the mistakes you made in your life," he said. "What did that get me? Where did that get me except out of the NFL? Where did that get me? Disgraced."
Manziel also said that his selfishness during those years only exacerbated those problems.
"I had a sense of entitlement about what I had accomplished at the age," Manziel said. "For awhile I got so ingrained, caring only about what Johnny wanted, only caring what mattered to me, what made me happy. When I look back at it now, even when I thought I was doing what I wanted, I was miserable."
Now, Manziel is seeking a second-chance opportunity in the NFL, hoping he has learned enough from his past mistakes to return to Johnny Football form.
"I don't know what kind of comeback it will be," he said, "but I know I want to get back on a football field to what brought me so much joy in my life and it makes me happy doing as my job."

NEO Sports Insiders Newsletter
Sign up to receive our NEOSI newsletter, and keep up to date with all the latest Cleveland sports news.