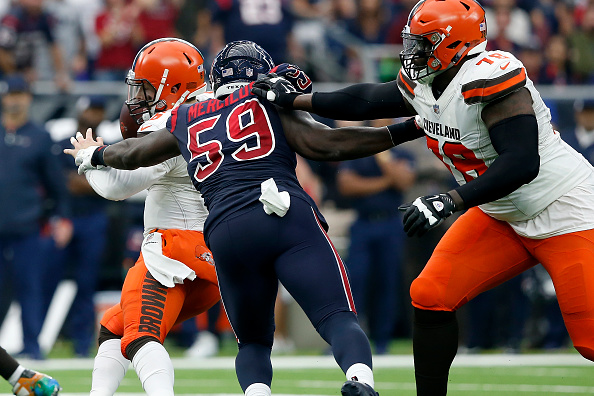 In just a few days, we'll have our first real look at the Cleveland Browns' 2019 final roster. The hope is, the offensive line looks a little bit different than it does now.
No, I'm not talking about the third stringers who'll eventually get cut. I'm more concerned with who the team currently has penciled in as starters, as we haven't received a ton of confidence from most of them since the day training camp started.
I'd like to assume GM John Dorsey is working hard trying to find upgrades for his offensive line, as he should be. Heading into the season with this unit as currently assembled is an outcome this team should try to avoid at all costs.
Worries about the offensive line aren't exactly new. It's something everyone following the Browns has been keeping an eye on since Dorsey traded away top-tier guard Kevin Zeitler.
Said concerns are increased now, if only because we're days away from the season opener and there still seem to be no answers at key positions.
Eric Kush is getting the first crack at right guard after spending the past few weeks getting all the first team reps in practice and preseason. Austin Corbett, the presumed starter just a few months ago, isn't even on the right guard depth chart anymore.
If you view handing this job to a journeyman guard, and only doing so after the player drafted 33rd overall last year didn't pan out as "solving the position," far be it for me to dissuade you. That said, I'm hardly comforted with this development.
Likewise, we still don't know what the Browns have at left tackle, as Greg Robinson has yet to fully shed his status as a first-round bust. Either he's going to prove his days of bad football are behind him, or he's going to make the Browns very happy they only invested in one year of his services.
Again, these were causes for concern heading into training camp. The hope that everything would eventually be fixed, that these holes could be filled internally, is starting to fade away.
As a result, Dorsey needs to explore every available route when it comes to making upgrades where he can.
Many Cleveland fans have been hoping the Browns would trade for disgruntled Washington tackle Trent Williams, or perhaps call the Miami Dolphins to see if Laremy Tunsil truly is available. Both teams insist neither player will be dealt, yet this hasn't stopped rumors of their availability.
Should either Tunsil or Williams become available in the coming days, they would each would cost a good amount in a trade. Frankly, it might be worth it for Dorsey to consider pulling the trigger despite that.
If swinging for the fences in the trade market isn't an option, then Dorsey needs to keep a close eye on cuts from across the league.
Should any alert pop up regarding a team's surprising removal of an offensive lineman, Cleveland should be on top of it. At this point, the team should be putting as much focus on scouting potential o-line cuts across the league as it is in finalizing its own roster.
Ultimately, keeping the status quo may not cut it with this unit. Suddenly finding a franchise quarterback doesn't mean much if he spends entire games running for his life. There's no sense in showing off a suddenly loaded offense if your QB isn't upright long enough to take advantage of it.
The bottom line is banking on your quarterback to overcome a leaky line is a faulty strategy. It's also one which typically ends with said quarterback spending most Sundays face down in the turf.
Heck, we're not even a week removed from watching Andrew Luck walk away from the sport thanks to the damage he suffered playing behind sub-par protection. While Baker Mayfield is (hopefully) years away from sustaining that level of collective brutality, I'm not interested in giving him any sort of head start.
If the Browns do end up standing pat with what they have, then so be it. However, they better make some adjustments to the offense to ensure Mayfield is getting rid of the ball in less than two seconds per play.
Provided that's not something they're open to, it's high time they start finding some solutions elsewhere.

NEO Sports Insiders Newsletter
Sign up to receive our NEOSI newsletter, and keep up to date with all the latest Cleveland sports news.