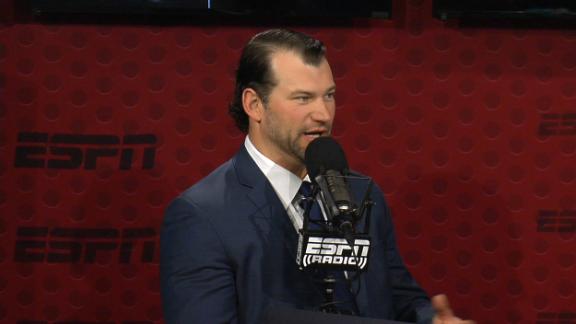 First off Joe Thomas, congratulations on your retirement…coming two days too late. The NFL Free Agency period began on Monday, March 12th and now you finally decide to announce that you are retiring from the NFL to more than likely head up into the broadcast booth with the likes of Tony Romo, Greg Gumbel, Jim Nantz, and so on.
"Pro Bowl" Joe, you stiffed the Browns by announcing your retirement during the free agency period because now instead of knowing that the team has a trustworthy offensive tackle they are going to have to do some searching either during free agency or in the 2018 NFL Draft. If Thomas would have announced beforehand that he was going to retire, the team could have sought after offensive tackles to fill the void instead of searching in a panic.
Joe Thomas has always been classified as a veteran on the Cleveland Browns, what exactly is the definition of a veteran?
Veteran: a person who has had long experience in a particular field.
When Johnny Manziel was a member of the Browns from 2014-2015, Thomas could have done a lot more by taking the inexperienced quarterback under his wing. Back in 2016 shortly after Manziel was released by the Browns, Thomas stated to Cleveland.com that he liked Manziel.  Thomas mentioned that Manziel was a guy that he personally liked and stated that he has a lot of talent to be an NFL quarterback but it just hasn't worked out. Thomas could have even helped DeShone Kizer and Cody Kessler at their position instead of them treading water in the deep end.
Thomas never really had the taste of victory, being apart of only one 10 win season with the Browns in his rookie year. Outside of the 2007 season victory didn't come to easy for Thomas having a record of 38-106 and a 48-112 record throughout his whole career.
Although Thomas was thought of being such a highly touted offensive tackle for the Browns only 3 players in a 10-year span surpassed 1,000 rushing yard with the team. Jamal Lewis surpassed 1,000 plus yards during the 2007 and 2008 seasons and Peyton Hillis also did in 2010.
It seems as if Thomas' record of 10,363 consecutive snaps played was one of his biggest achievements in his career. He will never be known as a winner, nobody will ever look back and see the number of Super Bowls he had won, he will never be known for his playoff appearances, and he will never be known as an MVP.
"Pro Bowl" Joe I think I would be speaking for all Cleveland Browns fans when I say that you deciding to retire before the 2018 NFL season is a giant mistake in your career. With the moves that the team is accomplishing this early in the offseason, this team might even have a shot at making the playoffs for the first time in 15 seasons. Instead, when the Browns can be playing in a meaningful game to end the season, you will be sitting in the broadcast booth in the shadows of Tony Romo possibly calling a meaningless game.
Hopefully, Joe Thomas realizes that he will not be playing alongside the likes of Jarvis Landry and Tyrod Taylor.
Good Luck in your future endeavors Joe Thomas.

NEO Sports Insiders Newsletter
Sign up to receive our NEOSI newsletter, and keep up to date with all the latest Cleveland sports news.