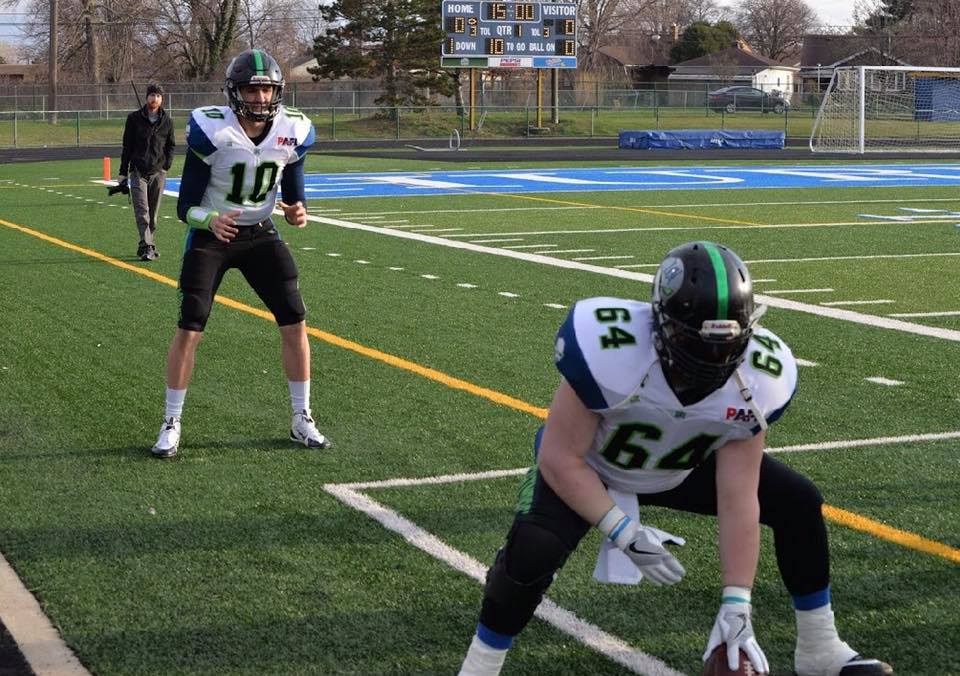 A dream took shape in the form of a Nightmare earlier this year when Lorain County Nightmares head coach Jamie Ray Adams recruited John Carrol University Senior Quarterback Brandon DiMarco.  The dream for DiMarco was to play professional football.  After going undrafted out of JCU, it appeared that dream may be over until fate kicked in. DiMarco received a call from Adams to try out for this year's squad.  The rest, as they say, is history!
The 6 foot, 4 inch signal caller weighs in at a lean 220lbs and has a rocket for an arm.  He has tossed 16 touchdowns through the Nightmares first seven games, a stretch that has seen them go 4-3.  Those 3 losses coming against the top 3 records in the league.
He explains his first contact with Adams, and how their relationship has grown since, "Jamie contacted me to come tryout, and I decided to join because I wanted the opportunity to play with the possibility of playing professionally.  Jamie has supported me throughout the season, helping me get used to this level of play."
DiMarco started playing ball at age 9 in the Cleveland Muny League.  A graduate of St. Edwards and JCU, this former Eagle and Blue Streak grew up idolizing Peyton Manning.  He also played plenty of organized baseball and basketball as a youth.
While growing up, his single mother worked 3 plus jobs to keep food on the table and make sure young Brandon always stayed on the straight and narrow.  His mother Michelle set an incredible example for her son that he follows to this day.
Brandon gives plenty of thanks to his incredible Mom, "I've watched her work so hard for 22 years. No words could ever describe how grateful I am for all the opportunities she has given me through her sacrifice."
You only have to watch Brandon play once to realize he has the mental skills to go far in pro football if and when that next call up comes.  Those mental skills being Leadership, a calm demeanor and the ability to quickly process information.
He also carries three much needed physical traits to succeed as well.  Those traits being a big arm, accuracy and excellent footwork.  DiMarco has scrambled out of the way of trouble several times this season already to throw accurately on the run.  Sometimes, those scrambles have even led to long touchdown tosses.
This leader of men, is not only a great athlete on the field, but also a great person off of it.  Further proof of this can be found in what DiMarco does with his time when the cameras are off, "I am a high school football coach at NDCL and I work with one of my professors from John Carroll helping facilitate a program that teaches people how to run youth sports camps in refugee camps in impoverished areas in the world."
It is also no surprise to find out that his favorite formation is the Victory Formation.  At 4-3 the division is wide open and DiMarco explained what it will take to win the final four games and enter into the playoffs, "Consistency, and playing our game our way."  If head coach Jamie Ray Adams anything to say about it, those traits will carry over into the rest of the season.

NEO Sports Insiders Newsletter
Sign up to receive our NEOSI newsletter, and keep up to date with all the latest Cleveland sports news.